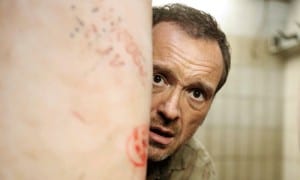 What is it about great European indies that make them so endlessly fascinating and watchable? The Bone Man is another example, and I think it'll be a festival favorite at Cinequest.
It's two hours of terrific entertainment. It kept me guessing throughout and I appreciated the exquisite quality of everything in the frame here: the acting, the cinematography, the music.
The script is pitch perfect too.
At first I thought it was like Ronin, with a few neat German car chases tossed in amidst the snowy Austrian country roads. Then I thought it was a homage to Fargo. Then I thought it was… well, I didn't know what to think next… there is a big, fun twist later.
And just when I thought I was within an inch of figuring it all out, the story heads off in another unexpected direction.
Lead actor Josef Hader as "Brenner" does wonders simply with an aged, weathered gaze. His facial expressions are a symphonic performance in and of themselves. Playing a retired cop, now reluctant repo man, he keeps getting pulled back in to do one last job. A familiar storyline. But when he heads to the country to find a lemon yellow Beetle, things don't exactly unfold as planned.
The supporting cast is equally strong.
According to IMDB the budget was about $5.5 million US, very large for an indie. And it shows too. This looks every bit the part of a glossy Hollywood film. However, it still has unique, almost Tarantin0-like, production values that set it apart.
Is it a thriller? A farce? A dark comedy? I'll leave that for you to figure out. One thing it definitely is: awesome.
Alert: popcorn and chicken may not go so well with this film.