So what will it be: an action-packed summer blockbuster prison movie, or a cerebral, somewhat depressing film about radiation and the end of the world? Art vs. money. In David Mamet's Speed-the-Plow we learn that Hollywood moguls are what they are—nothing more, nothing less—despite occasional attempts to change the world. They are self-described "whores." Engulfed in smarmy narcissism, lunch (at the Coventry!), and office decor create more decision making angst than what movie to green light.
This sharp, intense play opened Friday at The Pear Theatre in Mountain View. It's a gem.
And it's easy to miss; the theater is located in the dark, backlot of a business park on a dead end. Come to think of it, perfectly fitting for a film that takes place in a grungy, tawdry Hollywood lot.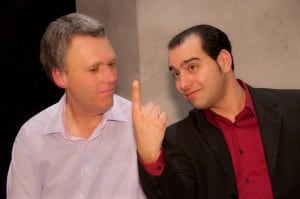 Three actors give us a powerful exhibition of tennis-like verbal gymnastics across three acts. If you're familiar with Mamet's Glengarry Glen Ross then you'll feel right at home here.
Bobby Gould (Paul Loomis) is the new head of production. His partner of 12 years Charlie Fox (Jake Vincent) comes to his office with great news. They can green light a would-be blockbuster prison movie. The money will flow! The only question now: how to spend all their new-found riches. Perhaps they can hire someone to figure that out.
Enter Karen (Sarah Grimer) the new office temp, who despite a demur, innocent manner, pursues power with equal zeal.
If you like dramatic effects, fancy sets, glorious costumes or whiz-bang special effects and music, this is not the play for you. And am I ever thankful for that. Nothing wrong with big productions, but it is a wonderful experience to take in actors ripping into biting dialog sans distraction. Think of it as a classy unplugged performance.
At the forefront is the acting and Mamet's ear for stutter-filled, street smart, realistic lines. Conversations feel real. Not thespian. We're watching Hollywood guys fight with inner demons. They know that they chase money, "put asses in seats." But they don't necessarily feel right about it, all the time.
In the end when Jake Vincent boils over with frustration, we witness a superb display of conflicted emotions and rage. A blow to the abdomen and a few kicks later, Paul Loomis wearily comes to the eventual realization that in the end they are who they are – just a couple of Hollywood whores doing what they do: green-light movies that please the masses, but don't necessarily advance the arts.
Speed-the-Plow has been around for over 20 years. It played most recently on Broadway with William Macy starring. It was a success there. And now Bay Area theater fans are in for a treat. Highly recommended.
Speed-the-Plow
4 out of 5 stars
Written by David Mamet
Directed by Ray Renati
Starring Paul Loomis, Jake Vincent, Sarah Griner
to January 24, 2010
85 minutes, no intermission
The Pear Avenue Theatre
1220 Pear Avenue, Unit K
Mountain View, CA 94043