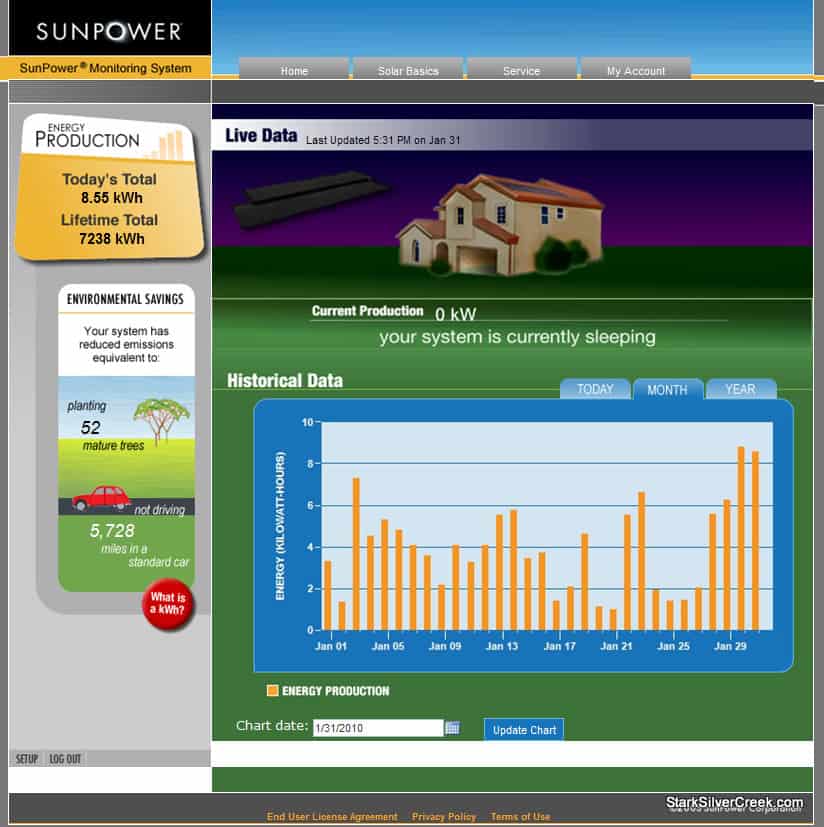 January in the Bay Area had its share of rain. In fact, during the end of one week when it rained non-stop, I could hear plenty of grumbles wherever I went. Yes, we are spoiled in the Bay Area—complaining about rain while the rest of the country shovels snow.
I do enjoy the occasional rainy evening, curled up by the fireplace with a book or laptop. At times when I get tired of the damp weather, I remind myself of the drought in the Bay Area and the need for the precious rain water.
The cloudy weather shows up in this month's Sunpower solar monitoring graphs with the major dips in solar energy production.
Hectic as January was, I think I was able to fit almost everything into my schedule.
Everything, except the visit from author Michael Pollan to the Campbell Heritage Theater as part of the latest Silicon Valley Reads initiative on January 27th. I've been a Pollan groupie ever since I read Omnivore's Dilemma and then quickly quickly turned around and devoured In Defense of Food. I would say that both of his books were two of the most influential books I read in 2009. It was because of his books that I joined Live Earth Farm and I'm looking forward to my first shipment in March from this local farm. I was disappointed I couldn't clone myself and attend the event and still make it to a prior engagement I had that evening. If you did attend, I'd love to hear all about it.

Other than that, I've made more progress on our wine cellar and my oil painting. I've made no progress on collecting and organizing all the documents I need for the upcoming tax season. I do hope to make it down to Loreto Bay early this year. I had also wanted to travel up to Vancouver in January, but never found a gap in my weekend schedule for a trip up.