Leaking is so trendy these days.
December it was all about Google's Nexus One, which lit up the Blogosphere with photos, videos and endless posts about its specs. Funny thing those "leaks." Especially ones that provide full-blown review models to press (Engadget received a Nexus One and has complete unboxing photos and reviews).
Now it's Lenovo's turn. Just days ahead of the Consumer Electronic Show (CES) in Las Vegas, we have another so-called leak. Again, I find it funny that it would be called a leak when you can visit the Lenovo web site and see product pages on all the new models.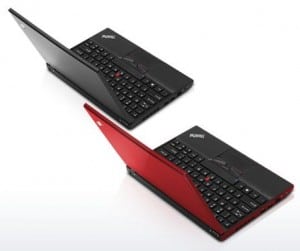 Managed leaks—a form of gorilla marketing—done right enables a tech company to essentially have its cake and it eat it too. You get early pre-launch buzz in the form of hundreds of eager Blog posts trying to "get the scoop" and then you get a second round of publicity at launch.
What strikes me as somewhat silly, are the bloggers that continue to insist that they've got an inside source, or that some web master slipped up and published something they shouldn't have—for the 20th time. They're playing us like a master 2.0 marketer.
Anyways, the new Lenovo ThinkPad models? I surfed around a bit checking out the specs, and my early take: excellent stuff. I'm most interested in the X100e 11.6″ Netbook. It's the first netbook to have an integrated TrackPoint stick, a famous pointing device created originally by IBM that allows you to move the cursor without moving your hands from the keyboard.
Word is that the price will be below $500 which can be considered somewhat of a bargain if true. Lenovo build quality is second to none.
Lenovo X100e key features
Sub-3 lbs. starting weight
Small footprint
Roomy 11.6″ HD display
Available in Midnight Black and Heatwave Red in smooth finishes (Arctic White not available in the US)
ISO full-sized, spill-resistant keyboard
TrackPoint® and multitouch touchpad
Powerful AMD processor
Low-light-sensitive Web camera
Multiple connectivity options
ThinkVantage® Technologies
Corporate OS support
Robust warranty options
3 USB ports (1 powered), 4-in-1 media card reader and HD audio
Affordable pricing