I'm almost finished with the plans and video for another west coast style DIY project!
With my visits to Napa I'm always inspired by the rustic woods, finishes (not to mention the wine). Meanwhile our mantel has been screaming for something decorative.
So I thought, why not a candle holder? I whipped up some plans. I put on my gloves, eye protectors, yes, even "ear muffs" and got to work.
The above video is a preview of the result.
I'll be posting the plans soon too, so you can make one too.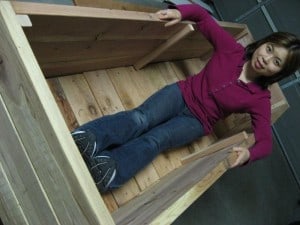 Thanks to all of you who have written in, downloaded and built my planter box design. With over 500 of you from North America and around the world (Hi Australia! New Zealand!) I'm thrilled to know that you're finding them helpful.
Stay tuned in coming days I will hopefully finally get the step-by-step plans, photos and rest of video for this rustic, Napa-inspired candle holder.