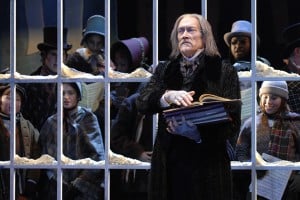 I would not be surprised if James Carpenter is a method actor; or at the very least the kind of guy who needs to go deep, deep, deep to get into character.
Tonight, A Christmas Carol opens at A.C.T. and the early word is positive.
The real story though might be Bay Area favorite Carpenter in a reprise of the beloved role of Scrooge. It should make for grand spectacle on Geary.
His chiseled face, measured delivery and piercing eyes should cast a glorious pall over the holiday festivities.

He was last seen as the misunderstood monster in the brilliant The Creature at Black Box Theatre. Before that, his stoic Jaques in San Jose Rep's visually mesmerizing As You Like It left a memorable impression.
Along with Rod Gnapp, he's quickly becoming a favorite of mine. He's the kind of actor you go to see, regardless of the show.
We're really looking forward to this one… if you're around heading to the A.C.T., we'll see you there!