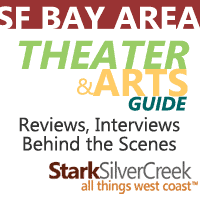 This morning we're pleased to welcome the San Francisco Symphony to the SSC Bay Area Theater and Arts Guide.
Eugene Lee, CEO of Socialtext in Palo Alto, will be leading coverage for the SF Symphony along with other classical, opera and jazz venues such as San Francisco Opera, San Jose Opera.
We could not be more excited, and hope you too will enjoy the expanded content.
The guide now includes 21 venues around the Bay Area from large theater houses, to smaller, local community theaters.
It's our intention at StarkSilverCreek to provide as much diverse coverage as we can muster. This of course means putting lots of mileage on our cars as we boot about from San Francisco, to Berkeley, to San Jose, and everywhere in between.
There's really nothing like live performance. Every time I enter a theater (I know it's cliché) I get chills of excitement in anticipation of what's to come.
Also, you'll find coverage of the Cinequest Film Festival (now celebrating its 20th anniversary) which we will be increasing in the coming weeks.
We also frequently cover art exhibitions and events at locations such as the Institute of Contemporary Art (ICA), San Jose Museum of Art. I'd like to do more here as well—there are so many exhibits to see, passionate and interesting artists to meet.
Below is a complete list of venues.
If you'd like to work with StarkSilverCreek and are not currently included, please send an email to chrisw (at) starkinsider.com.
Theaters

AMERICAN CONSERVATORY THEATRE (ACT)
AURORA THEATRE COMPANY
BERKELEY PLAYHOUSE
BERKELEY REPERTORY THEATRE
BLACK BOX THEATRE
BROADWAY SAN JOSE
CITY LIGHTS THEATRE COMPANY
COASTAL REPERTORY THEATRE
THE CUTTING BALL THEATER
DRAGON PRODUCTIONS THEATRE
HILLBARN THEATRE
MAGIC THEATRE
OPERA SAN JOSE
SAN FRANCISCO OPERA
SAN FRANCISCO SYMPHONY
SAN JOSE REPERTORY THEATRE
SAN JOSE STAGE COMPANY
SF PLAYHOUSE
THEATREWORKS

Art

INSTITUTE OF CONTEMPORARY ART
SAN JOSE MUSEUM OF ART

Film

CINEQUEST FILM FESTIVAL

SSC Shows / Podcasts

STARK INSIDER PRESENTS
THE ARTIST DIARIES
SSC ON LOCATION