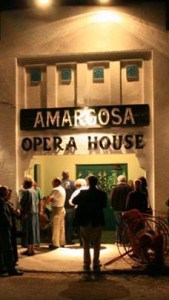 I recently received a note from Sandy Scheller regarding Amargosa Opera House.
Ever since I watched the documentary on this magical opera house in the middle of nowhere (the desert outside Las Vegas), I have been inspired to take up oil painting lessons and create for the sheer love of the process.
So, it was almost without surprise when this note popped into my inbox from Sandy who will be performing at the Amargosa Opera House a piece inspired by Marta Becket entitled, If These Walls Could Talk. If you are thirsty for inspiration, I am certain a visit to Amargosa Opera House will replenish your wells of creativity.

Hello, my name is Sandy Scheller and I am performing in Marta Becket's Amargosa Opera House. Marta is now 85 years old and for the present time will not be performing due to a recent fall which ended up with a hip replacement. While visiting Marta during the summer (it was 127 degrees with a 50 mile an hour wind) Marta and I talked about the murals melting. It was at that time I created a one woman performing piece called IF THESE WALLS COULD TALK, inspired by Marta Becket. This presentation has video interviews of Marta while costume changes are being made. The murals come alive with mime, flamenco, gypsy style dancing, characters include a mime of Marta discovering the Opera House painting, a nun, a madame, the party courtyard, Carmen, Pagliacci, the king, the cats, a gypsy, a ballet tribute to Marta. These are all murals in the Opera House.

We are hoping that you can spread the word about this new show. We believe that the tradition of Marta Becket must continue and I have dedicated myself to making this happen. Marta wants people to continue coming to see shows in the Opera House and hopefully one day she will return to her performances. We have added Sunday shows at 2:00pm. This way, people can experience the Opera House without driving at night. Please come out and visit us.

In the meantime, I have the great honor of being in an amazing place they call AMARGOSA………………
An Opera House in the Middle of Nowhere?
…featuring: If These Walls Could Talk by Sandy Scheller

What could be more magical than a live performance art experience at the Amargosa Opera House?

Inspired and endorsed by the great Marta Becket, "If These Walls Could Talk" is currently being performed by Sandy Scheller at the famous Amargosa Opera House , Saturday evenings at 7:00 PM and Sunday Afternoon at 2:00 PM. Don't miss this show!

Here is a YouTube of the show.

An article in the Pahrump Valley Times.