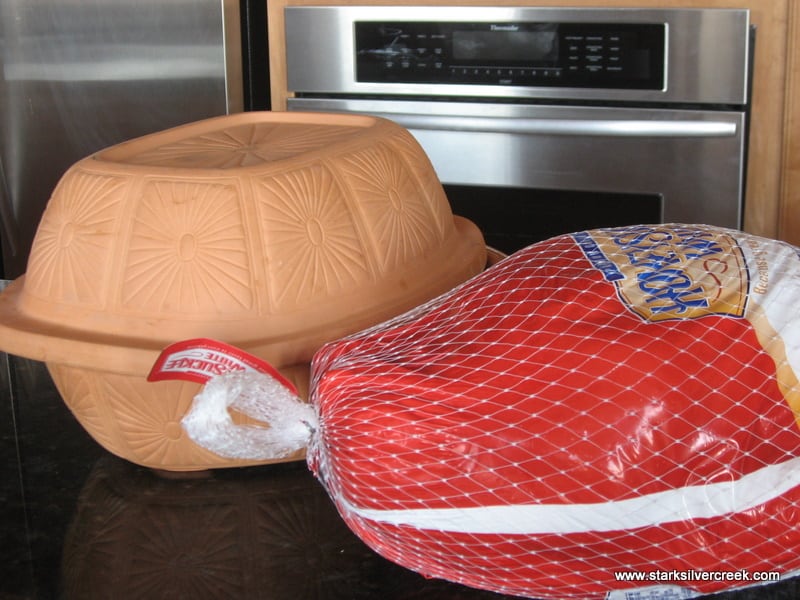 Thanksgiving is almost here… and I hate to ask, but have you thawed your big bird(s) yet?
If not, better get cracking, according to resident foodie Loni Kao Stark, it can take anywhere from 1 (8-12 lbs) to 5 days (20-24 lbs). Just thought I'd pass on that tip, although I suppose it's somewhat obvious.
But wait, there's more!
Recipes, tips, photos.
I've includes the links below, including are famously popular (at least with Loni anyways) 7-step turkey recipe, with a twist: apparently the secret is the clay pot. We also have a gluten free story by contributor Jane Lurie, plus a link there for an apple-chestnut stuffing recipe that she highly recommends. Finally, leftovers… what to do? Here's another recipe by Loni for a leftover classic.
Happy Thanksgiving, bon appetit, and enjoy these special times with family and friends everyone!
7-Step Thanksgiving Turkey Guide: The Secret to a Juicy, Tender Bird is the Clay Pot
by Loni Kao Stark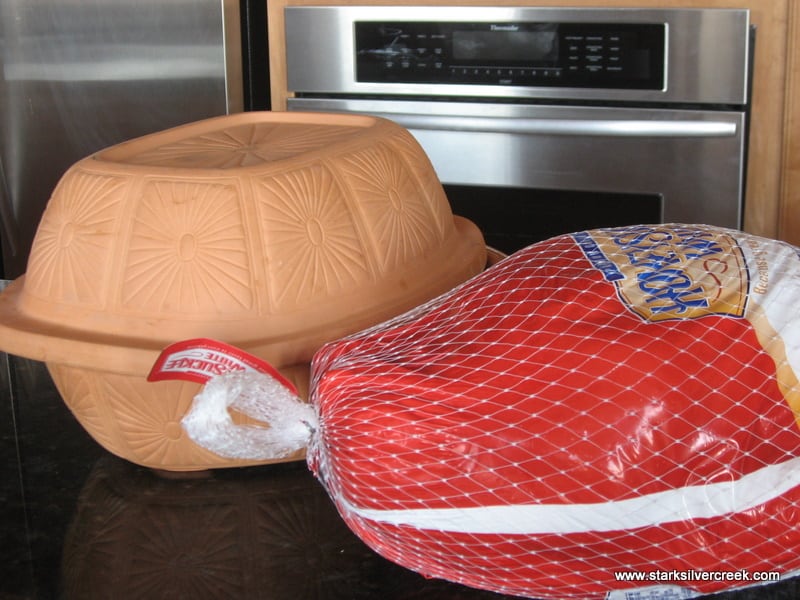 I don't like single-purpose kitchen equipment so you'll never find an ice cream maker or a waffle maker in my kitchen. However, one exception I make to this rule is my Clay Pot which sits quietly on a top shelf in one of my cabinets and only makes an appearance once a year, in time for Thanksgiving.
For those who search for the ultimate juicy, tender turkey, put away your traditional roasters and basting brushes, because when it comes to ensuring a moist bird, the clay pot reigns supreme.
I have used this method for the past 4 years and if you follow some simple steps, you too will have happy guests, yummy leftovers and freedom from being tethered to the oven basting all day.
Strap on your seat belt and get ready for the ultimate 7-step guide to Turkey Triumph for this Thanksgiving!
Gluten Free Turkey Dressing/Stuffing
by Jane Lurie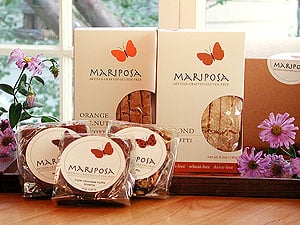 I am not known for my culinary skills. I am known for my love of food. I am also allergic to wheat. At Thanksgiving and Christmas this usually means no stuffing for me, which has always seemed so wrong and yet no one had come up with a thrilling alternative for me…I also love all forms of bread. This year, empowered by the appearance of so many gluten free alternatives, I boldly went where I had previously feared to tread….the kitchen.
Much ado about Thanksgiving turkey leftovers
by Loni Kao Stark
So the guests are gone, the house is clean and the only evidence left of a Thanksgiving feast is the leftovers packed high in your fridge. Ah, what to do about them turkey leftovers!
Have no fear dear reader because we happen to be in the same boat. But unlike most households where leftovers are a bi-product of Turkey Day, in our household, we cooked a 20lb turkey for the sole purpose of having "leftovers".
If you think some of these recipes are brain dead, you are spot on. If a leftover recipe takes more than 10 minutes of prep time, then it doesn't deserve the name "leftover".
More much ado about holiday turkey leftovers
by Loni Kao Stark
In my past post on the subject (Much ado about Thanksgiving turkey leftovers), I did an exposé on the Classic Open Face Turkey Sandwich. Now here is a recipe for a hearty Turkey, Corn & Roasted Pepper Soup, perfect on those chilly winter nights.