Guest post by Jane Lurie.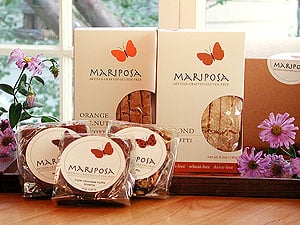 I am not known for my culinary skills. I am known for my love of food. I am also allergic to wheat. At Thanksgiving and Christmas this usually means no stuffing for me, which has always seemed so wrong and yet no one had come up with a thrilling alternative for me…I also love all forms of bread. This year, empowered by the appearance of so many gluten free alternatives, I boldly went where I had previously feared to tread….the kitchen.
There is a cafe/store in Oakland, Cafe Mariposa,that makes and sells all gluten free products. They have an incredible range of baked goods, pizza, pasta, cereal and, now, gluten free croutons for stuffing. And by the way, their goods are really delicious. You don't feel like you are settling for a, for example, muffin-like item that is gluten free.
But I digress. Once I saw that they had gluten free croutons, I was determined to make a dressing that I could not only eat but also enjoy. So I turned to Tori Ritchie. She has taught cooking regularly on the CBS Morning Show, the Food Network and in San Francisco at Tante Marie's School. I subscribe to her Tuesday's recipe service. Every Tuesday I get an email with a new recipe. I love her recipes because her food is always fresh and healthy and delicious. A few weeks ago she sent her mother's fool proof apple-chestnut stuffing. You can find it on her website, https://www.tuesdayrecipe.com/. I substituted the gluten free croutons. She also calls for bulk pork sausages. I bought Bruce Aidell's chicken-apple sausages and scooped them out. And then I followed the recipe as is.
We had Thanksgiving dinner with friends who grew up on farms. They love to cook and they have no allergies. So they made their usual dressing. At the end of dinner, my dressing was voted the best dish of dinner and I have been elevated to a new role in life…someone who can cook a delicious dish. I'm not sure if I am ready for the responsibilities of this honor but I am thrilled to give it a try.
This is a shout out to all of you out there who are gluten or wheat free. Wake up your taste buds again. There is a new world out there waiting for us to eat it.