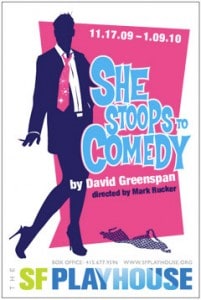 Gender-bending romance is in the air this weekend at SF Playhouse with the opening of David Greenspan's She Stoops to Comedy. The play continues the 09/10 "Power of Laughter" theme; last seen at the Playhouse was the hilarious First Day of School (review).
The new production hints at Shakespeare's As You Like It:
An actress (played by a man) schemes to woo back her estranged female lover by playing Orlando opposite her lovers' Rosalind in this gender-bending romp by one of New York's most innovative writer/performers.
Mark Rucker will direct.
Founded by Susi Damilano and Bill English in 2003, the SF Playhouse is Union Square's intimate, professional theatre, that offers a compelling alternative to an evening of entertainment.