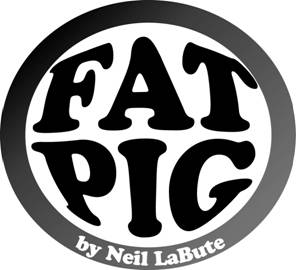 What exactly does it mean to be a "bad-boy" playwright? Does Neil LaBute wear a leather jacket, drive a Camaro and smoke? We may find out when his play FAT PIG, an exploration of body consciousness in contemporary America, premieres this Thursday at Aurora Theatre Company in Berkeley.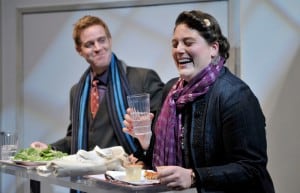 Last week Loni sat down and spoke with star Liliane Klein, who plays the title character Helen, in a special episode of StarkSilverCreek Presents.
"It always take people aback, it's kind of an aggressive title," she tells Loni, "Helen turns out, though, to be one of the only beautiful people in the whole play."
FAT PIG promises to be a fascinating study into the culture of weight, self-image, and the pressure to fit in. I expect plenty of laughs too, but truth can hurt sometimes.
"It makes you question values, ugliness, beauty, meanness and niceness."
In FAT PIG, conventionally good-looking Tom falls for Helen, a bright, funny, sexy woman, who happens to be plus-sized. Forced to explain his new relationship to his perplexed friends, Tom must come to terms with his own preconceived notions of love and attraction. Tony-nominated director Barbara Damashek helms this alternately funny and poignant play, featuring Liliane Klein, Jud Williford, Alexendra Creighton, and Peter Ruocco, that not only critiques our adherence to Hollywood's standards of beauty, but questions our ability to change what we dislike about ourselves.

FAT PIG
by Neil LaBute
directed by Barbara Damashek
October 30 – December 6, 2009

More information: Aurora Theatre Company