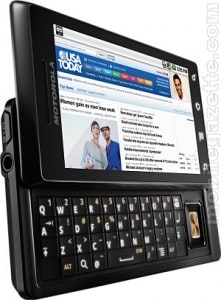 I suspect like Clint, I've been scraping the World Wide Web the last week or so for all things Motorola Droid. To say that Android is a hot topic these days would be an understatement of AdSense proportions. Google is taking the market by storm in Q4 and the Droid is the tip of the iceberg.
So I figured I'd summarize some of the best Web sites, Blogs I've come across that cover Android and, specifically, the Droid since that's the one, like Clint again, I'm also thinking of getting. And if I do, expect a full, all-out review here too if I can tear myself away from gadget, geeky nirvana to type an article.
First, in case you've not been following along, or have been living only in an Apple Store: Motorola Droid. New Phone, runs Google Android mobile OS. $199. On Verizon. Available Friday, Nov. 6.
Notable: the first handset to run Android 2.0. Also plenty of impressive horsepower makes it quite a beast. Motorola is banking big-time on Android. The company's fortunes have faded since its Razr glory days. Motorola is not alone. Thanks to an open strategy many other manufacturers are coming out with Android guns-a-blazin': Samsung (Moment), HTC (Hero, Droid Eris), Sony Ericsson (Xperia X10).
Speaking of Sony, today they officially announced their first Android device, the Sony Ericsson Xperia X10. The specs look good, and the hardware design is typically Sony slick. The X10 does not have a physical keyboard though, which may turn off some. Note the vastly different ad campaign.
Motorola Droid: Where to get the scoop

Boy Genius Report (BGR)
boygeniusreport.com

Former Engadget guy coming on strong with the first hands-on review of the Droid far ahead of anyone else. Excellent photos. Light on content and depth, but they routinely get the scoop first.

Phandroid
phandroid.com

For "fans of Android." Decent articles, but not as in-depth as others. Excellent forums though. This is the place to get detailed information from others on just about any topic or model.

MobileBurn.com
mobileburn.com

Thoughtful and measured. Just like the reviews and videos. They don't always have the first word, but they might possibly have the most in-depth reviews. Host Michael Oryl sometimes speaks too slowly on the videos, but he's easy to understand and thankfully eschews old-fashioned nerd hysteria in favor of, say, adult-like reporting.

Phonedog
phonedog.com

Noah Kravitz is a popular guy. And no wonder, videos of his phone reviews and on location reports are everywhere on YouTube. Talk about prolific. He rambles on occasion. But it's worth it, thanks to his knowledge and ability to hone in on the good and bad. Is it just me or does seem like he's always chewing gum though, that's quite annoying. Still, highly recommended.
The Early Reviews

CNET (4 out of 5)
Some minor design issues and multimedia quibbles aside, the Motorola Droid is the most powerful and fastest Google Android device to date. It fully embraces the openness of the Android platform and offers Verizon customers a smartphone that certainly rivals the other touch-screen devices on the market.

Laptop Magazine (4 out of 5, Editor's Choice)
The Motorola Droid is hands-down our favorite smart phone for Verizon Wireless. We love the large display, free GPS navigation, and the way Android 2.0 streamlines your contacts. This is also the best mobile Web experience you can get on Verizon's network. The Motorola Cliq and HTC Hero have snazzier user interfaces, but we think a lot of consumers will gladly forego those for snappier performance. The iPhone 3GS is lighter, surfs the Web faster, and offers a much more vast array of apps, but we think Verizon Wireless customers who have been waiting for a multitasking touchscreen powerhouse will be excited to own this device.

Engadget
So, is the DROID a good smartphone? Yes, the DROID is an excellent smartphone with many (if not all) of the features that a modern user would expect, and if you're a Verizon customer, there probably isn't a more action packed device on the network. That's not to say the device doesn't have its faults; the camera was unpleasant to use, the application selection feels thin in both quantity and quality (despite the claim of 10,000 options), and the phone has bits of basic, non-intuitive functionality that might chafe on some users after a while. But even still, it's hard not to recommend the DROID to potential buyers eager to do more with their devices. It's easily the best Android phone to date, and when you couple the revamped OS, Verizon's killer network, and an industrial design straight from a gadget enthusiast's fever-dream, it makes for a powerful concoction. Ultimately, the DROID won't usurp the iPhone from the public's collective mindshare or convince casual users that they must switch to Android, but it will make a lot of serious geeks seriously happy — and that's good enough for us.

Gizmodo
There's also something weirdly refreshing about such a straightforwardly utilitarian design. There's nothing here that's trying to be sexy. Or particularly clean. There's all kinds of lines and marks and bumps and details. It's a strange kind of retro, with the black and the gold accent. It's, well, Imperial.

It's this simple: If you don't buy an iPhone, buy a Droid.

It's the best phone on Verizon, and with Android 2.0, the second best smartphone you can buy, period. It's flawed, deeply in some ways. But it's the second best phone around, on the best network around.