(CORRECTION: I apologize for the error, November actually opens next Wed, 28th. We mixed preview dates with opening night. No worries, though, it won't happen again. I've fired our communications department and replaced it with an iPhone)
We're looking forward to another barn burner of a week in Bay Area theater. It just keeps getting better. Well, at least until the Christmas shows roll around later in the year—bah humbug.
Both of these theaters are coming off massive hits.
With American Idiot, Berkeley Rep broke box office records, selling more than any other production in its 40-year history. I hold them responsible for making Green Day's energetic music run through my head non-stop for the past two months.
Their next show, Tiny Kushner, is markedly toned down from Idiot's soaring sets, and media-fueled frenzy, dancing and singing. Unplugged we'll say. It is a series of short scripts performed by legendary playwright Tony Kushner (Angels in America, Brundibar). His fireplace mantel is a crowded place: a Pulitzer Prize, two Tony Awards, three Obies, a Golden Globe, an Emmy and the LAMBDA Literary Award for Drama.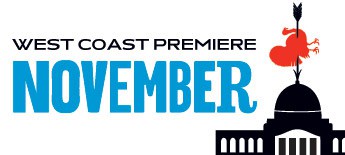 Across the Bay Bridge (note: Loni, that's the one not painted International Orange) in San Francisco, American Conservatory Theatre is holding the West Coast Premiere of November, their second show of the '09/10 season. They too are coming off a white hot hit. Brief Encounter, which we gave 5 stars, was yet another welcome British invasion.
A political comedy, November is fresh off a successful Broadway run. A satirical stab at American politics, it should offer plenty of timely barbs and laughs.
Tiny Kushner
Berkeley Repertory Theatre
October 16–November 29, 2009

November
American Conservatory Theatre
October 23–November 15, 2009