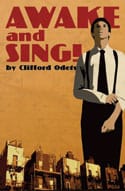 Nothing like a great depression to get you in the mood to deal with love and money. It's like a sucker punch—all while trying to balance the checkbook on $26 a week and keep the family on the rails.
'Awake and Sing!', written in 1935 by Clifford Odets, pulls no punches, delivering gritty emotion with strong acting showcased in the intimate 270-degree Aurora theater in Berkeley.
This one left me feeling hard-boiled.
The story, about a Jewish family struggling to keep afloat amidst the great depression, takes place in a Brooklyn highrise apartment. Phonographs and radios provide constant, scratchy soundtracks.
It's an extended family affair.
The hardened, taskmaster matriarch Bessie (Ellen Ratner) commands the household; sympathy, an impossibility. Her husband Myron (Charles Dean) dotes about, seemingly more concerned about his tongue, and unable to connect with his love torn son, Ralph (Patrick Russell). Daughter Hennie (Rebecca White) just wants to find a man, preferably with lots of money so she can shop, enjoy champagne and cruises.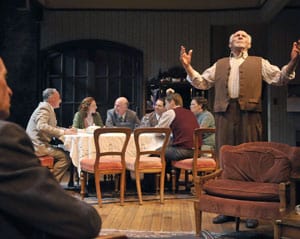 Unfortunately, her mother orchestrates a forced marriage to the unwitting Sam (Anthony Nemirovsky) who is possibly one of the most used and manipulated poor souls to ever slink across a stage.
Bessie's father Jacob (Ray Reinhardt) boards in a room in the back, leaving Ralph to begrudgingly sleep in a converted sofabed in the living room. His book collection appears to have provided him with tremedous insight into life and love.
Uncle Morty (Victor Talmadge) stops by from time to time, jovial and chuckling. His business is a success. His shoes are polished. The cigars are good!
The wildcard of the lot is the unpredictable, handicapped, but gangster-like Moe (Rod Gnapp). Perhaps, as is suggested, the government could balance the budget if they stopped handing out free wooden legs to him.
The chemistry among the actors is first rate. Simmering anger boils over in the second act leading to a tempest of a scene where Ellen Ratner barks, striking out at all in her path. It's a clinic in acting.
A standout (among standouts) here is actor Rod Gnapp, who is turning out to be one of my Bay Area favorites. He was equally quirky and mysterious when I last saw him, in the Magic Theatre's 'Mauritius.' He delivers his lines with 1 part swagger, 1 part loopy, and 1 part danger. When he woos women, he pours it on, promising champagne, riches, and the life of luxury.
'Awake and Sing!' is a powerful study in domestic survival. Aurora's production is first rate, giving us a chance to experience a family's battle against the depression, which dramatically turns on its self.