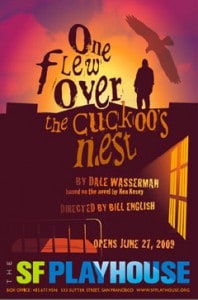 My how times have changed. A lot of so-called  therapy today (not that I would know!) is based on spa-like treatment administered under the guise of "wellness." Patients are pampered and can tweet and Facebook to their narcissistic-heart's content.
But there was a day, at least according to writer Ken Kesey, when things were perhaps more barbaric.
Oh, just small distractions; like electric shocks, lobotomies, LSD experiments and psychologically-drive verbal shout-downs. Yes, it could spoil your day. Or not. It just depends on your perspective, whether you are "big", and, most importantly, your relationship with women.
SF Playhouse's production of the famous 'One Flew Over the Cuckoo's Nest' is ambitious—especially given its intimate space which only allows 100 theater goers at a time to soak in over 2 hours of first rate drama.
Wire, bliar, limber-lock
Three geese in a flock
One flew east, one flew west
One flew over the cuckoo's nest
The story, although based on a novel now fifty years old, is most famously known from the 1975 movie starring Jack Nicholson. A film that scored 5 oscar wins and stands as the #9 best film of all time according to IMDB (and for this ranking I agree, but your mileage may vary).
Convict Randle P. McMurphy (Hansford Prince) feigns a mental disorder to avoid jail-time, and instead joins a group of socially-challenged, possibly crazy, patients in a mental institution. The white, drab environment is ruled by Nurse Ratched (Susi Damilano) who believes in "therapeutic community" (the kind with plenty of Lawrence Welk and group meetings). McMurphy quickly realizes that everyone here is comatose and oppressed. Confrontation ensues as he eventually establishes trust and friendships despite facing daunting communication challenges (frequently overcome through sports such as basketball and baseball). What follows is about exorcising inner personal demons and finding that last drop of hope and inspiration against long odds.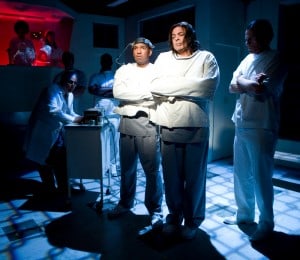 Anyone who has seen the movie will instantly recognize the set. Cleverly designed to fit the tight SF Playhouse space, it effectively establishes dread and claustrophobia. Projection and strobe lighting alter perspectives without the need for set changes.
The cast is uniformly strong. One moment, jumping around in ensemble acts of stir crazy celebration; the next, Hansford Prince challenging each with dynamic repartee.
About Hansford, as the lead—filling the big, inescapable images in my mind of Jack Nicholson as McMurphy—he was my biggest question mark heading into the show. Could he deliver? The answer: yes. He convincingly embodies the free spirit of McMurphy, alternatively hamming it up and testing Nurse Ratched's boundaries of rule. It was also interesting to have a black actor play the lead role. I think this adds an extra layer of depth. Although race is not a storyline, each of the patient's diverse character, background and up-bringing serve to accentuate the bonding that later follows. Chief Bromden (Miachel Torres) and McMurphy establish an unlikely alliance, for example, that produces some of the play's most poignant moments (including a key discovery of Bromden's ailment by McMurphy).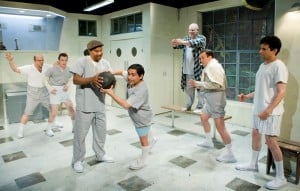 Patrick Alparone delivers a genuine, passionate performance as the stuttering Billy Bibbit, who chronicles others actions in a log book. His timing, delivery, and intensity are perfect, and elevates each scene. Great work.
Cuckoo's Nest is directed by Bill English who is also the engaging, artistic director of the SF Playhouse. He milks every ounce of creative potential out of the set and the actors.
This production is a top-notch showcase of inspired acting, engaging direction and, ultimately, dramatic heart-wrenching story-telling.
Unanswered question: "What the hell is therapeutic about Lawrence Welk?"
Highly recommended.
Parting thoughts:

No doubt I love live theater, through and through. There's something about the energy and electricity that gets my blood flowing, and, at times, my hairs standing on end. I hate the cliche, but it can be magic.

Hansford Prince, David Sinaiko, Susi Damilano (Photo: Zabrina Tipton)

Better, when a production comes together successfully, in a playhouse reminiscent of a time gone by (i.e. intimate, historic, worn), it sears the mind with indelible memories. Last night was precisely one of those nights. For those that have not been to the SF Playhouse, this is your last chance to catch the end of season 6. According to Bill English, season 7 will be about "the power of laughter" and includes no less than 4 premieres, including one world premiere ('First Day of School') opening September 23.

Bay Area fans, take note: the novel 'One Flew Over the Cuckoo's Nest' by Ken Kesey was developed while a graduate student in Stanford University's Creative Writing Program. According to the press kit it was inspired by his work at a local hospital. While "speaking to patients under the influence of LSD, Kesey began to perceive that society had turned functional people insane instead of allowing them to find their way back to functioning in society."

Many of the elements in 'Cuckoo's Nest' reminded me of Stanley Kubrick's brilliant 'A Clockwork Orange'.