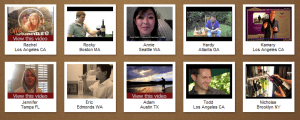 Drum roll please… we have the top 10 list of contestants vying for that apparently coveted Murphy Goode blogging job at the Sonoma winery. The list was released today and, in addition to the requisite YouTube auditions, also includes  an "about" section featuring tid-bits of interest.
Notable finalists include a "regular guy" in digital marketing attending  film school, a former Animal Planet host that plays banjo and a Microsoft employee and Hawaii Junior Miss finalist.
Two of my dubious highlights from the Top 50 actually made the finals. Hey, what do I know?
One of them is Kamary, applicant #384, who hams it up E!-style on his audition video. The other, Jennifer #434, is not so great at reading cue cards… but, again, who am I to judge. Part of the ride, will be watching them improve over time, which is why I prefer the raw and unpolished; it fits the spirit of blogging and wine.
Here is a link to the Top 10.
Next steps are interviews and final selection process. It must be a slow summer… this is the best in reality TV these days.
Who I think should win: Todd (non blogger, genuine, good communicator, balanced)