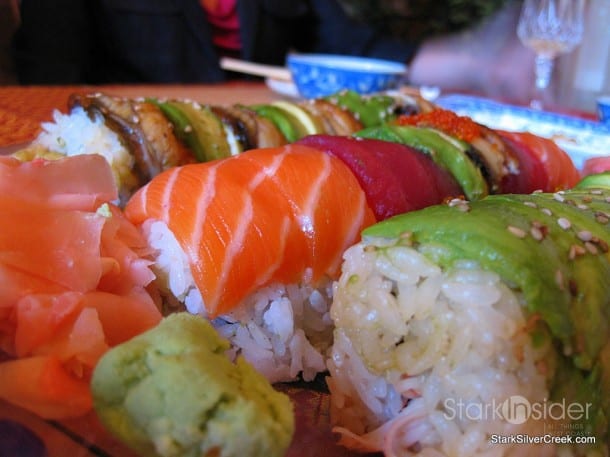 I sat down at the dining table of Bob and Sandy J., friends we met from our days on the board for the Homeowner's Association. They had invited us over to dinner a week ago and because of a particularly hectic day, Bob already confessed it was going to be a take-out meal from a sushi restaurant in Campbell. This was fine by me being an ultra sushi fan and having resorted to take-out from our favorite restaurant in Los Gatos, Green Papaya in the past for a dinner party I hosted.
Bob had described the restaurant they picked up the sushi rolls from as a hole in the wall in Campbell. As foodies world-wide know, a hole-in-the-wall restaurant decor is a sure sign of mouth-watering food as there is no other reason that justifies the restaurant's existence.
The rolls that were served up were absolutely delicious and shows how "American sushi" has come a long way since the invention of the California roll in the 1960's by Ichiro Mashita, a sushi chef at the Kaikan in Los Angeles at the time. Mashita substituted the fatty raw tuna (toro) in rolls with avocado for the American's were not adventurerous enough to accept raw fish in their dishes. Later on, the "inside-out" roll (the outside is rice instead of nori) variation was developed for those that did not like the look and texture of the dried thin seaweed on the outside.
As the California roll became more popular in California, it started to crossover into other parts of the U.S. and even made it back to Japan as the popular "American sushi" style.
Around 2000, more exotic variations started to appear. Some, like the California roll, use familiar western ingredients such as the Philadelphia roll (cream cheese and smoked salmon) whereas other rolls went ultra exotic with multiple combinations of raw fish and unusual sea creatures.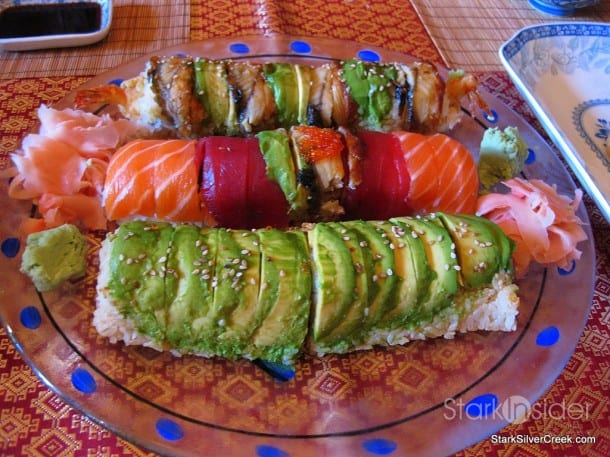 The "American-style" sushi tends to be characterized by larger diameter of rolls which are often hard to eat on one bite, the rice is sweeter and there could be variations of daring sauces which are often flavorful enough to skip a dip into soy sauce before hitting your mouth.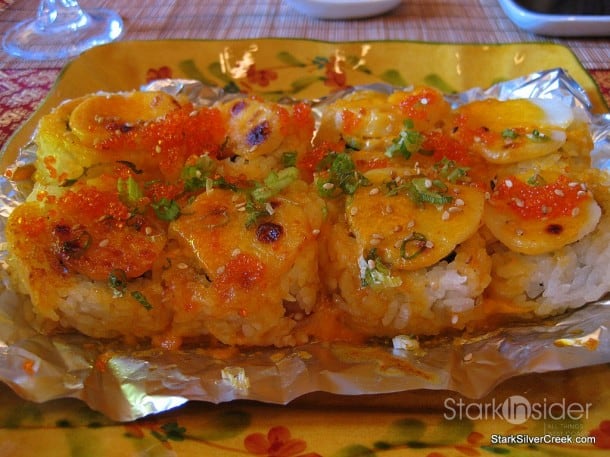 All the rolls were delicious. If I have to choose a favorite roll of the evening, it would be the spicy California roll with scallops on top, just because I have not had anything quite like it at any other sushi restaurant here in California.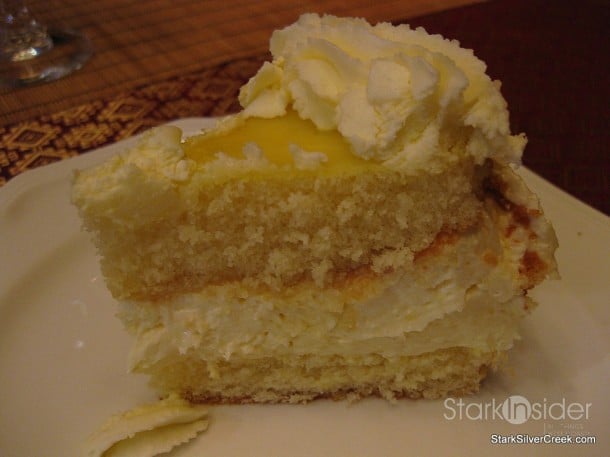 To finish off the meal, a wonderful, large piece of cake, yum.