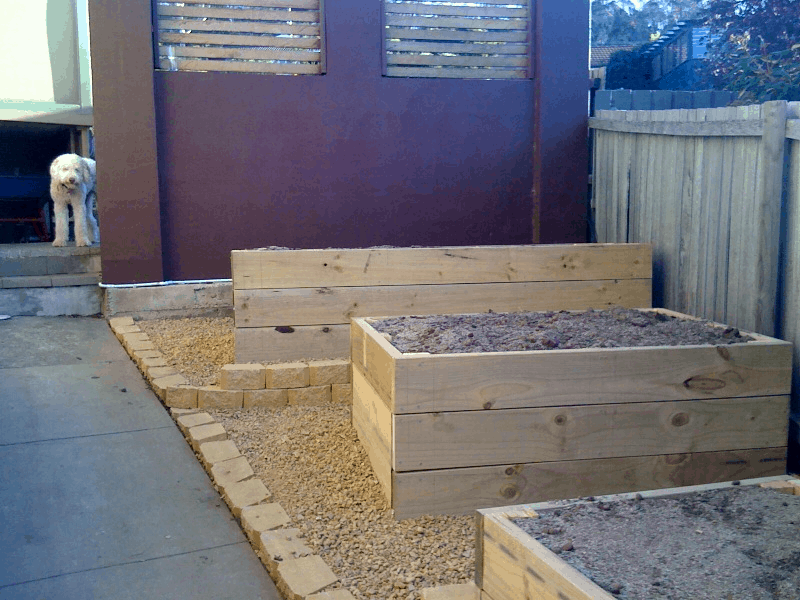 One of our most popular articles on StarkSilverCreek is a piece I wrote about a year ago that provides instructions on how to build your very own wooden vegetable planter box (Venturing into Vegetable Gardening)
After searching all over for the perfect design, I finally had to create my own and then convince Clint to help me build it. I've since made the plans available and occasionally receive emails from fellow readers with their results.
Here are some photos I thought I'd share from David B. all the way from Australia. He did a variation on the original plans and built the planter boxes without the legs.

If you do this, I would recommend replacing the four corner 2″x2″ supports for the walls of the planter box with sturdier 2″x4″ supports that extend beyond the bottom of the planter box by about 18″ and use a saw to cut the bottom so it is pointy (like large stakes). That way, you can set it in the soil and hammer it into the ground so it stays very sturdy. Next time I update the plans, I will add this variation into the plans.
Until then, I leave you with the photos and the note from David B.
Thought i'd send you a couple of pics of the vegie boxes we built based on your plans :)

The first picture is of the area when we bought the house about 9 months ago, and the second two of the finished products.

They're all different sizes, 1m x 1m, 0.09m x 1.5m and 0.80m x 2.4m and are made (if i remember correctly) from local Tasmanian pine.

Once again, thanks for the plans, they were a great assistance and our friends are thinking of using them to build some of their own.

Cheers,
David