On my flight to DC this past week, United Airlines presented a BBC in-flight feature on the Sea of Cortez and the changing ecosystem in the sea as a result of climate changes and the decrease in shark populations. The documentary reminded me of the fragile nature of the Sea of Cortez and today I was once again reminded of this when I came across an article discussing the start of a process to revise the program management on the Loreto Bay National Marine Park.
For those that are unfamiliar with this park, it was established to protect the biological communities in the sea by the Mexican Government in 1996. Prior to this, the wildlife in the area was becoming endangered due to the irresponsible use of marine resources. The park spans from the south section of Coronado Island to the north north region of the Catalina Island.
The last time Clint and I ventured to Coronado Island for the picnic, we had the opportunity to travel by a panga boat amongst over 20 dolphins (Clint is convinced it was over 100, but I would like to stay away from hyperboles), it was an amazing experience and in more shallow waters along the white sandy beaches, we saw the area was teeming with sea life.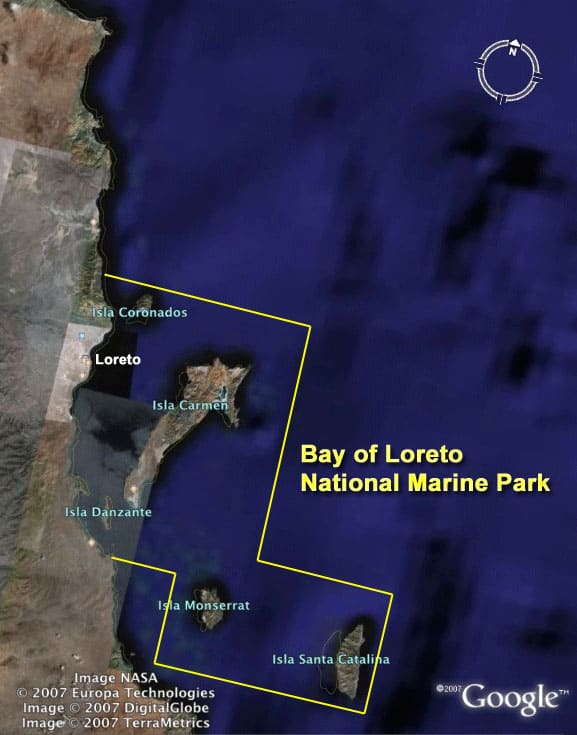 The sustainable management of this area designated as the Loreto Bay National Marine Park is critical to the continued health of the sea life in this region and the long-term economic hopes of the communities along this eastern half of the Baja peninsula. Therefore, this week as the managers of this park gather to examine and possibly revise or rewrite the management plan, they are seeking input from all stakeholders including fishermen, residents of rural communities, tourism entrepreneurs and developers, authorities and all the general public. It will be interesting to see what issues will arise and dominate the agenda and what the resulting plan will be.
(English translation by Google Translator)

Management program began in the Park National
The Sudcaliforniano
May 11, 2009
Raul Villalobos Davis

Loreto, Baja California Sur .- On Saturday a press conference where they were meeting various areas related to the Loreto Bay National Park, began the process of revising the program management of this protected area. The event was chaired by the Mayor of Loreto, Yuan Yee Cunningham and the director of the Park, Everardo Mariano Meléndez, accompanied by representatives of various institutions that are involved in this work.

One of the main points that came forward is that such work is starting and that this will be a work of all sectors of society where they will have the opportunity to participate with their proposals and views, for this week are starting a series of meetings with various sectors, such as fishermen, residents of rural communities, tourism entrepreneurs and developers, authorities and all the general public, which will explain the various points of light due to the formation of the management program or on changes as required.

So that the management program must have the consensus of the people and reflect the needs of all, through a careful management and use of natural resources in a sustainable way.

It is worth mentioning that this review of the management program will also serve to make if it has worked and achieved the objectives for which it was created, or there is a need to remove it and do it again almost wholly for the good of all and mainly to the health of the Bay National Marine Park of Loreto. This is a process where we must all be present and contribute.

Original source in Spanish: El Sudcaliforniano