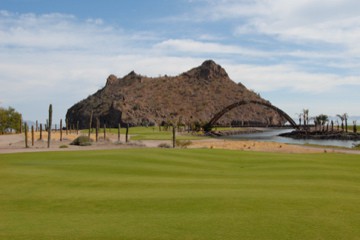 (Update: added photo of snack bar below)
Loreto Bay residents and vacationers can now enjoy a complete, 6,729 yard, 18 hole round of golf.
For a few years now we've become accustomed to the mounds of dirt, massive irrigation systems and abundant grass seeding. The setting is no doubt, spectacular. And while the course is an average, somewhat basic layout, the thrill of playing against the Sierra mountains with the Sea of Cortez dancing in front is an outing not soon to be forgotten.
The Bay Area has Pebble Beach a short drive to the Pacific in Carmel. I'll never forget watching Tiger Woods there. It was 2001, at the US Open. We lined up at the third tee probably a good hour or so before he arrived. The reaction was thrilling when he arrived, surveyed the fairway and took his flawless, gifted, smooth as silk, swing.
Walking Pebble Beach is possibly one of the most transcendent experiences possible. Waves crashing along the coast. Dramatic elevations. And sterling greens, meticulously manicured.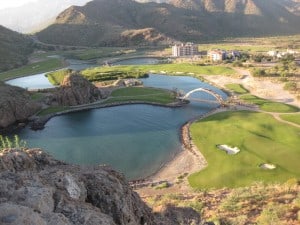 Comparing Pebble Beach to Loreto Bay's course, I'd have to say us home owners have it pretty good! After all, this course is literally in our backyard. It also adds visual beauty to the neighborhood.
Drew at Living Loreto has an excellent, in-depth, hole-by-hole tour of the newly completed course, along with plenty of photos and a brief history of the course itself. When Drew covers something, he does it in-depth, and with an informative stylish flare. Well done!
A mostly positive review, Drew does point at an issue or two:
I guess my main critique of 1 through 9 is the distance that must be covered between several of the holes and the current conditions of that trail particularly between 6 and 7
However, in the end, he sums it up nicely, and I imagine a lot of Loreto Bay homeowners will agree with his assessment:
To enjoy this wonderful game in these spectacular surroundings and to be able to do so at the special introductory price for Homeowners of $25 per nine holes with a pull cart, or plus another $10 for a power cart (slightly higher for guests at the Inn at Loreto Bay, and higher again for those outside of Loreto Bay), well, it really dosen't get much better than that, which is why I believe golf is another important part of "Living Loreto"!
[Source: Living Loreto, Nine + Nine = FORE!]