San Francisco: North Beach and Victoria Pastry Co. from Stark Insider on Vimeo.
My weakness for sweets is infamous among my family and friends and sweet treats are absolutely irresistible when combined with the textures of butter and flour into muses I call pastries.
North Beach is known as the Little Italy of San Francisco and is one of the best places in the city to discover great cappuccinos, pastas, gelatos, chocolates and of course, cookies & pastries.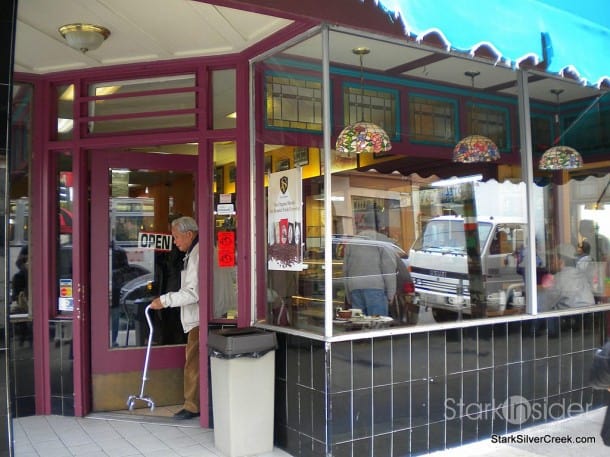 Recently I toured a small part of North Beach and my last stop? I found myself at a pastry shop, Victoria Pastry Co. to be exact.
Victoria Pastry Co. is unique in that it is the only bakery left that has and still uses a brick oven which survived the 1989 earthquake in San Francisco. The brick oven is so enormous that it can back 25 full sheet pans at one time which can be accessed with a wooden paddle that is almost 20 feet long (almost 4x as tall as me!) and weighs nearly ten pounds (I will not make any weight comparisons).
On this particular day, I decided that all the cookies and pastries looked so good in the long glass display case that I had to get a sample of several of them. Some of my selections included:
Raspberry Occhio Di Bue Cookie (double shortbread cookie with raspberry)
Raspberry Thumbprint(butter cookie with jam)
Pignolli (amoretti with pine)
Raspberry Rugula Cookie (small pastry-style cookie that is horn-shaped, filled with raspberry jam and sprinkled with sugar)
Spice Cookie (spice flavored dough with walnuts, raisins and candied fruit)
The little cookies and pastries sell for $17.50/pound at the store or online for $19.50/pound.
If you can't make it out to North Beach, check out my recipe, "Memories of childhood delights" raspberry shortbread kisses, to get your own fix for shortbread cookies.
Otherwise you can find Cookie Monster's heaven here:
Victoria Pastry Co.
1362 Stockton Street.
San Francisco, California
94133

Phone: (415) 781-2015
Website: www.victoriapastry.com