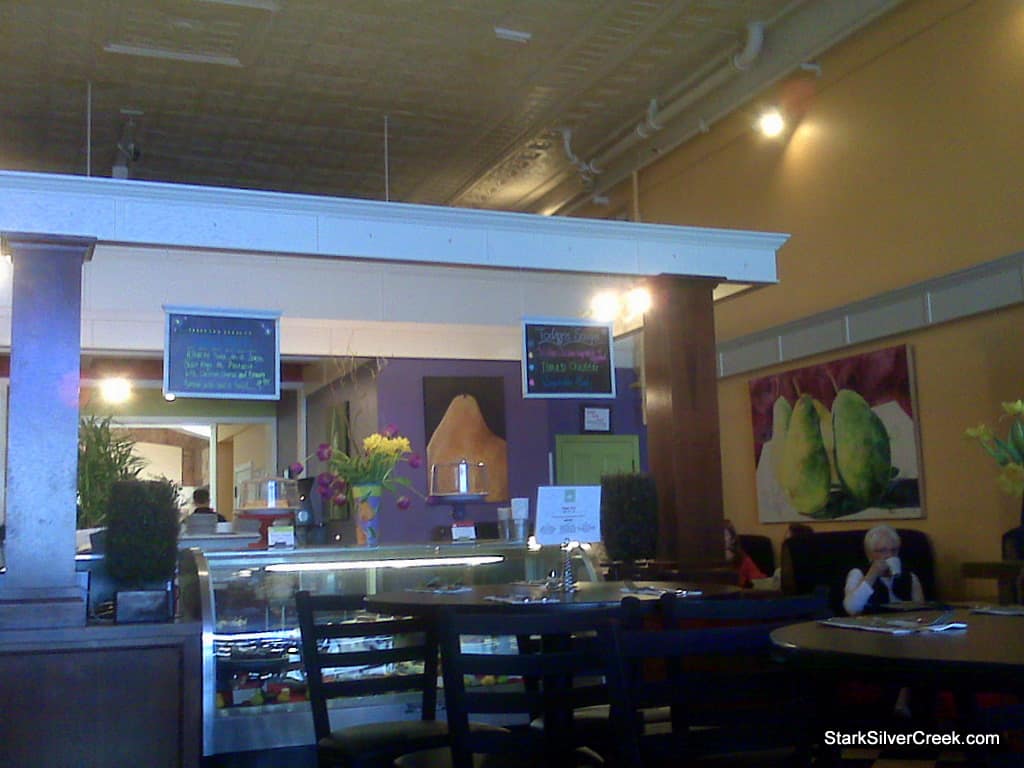 Yesterday's day trip out to Portland and Salem Oregon landed me at Wild Pear Restaurant for a light lunch.
After consuming, in retrospect, too many large and delicious chocolate chip cookies at Harvard Kennedy School last week, I decided I needed to make a special effort to steer away from sweet tooth sirens.
Wild Pear is both a restaurant and a catering business in Salem, Oregon owned by Jessica Ritter. As you enter the restaurant, oil paintings of pears adorn the walls by artist Suzy Kitman. I love pears and for a moment I thought of the pear tart I had this weekend.
Their selection of lunch items span soups, salads, sandwiches, pizza, and even the odd Vietnamese Pho dish. I ordered their 'Two Salad & Cup of Soup'  combination ($8.95), selecting a vegetable eggplant soup, the 'Wild Pear Chicken Salad' and the 'Chicken Hazelnut Salad'. It was a wonderful way to get a nice sampling across their menu.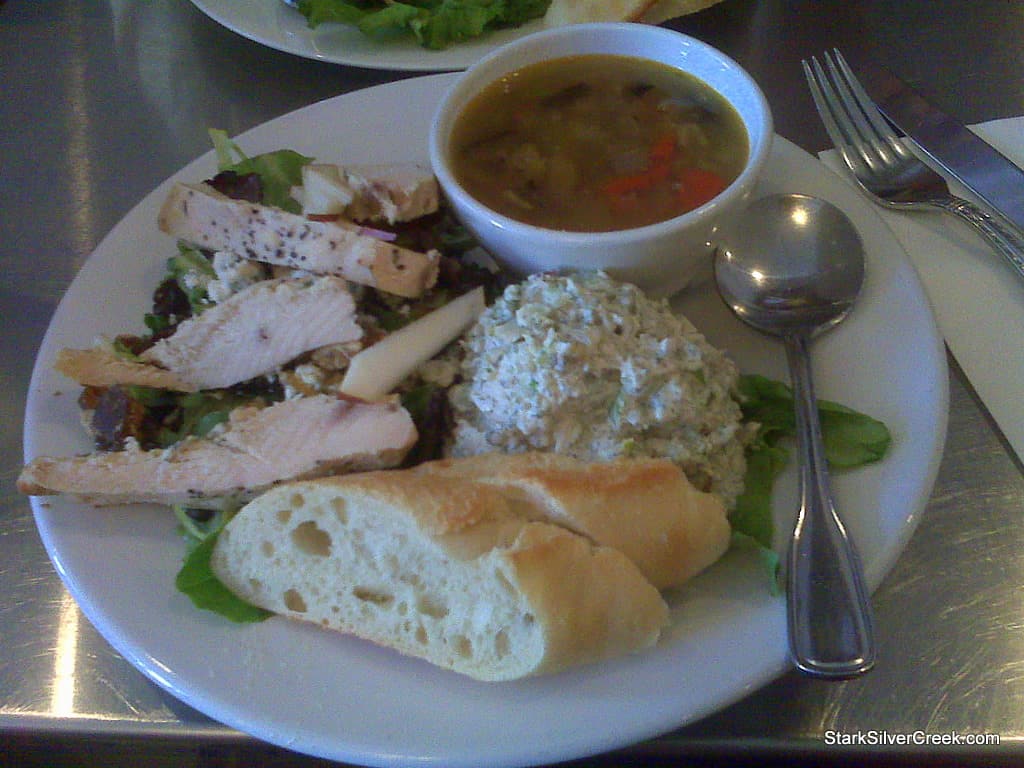 My favorite part of the combination was the salad component of the 'Wild Pear Chicken Salad', which included everything except the chicken. The chicken was tough, dry, bland and was not incorporated into the rest of the salad which was a nice flavorful balance of sweetness and tartness.
The 'Chicken Hazelnut Salad' was nothing like I expected from the description which was, "Dried cranberries, red onions and creamy dill dressing on a bed of organic mixed greens with fresh pear slices". It arrived as a scoop of all these ingredients chopped and mixed with a mayo-type dressing. I thought it would be lighter and more pure.
At the table next to me, a woman who looked like a regular, had ordered the 'Lobster & Seafood Melt' which looked delicious. Maybe next time.
For some reason, the name of the restaurant and the decor had me wondering if I was going to taste something imaginative. In the end, it was a light and good lunch. Perhaps I made the wrong menu selections?
I did feast my eyes on the colorful and bold pear paintings which I was immediately attracted to when I walked into the place.