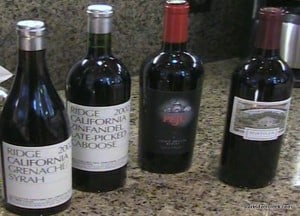 Although not the primary focus of our recent Tahoe weekend getaway, we did manage to enjoy some wines along with the always fine culinary skills of chef Susan and her understudy, sous-chef Loni.
The cold night air in Old Greenwood in Tahoe was crisp and clean. Sipping some nice red wine and enjoying the views was memorable for all of us.
The 4 wines (all red) that joined us included 2 Ridge, a Peju and a Buehler. A diverse group to be sure, especially since the Ridge wines were from 2002. Peju is a reliable classic. And Buehler is a $19.99 Costco wine, perhaps outgunned here, or maybe not?
Read on for the results and scores.1st: 2002 Ridge California Grenache/Syrah – Lytton Estate, Dry Creek Valley ($33, 89 pts)
Here's an interesting one: a blend of 50% Grenache and 50% Syrah. It works. Nice wine with complex flavors. Bold, blackberry, fruits, and we all agreed nice, firm tannins that keeps it all together. Long finish. 
2nd: 2005 Peju Estate Bottled Merlot – Rutherford, Napa Valley  ($35, 88 pts)
A consistent performer, Peju reds are always strong. This was also the case with this Merlot. It's intense with peppery tones throughout which I like a lot. Very good, and possibly a better value than some of the expensive, big Napa cabs.
3rd: 2002 Ridge California Zinfandel Late-Picked Caboose – Nervo, Sonoma County ($33, 87 pts)
For me, this was too sweet. And I don't like sweetness in my wines (except for Rieslings and Champagne, especially when pairing with spicy food or Sushi). However, our panel uniformly enjoyed this wine and it received high scores. So averaging it out placed in 3rd and was a favorite among some.
4th 2005 Buehler Vineyards Napa Valley Cabernet Sauvignon – Napa Valley ($20, 85 pts)
This wine is not terrible, but it's also not great. Just good. We found it a little bland. But it was smooth. If you don't like tannins and prefer an easy drinking, simpe wine, this might be worth a look. But for the same price range from Costco, I would recommend the Merryvale Starmont Cabernet instead.
So there you have it, a close 1-2-3 finish, with Buehler showing respectably against some heavyweight, brand name competition.