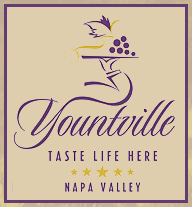 Mustard season is in full swing across Napa and Sonoma; yellow flowers are blooming as festivals continue. One of my favorite types of events is where several wineries come together along with restaurants and other local producers to offer a fun day of tastings, socializing and eating (of course!) under one roof.
If you're in the area, one such event to check out is the 'Taste of Yountville' in the heart of the Napa Valley, and one of the "West Coast's top epicurean centers".
The event coincides with the annual Mustard Festival and admission is free. Tastings are available for $1 — a welcome deal.
Over 24 restaurants and 15 area wineries are participating.Restaurants include V Marketplace, Washington Square, Thomas Keller's Bouchon, Redd, Hurley's Restaurant & Bar, Napa Valley Grille, Mustard's Grill and Bistro Jeanty.
Wineries include: Andretti Winery, Domaine Chandon, Jessup Cellars, Hill Family Estate, St. Supery, Bell Wine Cellars and Hendircks Wines, among others.
Loni and I will be town for the event as we have some scheduled meetings, interviews and tastings. No doubt it will be another great Napa adventure with stories, videos and reviews to follow.