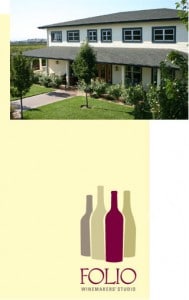 Founded in 2004 by Michael Mondavi, Folio Fine Wine Partners of Napa is part agency, part importer and part winery. At last count, they represent over 30 different brands, including this 2006 Hangtime Pinot from Carneros. The casual tasting room, or as they call it the "Folio Winemakers' Studio", also offers monthly art exhibits showcasing local artist's talent together with wine.
Loni and I were the first in the tasting room when we visited, and were greeted by friendly staff. I imagine it's slightly overwhelming to know the details of all the wines they serve: IM, Oberon, M by Michael Mondavi, Hunterdon, Spellbound and several others including many outside of California. 
My plan of attack is typical of a Carneros-based vineyard: take me to the Pinots! Because of the cooler micro-climate of the Carneros hills, it is an ideal producer of Pinots, and although other grapes also do well, it's the Pinot that typically stands out from the crowd.
Hangtime Pinot Noir, Carneros 2006
Rating
80
Clint says:
"Lacks the balance and sophistication I've come to admire in Carneros Pinots."
The Wine
Pinot Noir, 14.5%
$27
Winemaker Notes
The Winery
Folio Fine Wine Partners, Napa, California
Category
We worked the wine list, enjoying conversation on a quiet, laid back Napa day, as a gentle breeze fanned the vineyards beyond the rear porch. It's hard not to smile when in Napa, even when the weather does not cooperate. I

remember an absolutely torential downpour of a day in Napa. People crowded in tasting rooms, local diners and cafes to escape the wet. Conversation flowed. Always a good time.
At Folio we were just kicking off another wine tasting excursion, and enjoyed the leisurely stroll across the grounds, sampling wines. 
The Hangtime was one that stood out from the pack, so we picked up some in addition to a few others as well for good measure.
At home the official tasting began, and we dutilly took notes, comparing this 2006 Hangtime Pinot from Carneros to others from the region. The light body is immediately evident with a soft fruit nose and raisin. However, the tannins and alcohol tend to dominate and obfuscate the otherwise earthy qualities. Balance was not good, and overall this Pinot lacked the sophistication we'd come to expect from Carneros.
Maybe next visit we will try another brand. We've heard good things about Oberon.