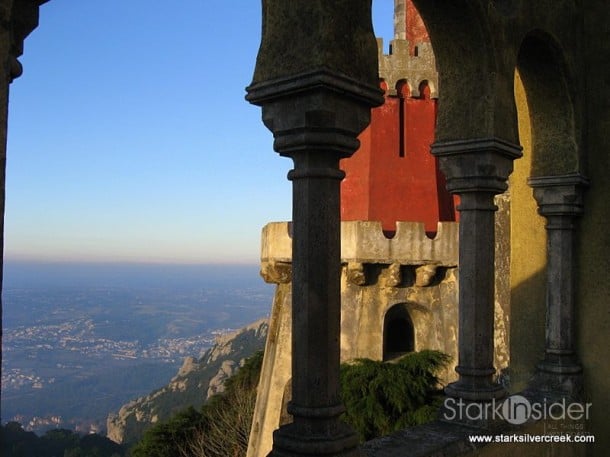 In the fairytale of Cinderella, the prince as a finale, sweeps Cinderella off her feet and gallops away to a beautiful palace where they lived happily ever after.
Well, if there was even a grain of reality in this tall tale, Pena Palace (aka. Palácio da Pena) in Sintra, Portugal would be quite the contender as their final love nest.
Upon asking the concierge at the Penha Longa Hotel and Golf Resort, if I had limited time and wanted to see the best example of a castle, there was little hesitation, he recommended the Palácio da Pena. He conjured up a glossy tourist map of Sintra, skillfully opened it up, flattened it on the counter and started to draw routes.
Sally and I got into a cab and away we were to Centro Histórico (historic center) of Sintra. Not in the style Cinderella was probably accustomed to, but that was a different time, a different story.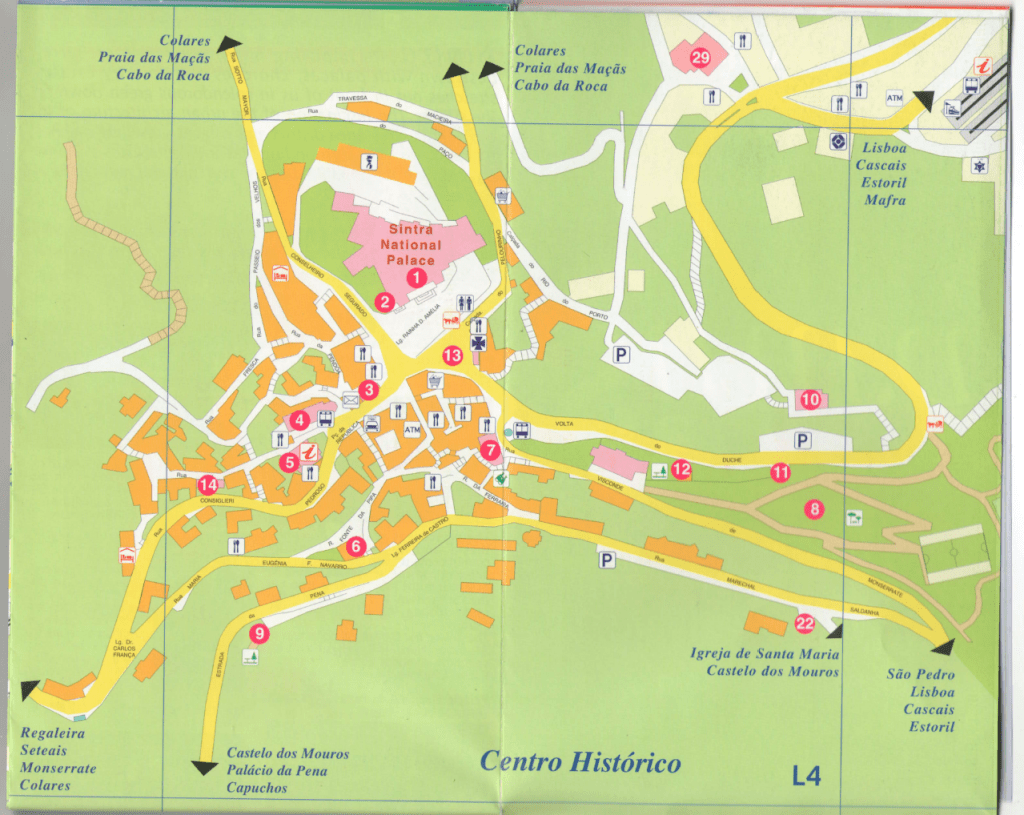 When the taxi finally stopped, we were in a charming, hilly town. Cobbled street and multi-story buildings with little shops on the first floor speckled our view.
We decided the first order of business was to walk about the streets and do a little shopping. I had come to Portugal to buy pottery, beautiful tiles and port…all to store in the wine cellar that I had started constructing that year. All of these objects were also known for their weight and fragility, horrible for transporting back in luggage on plane. I had already taken care of the port, paying way to much for it because I didn't research and study the topic thoroughly before I became prey to the tourist stops. I finally purchased a beautiful clay relief of little ivory houses with terracotta colored roofs.
Time must have flew. A quick check of time made us realize this excursion was not going to have a fairytale ending unless we took ourselves to the castle. No prince was going to gallop past, sweep us up and rush us to the palace gates.
Instead, a bus we took, which first traveled south as the Pena Palace is quite secluded and then up and up the mountain to a drop off point. We bought our tickets to the palace. We just made it as they stop selling tickets about an hour before the palace closes…and trust me, you will need the hour to see this place. There is also a separate entrance fee for the Parks of Sintra which is recommended if you have the time, we unfortunately did not.
Then we had to hike one of the steepest slopes I can remember up the palace. One could pay 1.5 euros to ride a trolley bus up, but what would be the fun in that!
Finally at the top, the palace did not disappoint. It was the storybook castle that childhood dreams are made of. This castle has it all, the incredible towers in rich colors of pink, deep rose and yellow, the incredible kitchen that makes Williams-Sonoma stores look like a peasant's kitchen and of course, the beautiful doors, several of which inspired special photos in "The Doors of Portugal" series.
Palácio da Pena

4.5 km from Old Quarter
Parque da Pena – Estrada da Pena, 2710-609 Sintra
Opening Hours: 16 Sept -30 June 10.00 – 17.30 / 01July – 15 Sept 10.00 – 19.00
Last Entry: 1 hour before closing
Open all year apart from Christmas & New Year

The National Palace of Pena

2710-001 Sintra, Portugal
Tel: (+351) 21 910 53 40
Fax: (+351) 21 910 53 41

Parques de Sintra, SA

Parques de Sintra Monte da Lua, SA
Parque de Monserrate
2710-405 Sintra, Portugal
Tel: (+351) 21 923 73 00
Fax: : (+351) 21 923 73 50

Email: info@parquesdesintra.pt
website: https://www.parquesdesintra.pt/en/

Sintra Tourist Information Phone: 219 231 157 / 219 241 700
Legend for the map of the historic center of Sintra, Portugal

1 – Sintra National Palace
2 – Jardim da Preta
3 – Clock Tower
4. Igreja de Sao Martinho
5. SIntra Municipal Art Gallery
6 – Fonte da Pipa
7 – Toy Museum
8 – Parque da Liberdade
9 – Parque das Merendas
10 – Anjos Teixerira Museum
11 – Moorish Fountain
12 – Parque dos Castanheiros
13 – Pelourinho de Sintra
14 – Ferreira de Castro Museum
22 – Fonte da Sabuga
29 – Town Hall

source: Sintra Map published by the Sintra Town Council. Available at most hotels and at Tourist Information