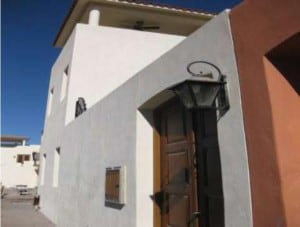 Amidst all the news this past weekend regarding the expiration of Replay Resorts' management contract, and Alvarez & Marsal Real Estate Advisory Services stepping in…
….Clint and I actually received a progress report from Loreto Bay on our little Nueva Chica – Casa del Lagarto Azul.
It always amazes us how sometimes time stands still on the progress of our home and then "poof" it magically leaps ahead. I remember how our place was just a flat piece of land with some chalk lines for more than a year and in the course of a month and a half, the perform walls for two stories shot up.
For those that haven't received a progress report recently, when you do you will notice that the format of it has improved. It is still a single page PDF document but instead of photos of the neighborhood or scenery, they do provide decent shots of the home.
Ours came with four photos, albeit all of the exterior of the home. The report notes our home is 95% done so I wish they would have included photos of the interior of the home because at this late stage of the game, the interior detailing is most telling as proof of the actual progress on the home.
There was also a response to most of the questions we had in our RFI which shows that the issues noted on the RFI are getting acknowledged. Clint and I disagreed with two of the responses and have written back to customer services to let them know.
Overall, it is a good sign that there is still communication coming from Loreto Bay.