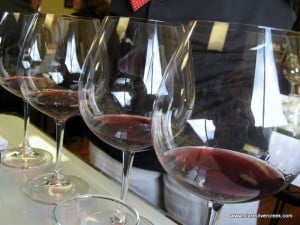 It's perhaps a little odd that you can find such great Pinots in Livermore wine country, given its inland location compared to bigger name neighbors such as Napa and Sonoma to the west.
Part of the trick is the sourcing of the grapes. The other is the presentation of the wines with a European style pairing all for only $15.
If you're in Livermore, I'd put La Rochelle high on your list of places to visit.
On our last tour, we finished the day at their small, craftsman-style tasting room. Unlike most wineries, La Rochelle is a sit-down wine and food pairing. Sitting back, relaxing with friends and enjoying some fine Pinot was the perfect way to reflect on the day and discuss one of our favorite passions: wine.
You can choose from two flights: a mix of reds and whites or Pinots only. All eight of us opted for the Pinot flight as we knew it was La Rochelle's calling card.
Thankfully, unlike some earlier stops in the day, the wines did not disappoint.
The tasting group agreed all of them were strong performers. It was only after carefully comparing each back-to-back over an hour of swirling, sniffing, sipping and discussing that we could begin to agree on ratings.
2006 Classic Clones Pinot Noir, Arroyo Seco $42 (89 pts.)
Pronounced cherry, smooth throughout and elegant
2006 Santa Lucia Highlands Pinot Noir $40 (91 pts.) ** PICK **
Tremendous aroma and complex flavors; we all agreed long finish, fruits with berry, but enough tannins
Cellar potential
2006 Santa Cruz Mtns. Pinot Noir $48 (88 pts.)
The tasting note accurately described this one as the most tannin or acidic of the group
Could pair well with lamb or roast
2006 Sarmento Vineyard Pinot Noir Santa Lucia Highlands $50 (89 pts.)
Also excellent, although we found the Santa Lucia to have slightly more complexity and interest in flavor
La Rochelle Winery
5443 Tesla Road
Livermore, CA
Tel: 925-243-6442
www.lrwine.com