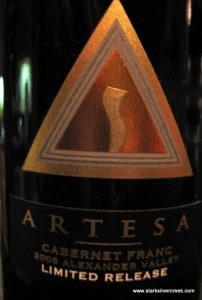 Artesa is a spectacular winery with sweeping views of the Napa Valley. Although its architecture is distinctively modern, its wines are enjoyably classic. On a recent tasting trip we were able to sample a cross-section of approximately 25 wines. 
I was generally impressed across the board. There is a reason why Artesa tasting rooms are usually so active.
A few stood out on that day: the 2005 Merlot Limited Release, the Pinots were expectedly strong considering the Carneros location and also this 2005 Cabernet Franc.
All told, the wines scored from 83-90 on that day, with the reds performing best. A complete scorecard and tasting report is coming soon.
Artesa Cabernet Franc Alexander Valley 2005 Limited Release
Rating
87
Clint says:
"One of many strong Artesa reds: juicy, vibrant with smooth vanilla and French oak style."
The Wine
Cabernet Franc 14.3% alc. $40
The Winery
Artesa Vineyards & Winery, Napa, California (Carneros)
Category
For now though this is a satisfying $40 Cabernet Franc that demonstrates many of the characteristics I enjoy in a good Artesa wine: the bold aromatic nose of pepper, vanilla and oak, and a decent finish with some fruit and nice tannins for structure. Good stuff.
The Mondavi Cab we had on standby, although certainly an okay wine, was flat and dull by comparison, with the Artesa much more vibrant and juicy.
In multiple tasting sessions across two days including blind tastings and direct comparisons, the Artesa continued to score well.
There are plenty of quality wines at reasonable prices by Napa standards at Artesa, and this Cabernet Franc is definitely one worth checking out.