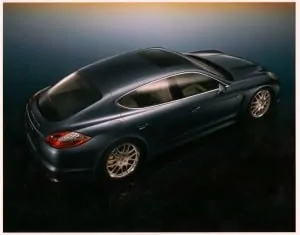 When it comes to the daily mail, when I see a Porsche envelope or folder, I know I'm in for some high quality marketing shine and glossy keepsake. Over the past few months alone I have received at least 3 eBay worthy press pieces.
They are really hitting up their 911 owner (and pre-Loni former…) mailing list.
This time Porsche is promoting the all-new Panamera, representing yet another new vehicle category milestone for the storied Weissach brand.
Four doors, a Porsche?

Pragmatically, maybe. Emotionally, less so.
Like other high end marques looking to capitalize on the affluent (not anymore?!) baby boomer segment, this sedan should open new doors for people looking for a sporty, high style, quality engineered and roomy ride for their friends and family.
The styling is nice, with an almost Ferrari like scoop just rear of the front wheel arches. I can't help but notice though a slight resemblance, maybe from afar only, to the Chrysler Crossfire. The way the rear quarter flows into the rear tail lamps seem to suggest as much. Then again, it's only a photo.
Loni thought the rear had a slight hatchback appearance, perhaps because of the low slope to the rear window.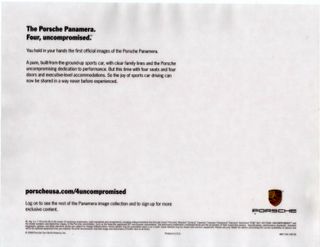 The front is pure Porsche, with traditional headlamps, modernized thanks to the influence of the Porsche Carrera GT supercar.
It's hard for me to evaluate this latest move by Porsche (although we've read about it for years). On the one hand, I know Porsche needs to grow its addressable market to continue it's recent profitable success. In some ways, though, I think I'm a purist at heart and associate the unmistakable 911 silhouette with Porsche.
In the meantime you will not hear me protest Porsche's marketing efforts one iota.