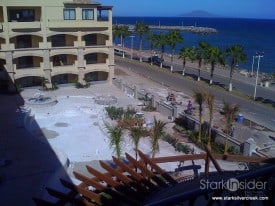 Clint and I just got a wonderful note from John P. who just got back from Loreto on Christmas day.
The email included a quick update on La Mision Hotel. The first floor of the hotel is being rented and one restaurant is open. I would fathom this latter hotel is the same one that we got sent photos of from Jan M. who had breakfast there.
On Christmas eve (December 24), the pool was being filled with water and there is was still work going on all day.
It always amazes me how quickly things can progress in Loreto when the winds blow in the right direction. As Jane L. sometimes says, never underestimate the magic of Loreto!