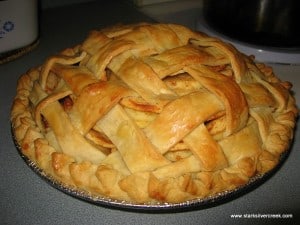 Over the holiday, I made two more apple pies with my "Easy as Pie" Apple Pie Recipe. Here are some shots of the results.
On the first, I varied the amount of apples for the recipe, almost doubling it. The result is a very impressive dome profile on the apple pie. One tip to remember if you do this is to bake the pie with the foil on the pie for an extra 15-20 minutes to ensure the apples have fully cooked through.
The second apple pie, I used a homemade crust that H.S. made and had some crust left over so I prettied up the top with leaves and a berry for design.