I hope you had a great Thanksgiving celebration. Clint and I spent a wonderful evening at Carl & Susan O's where we feasted on great wines and food among family and friends.
For those interested in hosting the ultimate Thanksgiving Dinner, here are some tips we observed while being the guest to one of those extraordinary events.
Remember, the difference between extraordinary and good is in the details. So observe the photos for other ideas for your next Thanksgiving gig.
1. Ensure a fine selection of wines and drinks are on hand.
The bubbly… The evening kicked off with a concoction of strawberry liqueur and champagne which set the tone for a festive celebration. Nothing like some sparkle to light up a room.
The whites… We brought over Artesa's 2005 Sauvignon Blanc Reserve whic
h everyone at the party unanimously thought was delicious. The nose was of fresh green apples…layers bursting with sweetness and balanced with tartness. Flavors of apples and pears lead with hints of butterscotch, very smooth and flavorful. A more detailed review will be coming.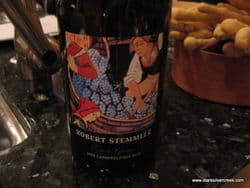 The reds… The O's served Robert Stemmler's 2005 Carneros Pinot Noir which paired wonderfully with the Thanksgiving meal. For tasting notes on this wine, click here.
A fiery finale… There are very few things more exciting than fire and for the evening, the finale was the Feuerzangebowle…a long, long German word which translates into "Fiery Wine Punch". The key ingredient was a compressed cone of sugar and Barcardi 151 Proof rum. You put the other ingredients (3 bottles of fruity red wine, 2 cups of orange juice, 1/2 cup lemon juice, 3 cinnamon sticks, 1 sliced orange, 1 sliced lemon, 10 cloves) into a fondue-like pot. Suspend the sugar cone on top of the bowl, pour some of the rum on it and light it on fire.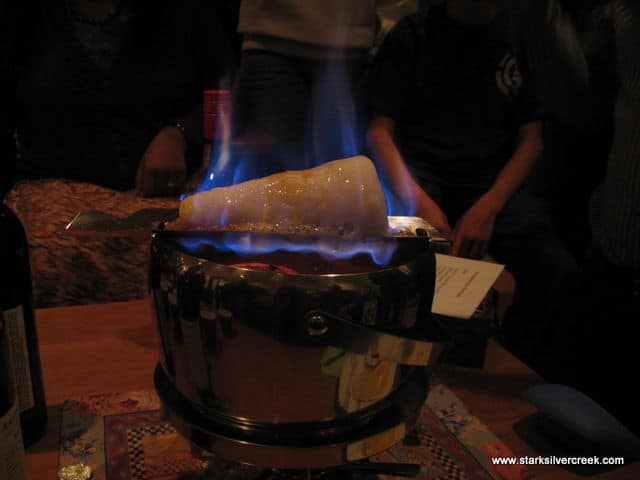 Very impressive Carl O! This drink kicked off quite a lot of heat. Wonderful on a damp, cool evening.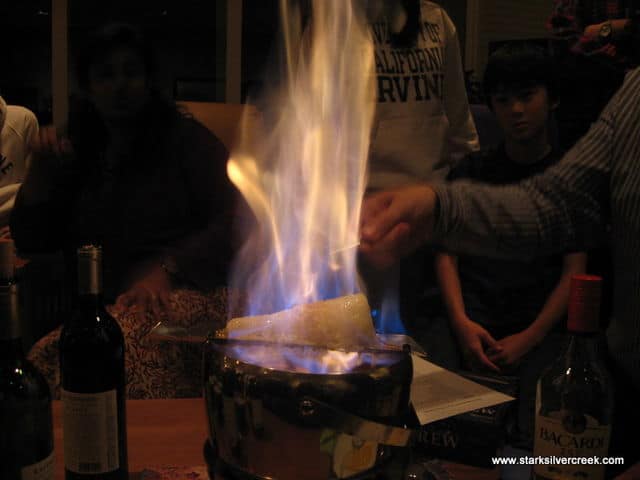 Legend has it that Carl O's forefathers have scorched ceilings with this recipe. Who needs to go see a Ringley Bros circus when you have this kind of action in the family room. Notice the children in the room…
2. The way into everyone's heart is through the stomach
The meal consisted of some spectacular dishes that words would not do justice. So here are some photos of the meal.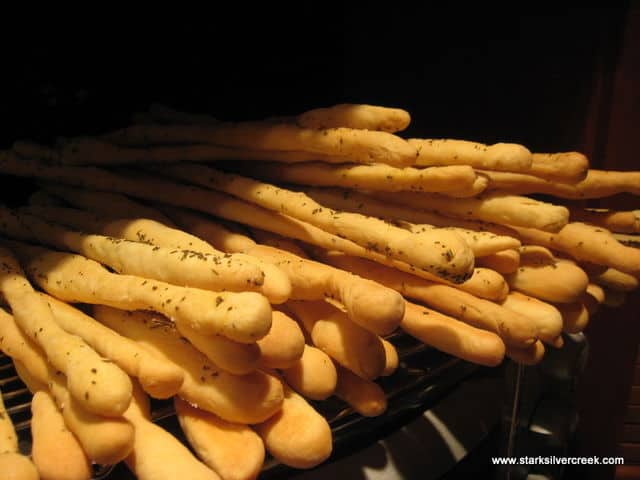 Grisini. Very long thin breadsticks that added a wonderful crispy backdrop for all the other courses of the meal.

Susan O, the chef, prepares delicious goodies on the gas range.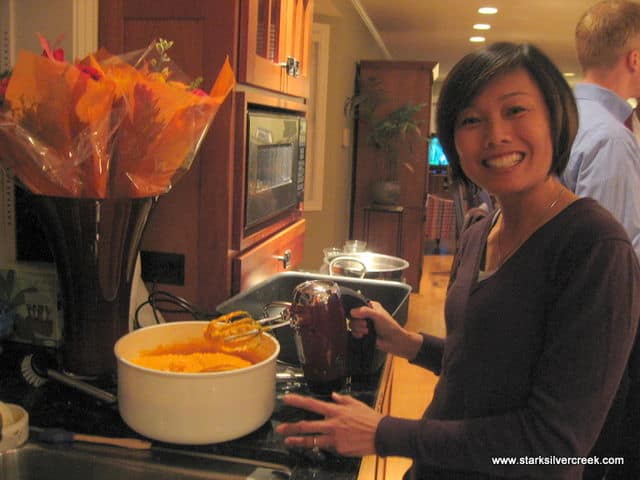 Debbie helps mix the sweet potato souffle. She folds in the egg whites.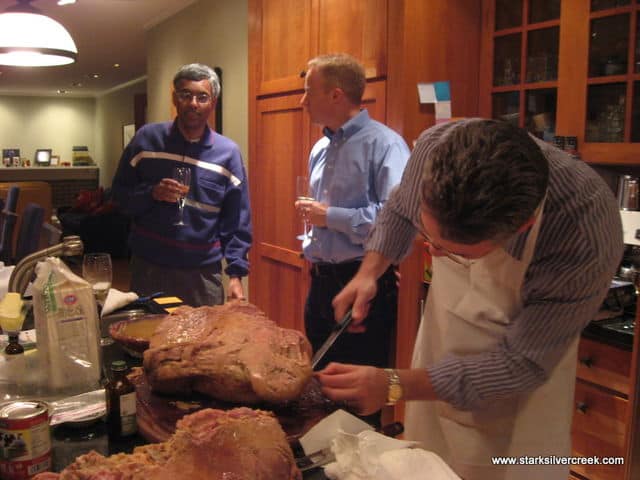 Carl O. carves the Turducken as Reggie and Clint look on.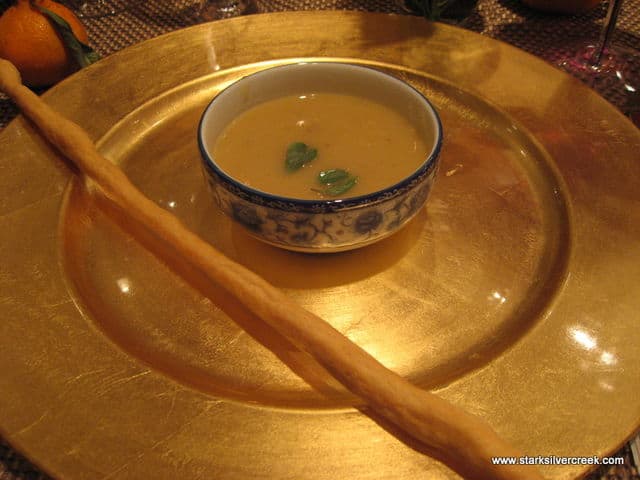 First course, Fennel Soup. Delicious way to start the meal.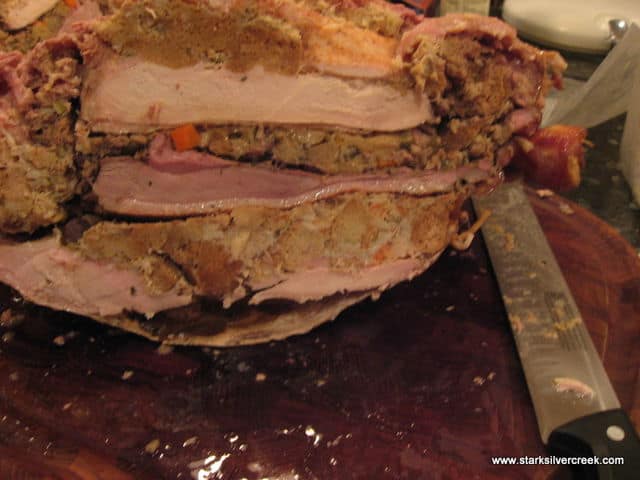 Cross section of the Turducken. You can see the layers of turkey, chicken and duck.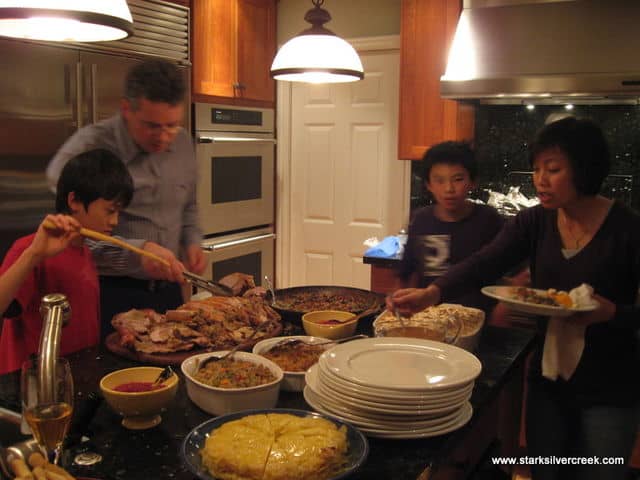 Turducken, green beans, two types of stuffing, sweet potato souffle, scalloped potatos and cranberry sauce…yummm….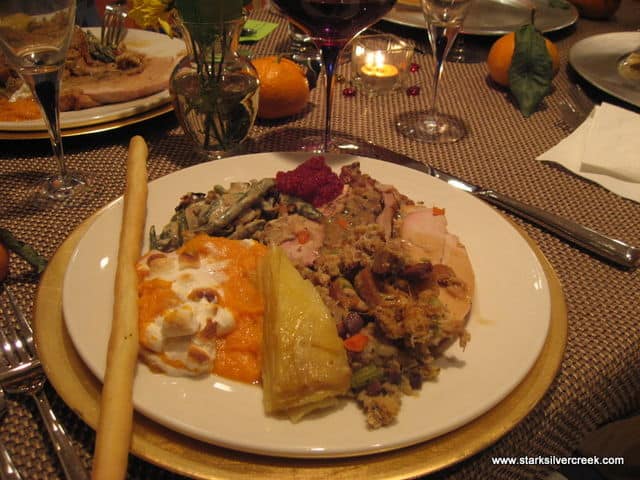 Looks so delicious on the plate, no?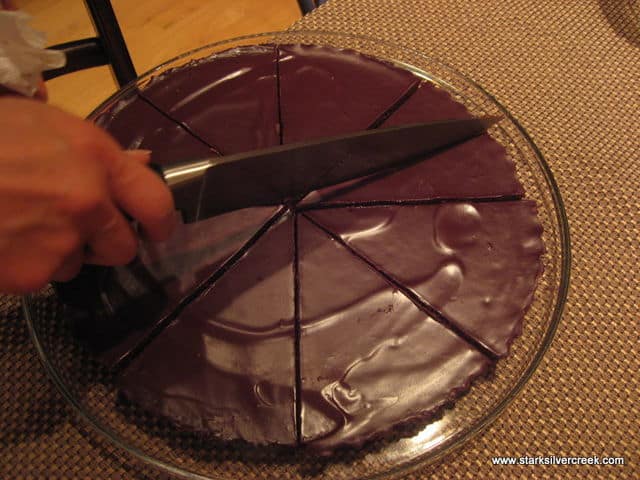 Chocolate torte for dessert…but there's more…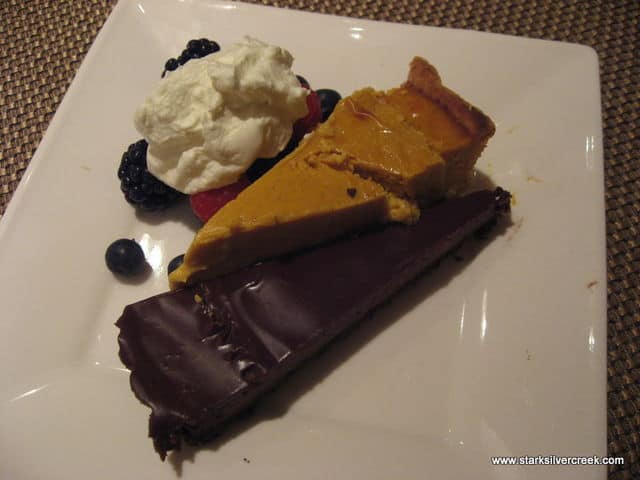 Pumpkin pie (I brought this over, it is the true Paula Deen recipe – not my modified version), chocolate torte, berries with whipped cream. Can you really desire for anything else?
3. Make sure there is no shortage of family and friends
Food and wine always tastes better when shared with family and friends.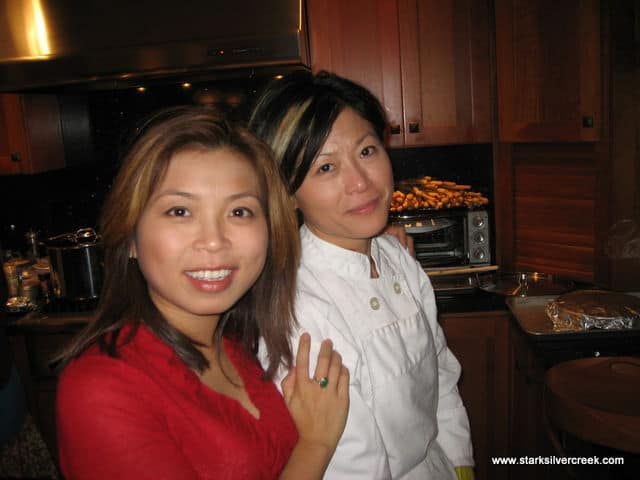 Me posing with the chef, Susan O.

Debbie, Clint and Carl goofing off.
Gotta go, my 20lb clay pot turkey is almost done. The only downside of going to someone else's home for the Ultimate Thanksgiving Dinner is there is no turkey leftovers stocked in your own fridge for the many meals of turkey sandwich, turkey soup, turkey pasta… Hence, the 20lb turkey I'm cooking post-Thanksgiving.
Hope you all had a great Black Friday!