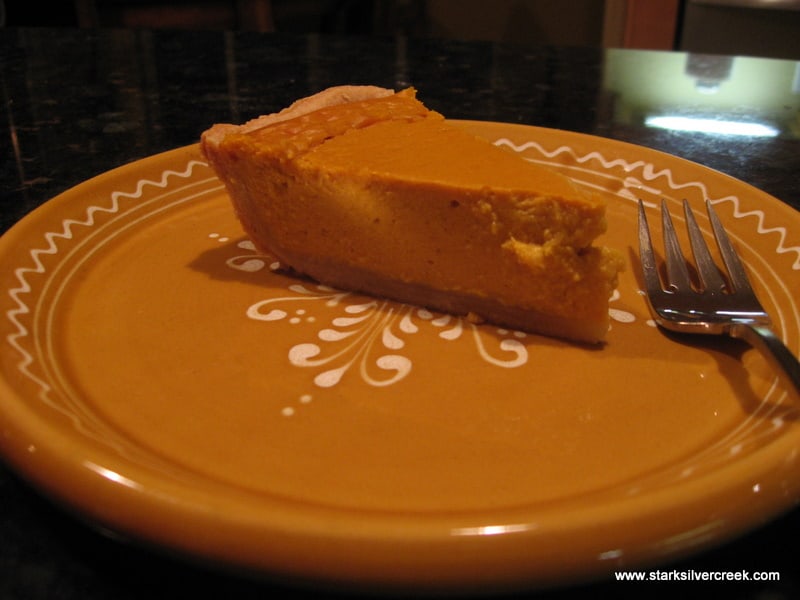 A slice of my pumpkin pie. Unfortunately, I didn't have any whip cream to dress this up.
With another heat wave hitting California, it is hard to imagine that we are now in the fall season. The only signs really are the Halloween trinkets that adorn the windows of retail shops. I still don't really understand why anyone would need place mats and table clothes in orange and black from Williams-Sonoma when one can easily invest in linens which would be appropriate all year long (or at least for an entire season).
Anyways, prompted this past weekend by the spirit of fall, and also because I had a can of organic pumpkin from TJs that was going to expire 10/08, I decided to bake a pumpkin pie. Funny how these things work. Clint was full of encouragement.
Now, which FoodTV star do you think of when you imagine comfort foods such as pumpkin pie? None other than Paula Deen of course!
I found this recipe labeled Pumpkin Pie which came with the prestigious resume of 348 reviews and an average rating of 5/5 stars. Now that's as perfect as one can get. On top of this, the level was marked as "Easy".
The only problem was I was missing a couple of the ingredients…I didn't have half-and-half, I didn't have butter and finally, I was low on the cream cheese that was pilaged as a spread for bagels. However, where there is a will there is a way and I was not going to let a couple of ingredients stand in my way…it wasn't like I was missing the crust or pumpkin!
So here is ultimately the substitutions I made:
1 (8-ounce) package cream cheese, softened =>

4-ounce light cream cheese, 4-ounce sweetened condensed milk.

2 cups canned pumpkin, mashed =>

No change.

1 cup sugar =>

Did not use, I tasted the filling and didn't think it needed the sugar.

1/4 teaspoon salt =>

No change.

1 egg plus 2 egg yolks, slightly beaten =>

No change.

1 cup half-and-half =>

Substituted with a bit more of the condensed milk which was another reason I didn't add more sugar.

1/4 cup (1/2 stick) melted butter =>

Used plain yogurt for this.

1 teaspoon vanilla extract =>

No change.

1/2 teaspoon ground cinnamon =>

No change.

1/4 teaspoon ground ginger, optional =>

Did not add because I didn't have this.

1 piece pre-made pie dough =>

Good ole TJs frozen pie dough.

Whipped cream, for topping.
It may not be as delicious as the original recipe, I would really have to make both and try it out. But I think the result of this recipe was yummy and has a lot less fat and sugar. Now that's a good thing.