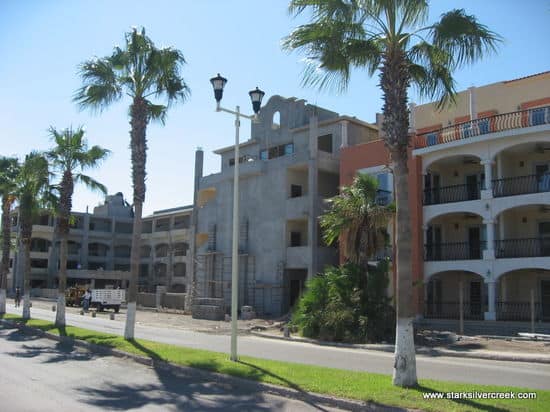 Tesoro de Loreto seen on the right of this photo with the painted facade. There seems to be similar elements like the arched balconies as La Mision Hotel on the left but these are different developments.
A case of mistaken identities (La Mision Hotel, Loreto Baja: Mission Impossible?), I recently posted up photos of the construction progress of La Mision Hotel along Loreto's Malecon and pulled in another development, "Tesoro de Loreto" into the photos, literally.
This Shakespherean drama was quickly sorted out when readers came to the rescue to point this fact out.
So who is the new kid on the Malecon?
From their website the developments seems spearheaded by the company Tesoro Realty S.A. de C.V. "Tesoro de Loreto" translated to english means "Treasure of Loreto".
Price
In this case the treasure being sold is full ownership, turn key service starting at $399,000. The starting price is for a unit on the first floor with 1,600 square feet of living space. It is unclear from the website what is meant by "turnkey". I didn't see any specifications on furniture etc.
Each floor higher commands a $35K premium. Usually in a resale, the difference you pay in price between the first and second floor may be recouped on resale. However, any other floor premiums on new construction are not usually captured in a resale. Choice of higher floors in this latter case is a matter of preference.
At this price point and up, the floor plans are pretty standard for "American/Canadian-style" condos with 2 bedrooms with closets and 2 bathrooms (one with shower-only and the other with a  tub. The kitchen, living room and dining room are open concept with each room flowing into the other. There also is a spacious laundry room.
There seems to only be 3 unique floor plans. Two for the penthouses located on the fourth floor and one for all others. The latter floor plan alternates between the one shown on the right here and its mirror image.
Notable Features
Granite counter tops come standard which may be a preference for those that are accustomed to having grout-less, solid surfaces for working in the kitchen. A water purification system is also included. These days this is a good thing as extra precaution for drinking water.
I like the stainless steel instant on demand water heater. I've been considering one of these units for our place even in San Jose, CA and would love to hear of opinions on them. I can't seem to find many disadvantages with them and hence skeptical…
The pocket doors, 10-14 ft. ceilings (most likely 14 ft. is only for penthouses) and energy efficient double-pained gas filled windows are also pluses. I am a big fan of pocket doors and if I could convince Clint of another remodel on our own place in California, this would be something I would push for.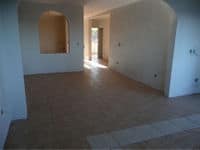 I can't tell from the photos of the interior the floor and shower tile material. Based on the color it looks like porcelain or ceramic tile made to mimic Travertine. 
Finally, they are building a storage facility called "Tesoro Storage" which will offer secure, 12'x40′ enclosed storage free for 2 years for condo purchasers. The copy on the website seems to target this storage for vehicles claiming to also provide vehicle maintenance. It is not clear on the website the location of this storage area and fathom it is probably off site.
On-site Amenities
There is a mention of a pool for the development but it was unclear from the photos we took where the pool would actually be located. 
The brochure also notes there will be on site parking and "10 month delivery". I don't know what the latter means. 
Contact Information

Eddie Mealey, Owner/CEO
US Phone: 760.996.1722
Mexico Phone: 011521.686.186.3489 (from US)/686.186.3489
Email: Info@TesoroRealty.net, eddieloreto@yahoo.com
Sales Office: located on Hildalgo around the corner from Bancomer.