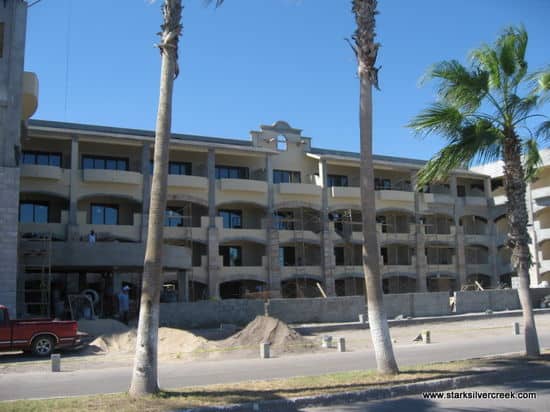 Site of La Mision Hotel in Loreto, Baja. Still a lot of work to be done for a hotel that is accepting reservations for their Grand Opening on November 17, 2008.
Back in mid October, we profiled the new hotel opening in Loreto, 'La Mision' (La Mision Hotel in Loreto, Baja Mexico Grand Opening November 2008). At the time, Paula P. commented that she and George were in Loreto and La Mision was still a construction zone.
Well, after a visit along the beautiful Malecon in Loreto, I would have to agree that the Grand Opening date now pushed to November 17 from earlier in November is still ambitious, if not impossible.
For those of us that have waited on the construction of our homes in Loreto Bay, one can sympathize that these projects can take longer than anticipated.
I did notice that the right portion of the hotel was significantly further along and they may be doing a soft launch with this part of the complex.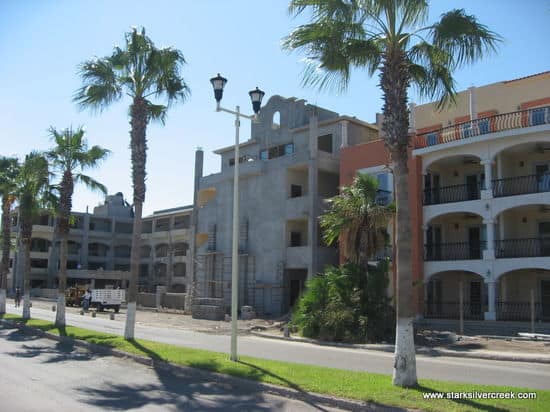 Notice the right portion of the hotel that has the painted facade, railing, doors, windows and fixtures.
Another new item I noticed on their website is a $200 discount to visit La Mision to hear about their vacation ownership program. You are expected to attend a 90 minute presentation and then receive the $200 USD to apply towards tours and activities, spa services, car rentals, telephone services, room service, and food and beverages.
There is an online form that must be completed with acknowledgement of the terms & conditions. The key qualifications is that you have to:
attend the 90 minute presentation on the second day of arrival
be english or spanish speaking citizens of USA or Canada
be between ages of 28-60.
own at least one major credit card and provide photo ID.
This seems like standard qualifications as it was the same for the timeshare presentation of the Villa Group development Clint and I attended (details on this to follow in a future post).
I wasn't aware they were planning to offer a timeshare/vacation program. Wonder if this was always part of the plan or new.
Regardless of the offering being just a night stay in the hotel or a larger vacation program commitment, November 17 is extremely aggressive, but I can't fault them for trying. I guess never underestimate the power of positive thinking.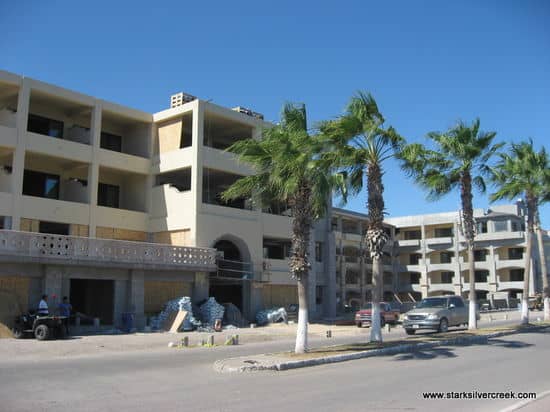 Photo from the left of the development.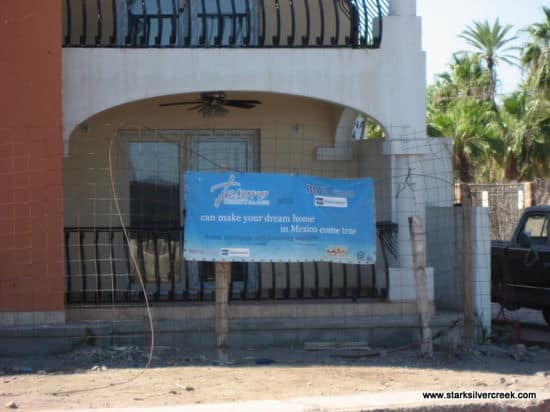 Sign posted at the construction site. There were quite a number of construction workers on site on October 31, 2008 when we took these photos.

Previous Posts: