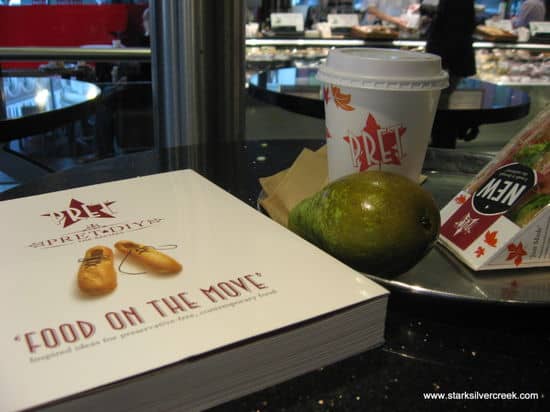 Pret DIY, The Recipes "Food On The Move"
Jane Lunzer Gifford
£14.99 (about $23), 2008
Available at Pret a Manger stores
Rating: 8.5 out of 10
In an earlier post ('Pret a Manger? Abso-bloody-lutely!') I expressed my enthusiasm for the food at Pret a Manger (aka. Pret) in London. So much that on the last day of my recent trip to London, I snuck into a Pret in Piccadilly Circus for a last moment indulgence with one of their homemade sandwiches before I headed out to Heathrow.
As I savored my sandwich, I scanned the restaurant trying to remember the moment before I would fly back home; a place I love, but a place that is Pret-less.
It was at that moment that my eyes landed on a pile of books set a little to the side of the general flow of traffic. What was this?
It seemed like the folks at Pret knew there were poor souls like me out there and provided a way I could take a little Pret with me…your good old fashion cookbook. This is in reference to its form factor, not its contents.
Up to page 25, the book (which I devoured on the first leg of my trip from London to Chicago) talks about the general philosophy of Pret and just inspires the reader to eat healthier and have fun with food. The narrative is sprinkled with thoughtful quotes and whimsical photos of food as different objects. For example on the cover there are two loafs of bread made to look like elongated running shoes.
And finally I saw it.
And finally I saw it. On page 120, staring right back at me on the bottom of the page was the Hoisin Duck Wrap recipe.
On page 120, staring right back at me on the bottom of the page was the Hoisin Duck Wrap recipe. The ingredients were so simple and straightforward. This is another thing the book mentions, that making sandwiches is not rocket science and really the book is to provide inspiration for readers to perform their own fridge raid and discover their own creations.
The book also has a section called "Too Good to Move" – recipes tested for Pret but never included on the regular menu because they just couldn't last on the shelf for a couple of hours. These recipes need to be eaten as soon as the dish is made.
For those of you who love Pret or think that recipes should not be followed to a tee and instead be a fountain of inspiration, then this book will fulfill that craving.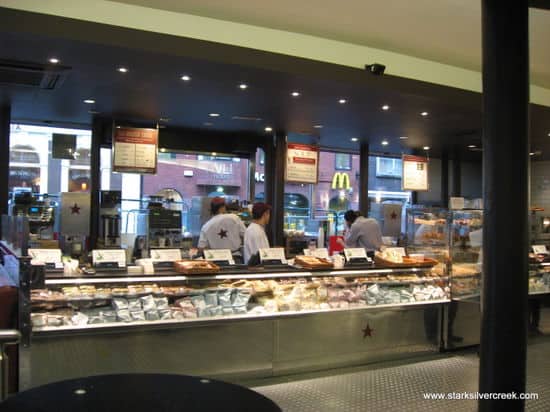 The counter at Pret a Manger. Notice the McDonald's "M" in the background.