Directed by Miri Navasky, Maeve O'Boyle, Karen O'Connor
Starring Joan Baez, Hanna Shykind, Joan Baez Sr.
2023 | 1h 53m
In theaters
Miri Navasky, Karen O'Connor and Maeve O'Boyle directed this captivating documentary about folk singer and political activist Joan Baez. I Am A Noise has been featured at film festivals in Calgary, Athens, Sarajevo, Berlin, Sydney, Melbourne, Amsterdam and San Francisco.
At the beginning of the film, a quote from Gabriel Garcia Marquez forewarns the audience: "Everyone has three lives: the public, the private and the secret." We already think we know a lot about Baez the performer and activist, and about her role in jump-starting the career of Bob Dylan.
In addition to correcting some of our impressions about her public and private life, this documentary shares Baez's secret life for the first time. Rather than searching out each fact, the directors had almost too much information to plumb. In the storage areas of her California home, Baez retained boxes of letters and photographs from her entire life along with bins of audiotapes and video interviews with parents, sisters, former husband David Harris and even a word or two from Bob Dylan.
In 2018 Terra Naomi said:
"I can't imagine what it's like to have a 50-year career, especially the one of an artist as iconic as Joan Baez. Whether marching alongside Martin Luther King Jr. in Selma, being arrested in Oakland for encouraging young men to resist the draft during the Vietnam War, or taking shelter in Hanoi during a carpet bombing, Baez has actively and outspokenly protested and participated in the issues, beyond the scope of any other mainstream artist in history."
Before she found her role as activist, Baez entered the spotlight as a college teen with that achingly pure soprano, wowing audiences in small clubs and folk festivals. The attention became so intense that she stepped back at age 22 in order to gain some perspective. From there she turned to social activism on the world stage.
Visuals in the documentary move from black and white to full color, as Baez reviews the highs and lows of her life. We see her from age 13 or so to her current maturity at age 79, complete with voice coach, exercise machine, and hard-won closeness to her son from her marriage to David Harris.
Nothing makes sense to me but you, me and the revolution
And then there is the voice, her stirring songs, concerts all over the world, the break with Dylan, the struggle to overcome sibling rivalry with Mimi Baez Farina, and the intensity of her marriage during a time when all hell was breaking loose in the world.
"Nothing makes sense to me but you, me and the revolution," she wrote to her husband, then serving time in a federal prison for draft resistance.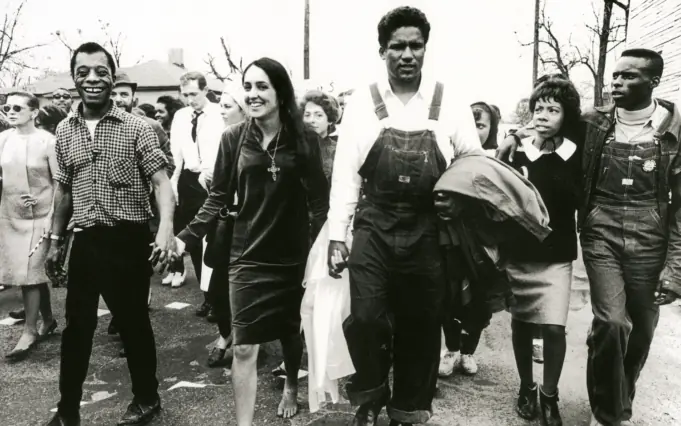 When the storms finally cleared in the secret aspects of her emotional life, and she realized it was time to retire, Baez made her farewell tour in 2018, accompanied by her son and fellow musician, Gabriel Harris. Backstage they light sage and cleanse each other before entering the performing area.
At age 79 her demons are gone and she is at peace with her life and her family history.
When asked which decade does she like the best, Joan Baez responds, "this one!" I Am A Noise offers a wealth of information and a trunkful of musical memories.