Directed by Bethann Hardison, Frédéric Tcheng
Written by Bethann Hardison, Frédéric Tcheng
Starring Tyson Beckford, Stephen Burrows, Naomi Campbell
2023 | 1h 55m
In theaters
Bethann Hardison is a neo-renaissance generalist in the world of high fashion. It is not surprising that she co-directed this intriguing documentary of her remarkable life as high fashion model and activist. Her colleague Frederic Tcheng also directed the 2019 film on Halston.
This documentary had its world premiere at the Sundance Film Festival. It also was screened at Hot Docs International Film Festival, Tribeca Festival and most recently the SF International Film Festival.
Bethann Hardison has been quoted as saying, "I always know—cause I've lived life long enough—you can change things." When asked at one point if she could make a difference, she said, "Yes, I've done it before."
Indeed she has. This 81 year old laid the foundation for significant change in the fashion industry: she changed the way beauty is defined. Why the documentary and a memoir pending as the film was being made? I owe it to my community, she said. One looks back in order to go forward.
Her community consists of fashion models, modeling agencies, fashion designers, stage designers, musicians and the photographers who record their every movement, in the U.S. and elsewhere. Because of her, models such as Pat Cleveland, Beverly Johnson, Iman and Naomi Campbell have walked the runway.
How does she still do it at 81? Writing on a tablet and a laptop, using two cell phones, a daily workout, a little dancing and a bit of tai chi, and looking fabulous every day.
How do you see this film starting, she was asked? With my good childhood, Hardison answered. Both parents were dancers and worked late. Bethann was a latchkey kid before that was the norm. Bussed to G. W. Wright high school, Hardison met people outside her culture. She utilized that opportunity to "switch it up, break free." You need ideas, she has said, and a sparring partner.
Hardison's dad was a World War II veteran who became an imam. He introduced his 12 year old daughter to a disciplined schedule, a raised consciousness and to Islam. At 16 he returned her to her mother. While she loved her brilliant dad, she wanted to forge a different path.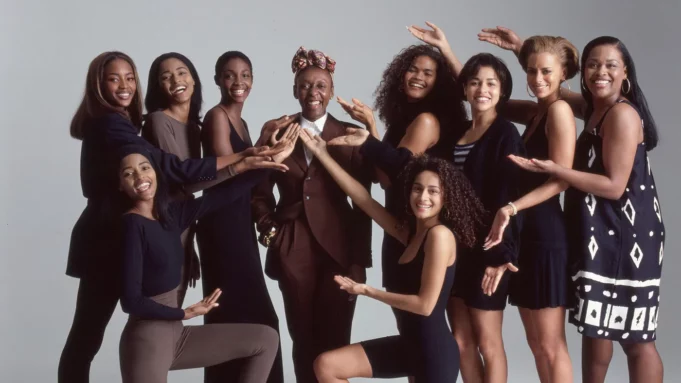 Donald McFadden was her childhood friend; they grew up in the garment district. Designer Willie Smith discovered her walking down the street. I love the way you look, he said; be my model? Bruce Weber photographed her on the way to her career. He noticed how confident she was despite her youth.
Hardison loved Samurai films. The confidence of the actors and their portrayals inspired her. It's the way she walked, not to have fear.
The opportunity of a lifetime came with the Versailles fashion show in 1973, an international fundraiser to restore the palace of Versailles. Everyone was there: Princess Grace of Monaco, Eleanor Lambert, the baroness de Rothschild, the Begum Aga Khan, Dewi Sukarno, Liza Minnelli and Josephine Baker. Aline Mosby, writing for UPI, said this was "the first time France ever has recognized that the United States even has designers."
This is my world too; we belong here.
Black designer Steven Burroughs took his models to Paris on a shoestring budget. They walked on the bare stage with live music, Steven's fashions and an attitude. Their performance onstage, owning the fashions and not just wearing them, brought the crowd to its feet. They were saying, "This is my world too; we belong here."
Never relying on modeling alone, Hardison kept a day job because she had a son. When her mother offered to raise the boy, only then was Hardison free to focus on her flourishing career. In the 1970s being a runway model was glamourous and fun. Studio 54, Sly Stone's wedding, being photographed by Annie Leibovitz.
Her fabulous career included running her own modeling agency, managing a band in the Caribbean, introducing male model Tyson Beckford to Ralph Lauren, purchasing a home in Mexico. Asked to come out of retirement due to impact of current events on her industry, Hardison returned to New York to fight for improved working conditions for models of color. Her ability to host public meetings, get the modeling agencies organized, and to lobby public officials was amazing.
Her approach? "I'm not here to put anyone down. I'm here to bring everyone up." She has said: "I have objectives, not dreams."
Bethann Hardison understands the business of beauty, understands what power looks like. She has a radical's heart, it has been said. The sticker on her laptop says: "baddest bitch room." And she still thinks, "what am I going to be when I grow up?"