If there's one musical that might be able to match the midnight madness of something like The Rocky Horror Picture Show it would surely be Hedwig and the Angry Inch.
Featuring iconic musical numbers, fourth-wall breaking, stand-up comedy, and outlandish costumes, the cult favorite is now headed to Berkeley.
Shotgun Players has announced Hedwig will open October 28. In-person performances will take place at the Ashby Stage. In addition, a special haptic and audio-described performance is available for blind and low vision patrons on November 12.
"This production takes place here in Berkeley, California at a dive bar," Director Richard A. Mosqueda says of the Shotgun Players' production. "This is a story about a person stepping into her own self and going on a journey of self-completion," Mosqueda reveals.
Opening in off-Broadway in 1998 the original rock musical was based on a book by John Cameron Mitchell with lyrics by Stephen Trask and followed a genderqueer East German singer of a fictional rock and roll band ("Hedwig and the Angry Inch").
In 2001 John Cameron Mitchell adapted the musical and wrote a screenplay in which he also starred in the lead role as Hedwig. Though the film was not a commercial success a the time of release it has gone on to achieve cult status. Aggregate review site Rotten Tomatoes has the film currently enjoying a fan rating of 93%.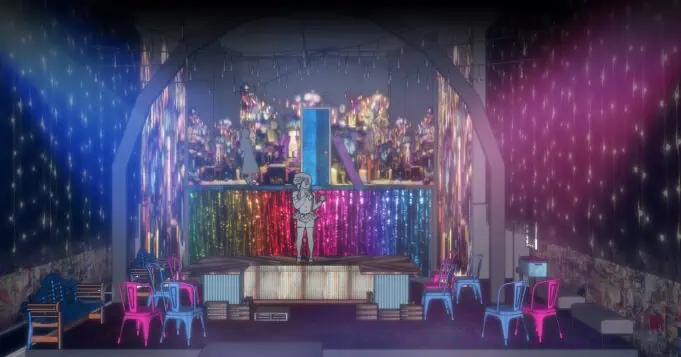 "Queer people have not been given permission in the mainstream media to be flawed characters, but have been relegated to comic relief roles and arcane stereotypes." Mosqueda explains. "Hedwig is flawed, messy, and problematic at times, but [she] has a huge heart and a dream to find her other half. And THAT is the heart of the story."
Hedwig and the Angry Inch plays October 28 through December 3 at the Ashby Stage in Berkeley.
Tickets are anywhere from Free to $40 (Pay What You Can). The show runs 1 hour and 40 minutes with no intermission.
Perhaps the best part: there's even on-stage seating available!