Nespresso has a wind range of models, but its latest one might be just the best yet.
The new Vertuo Pop is a relatively compact espresso and coffee machine measuring in at 5.3 by 16.7 by 9.8 inches and weighing merely 7.7 pounds. Finding space on your kitchen counter should not be an issue.
As you'd expect the Pop is compatible with the full range of Vertuo coffee capsules from Nespresso (but not the OG pods found on the original machines).
If you like choice in your morning beverages you'll not be disappointed — from short Ristretto drinks, to Lattes and to 7.7 ounce coffees, there's something here for everyone. And that's not to even mention the variety of flavored pods you can try as well. Note that you get a generous 50 free pods when you purchase a Vertuo Pop.
But one of the Vertuo Pop's best feature is its price.
At only $129 USD this is an entry-level machine in the Nespresso line-up, yet it brings pretty much all the functionality most buyers would expect.
One thing to keep in mind is there's no integrated milk frothing. So if you do like milk-based espresso drinks at home, be sure to pair it with something like the Aeroccino which is sold separately. Then you can fill that with some milk and while its frothing go ahead and simultaneously load a pod into the Vertuo Pop and make your drink before combining the two. "Pop+" models offer packages that include both the Vertuo Pop and a milk frother for about $199 USD.
With a 30-second heat-up time you'll get your morning caffeine fix with almost no delay. Contrast that to traditional espresso machines that often take at least 10-15 minutes, or even 30-minutes to reach brewing temperature and you can see why Nespresso is regarded as one of the most convenient brands in the market.
Reviews: Nespresso Vertuo Pop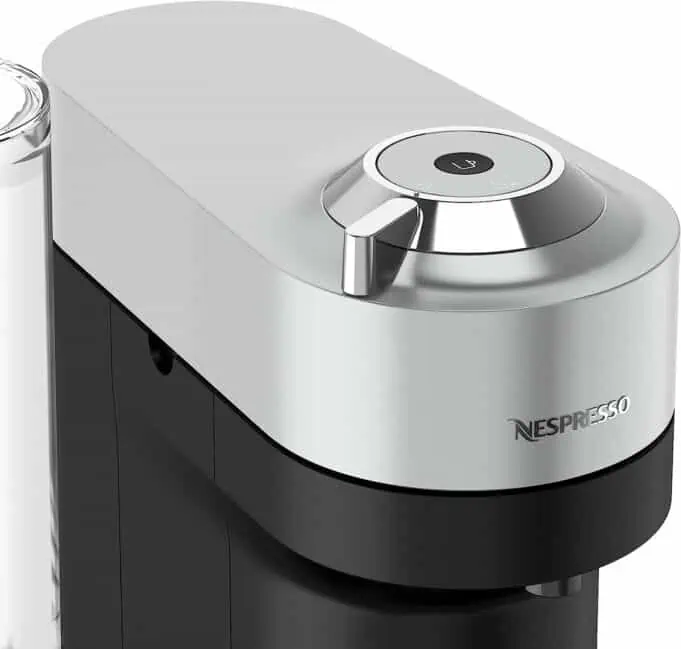 If you're researching Nespresso machines you'll quickly discover the Vertuo Pop is attracting a lot of attention this year. As for the reviews, they seem quite positive. A quick summary of some of the major reviews below.
TechRadar (5 out of 5) says the Vertuo Pop is easy to use and makes great-tasting coffee. "I'm generally a tea-drinker, but this pod coffee machine has proved to me that you don't need to spend a lot of money, or claim a lot of kitchen space, to make a decent cup of coffee."
Trusted Reviews (3.5 out of 5) points out the small water tank as a potential issue. On the upside they too cite the quality coffee produced as well as is value and looks.
Tech Advisor (3.5 out of 5): "As a straightforward capsule coffee machine, the Nespresso Vertuo Pop excels – it's fast and consistently delivers a decent cup."
Currently the DeLonghi branded version of the Vertuo Pop has a perfect 5 out of 5 star rating on Amazon (granted with only 10 reviews as of this writing). Also, Breville is another well regarded brand that also has a version available.
The Nespresso Vertuo Pop is available in six colors, sells for $129 USD and is now available on Amazon with versions manufactured by DeLonghi and Breville among the most popular editions.
Released in 2023 we expect the Vertuo Pop to quickly become Nespresso's best selling model.