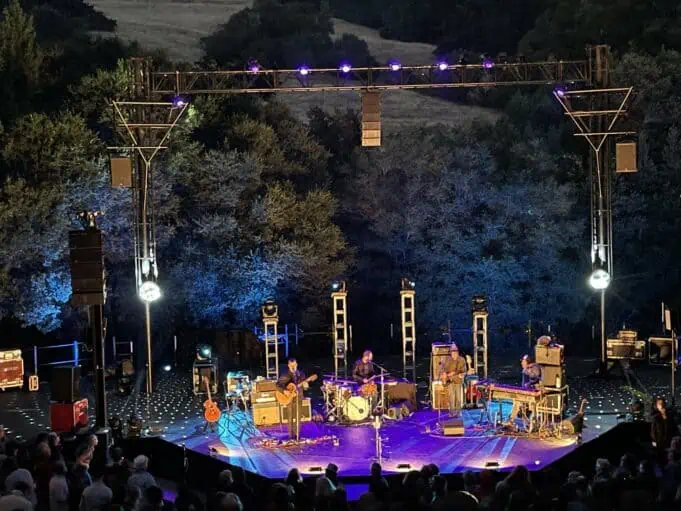 Opening with a Sunday picnic, California Shakespeare Theater (Cal Shakes) today released the details of At the Bruns.
Organizers say the new series will showcase music, comedy, and theater. All events are scheduled to be performed at the Bruns Memorial Amphitheater from May through October 2023. Full details below as provided by Cal Shakes.
"We're excited to bring this new summer performing arts series to our families, friends, and neighbors", says Clive Worsley, Executive Director of Cal Shakes. "At the Bruns is an extension, not a replacement, of our Shakespearean roots. This year we'll have great music on the mainstage, a site-integrated theater production, stand-up comedy, classical music and more. It's an exciting lineup that is guaranteed to be a fun time. We hope you'll join us back in the eucalyptus groves."
BAY AREA STAGE

California Shakespeare Company
At the Bruns

May – October, 2023
Bruns Memorial Amphitheater
Orinda, California

Season Opening Picnic

Sunday, May 28

Doors open at 1 p.m. for a first performance at  2 p.m., then a 4 p.m. performance.

Join us At the Bruns for a Community Showcase & Picnic on May 28. It's an afternoon of music, food, drinks and, reconnecting with each other, and the turkeys in the Siesta Hills. Paper Moon Presents and At the Bruns are pleased to host musical guest Brightshine. This California-based quartet redefines improvisational rock by focusing on strong songs and arrangements, creating an irresistible style that is syncopated, ethereal and rocking. Brightshine is led by songwriter, singer, producer, and lead guitarist Pete Sawyer, also features Celso Alberti (Steve Winwood), Eric Levy (Night Ranger), Paul Rustigian (Freestone Peaches), Murph Murphy (Poor Man's Whiskey) and Kara Cavanaugh (Terrapin Flyer) and other special guests! Also joining the lineup is Cardboard Coffin!

Some of the other organizations planning on joining the celebration include Cancer Support Community, The Mosaic Project, We Players, Young People's Symphony Orchestra, and Cal Shakes Conservatory Instructors. Face painting and balloon critters will also be available. There will be food and drink available at the café.

Tickets are free but reservations are required.

Young People's Symphony Orchestra

Sunday, June 11 a.m.–1 p.m

Led by Music Director Conductor David Ramadanoff, the Young People's Symphony Orchestra (YPSO) performs At the Bruns on the mainstage. Founded in 1936 in Berkeley, California, YPSO is the oldest youth orchestra in California, and the oldest independent youth orchestra in the nation.

This concert marks the final concert of YPSO's successful 22-23 Season, with a program ranging from Antonín Dvořák's Scherzo Capriccioso, Manuel de Falla's Three Cornered Hat, to popular favorites such as Edward Elgar's Pomp & Circumstance March No. 4, Duke Ellington Medley arr. by C. Custer, and more.

Tickets: $20 and up – To purchase, visit ypsomusic.org

Papapalooza

Saturday, June 17 – Doors/Activities/Food & Bev: 12–7:30 p.m. | Music: 1:30–7:30 p.m.

This summer on the day before Father's Day, celebrate your pops, papas, and grandads during Papapalooza at the spectacular Bruns Amphitheater. In its fourth year, the event will offer an eclectic mix of music ranging from the 60's to the 2020's from 5 amazing and talented local bands: The Ripplers, Sixteen Scandals, Delta Deuce, Ancestral Water and Chupacabra. Plus, solo appearances from Chelsea Ames and Abby Hallett so the music will never stop. Food and beverages include Classic Catering, Craft Beer from Canyon Club Brewery. Fun for all ages with a game zone (cornhole, ping pong, disc golf putting range, etc.) and kiddie activities. Proceeds benefit Notes4Hope and The Diamant Foundation.

Tickets: $20 and up – To purchase, visit notes4hope.org/papapalooza

Good Medicine: A Night of Live Native Stand-Up

Jackie Keliiaa of Good Medicine
Photo credit: Jim McCambridge

Saturday, July 8 – Doors open at 6 p.m. for an 8 p.m. performance

Good Medicine: A Night of Live Native Stand-Up returns to the Bruns Memorial Amphitheater  for the third straight year with the best and brightest from North America's Native comedy scene taking the stage for a night of laughs under the stars. Hosted by Good Medicine founder and Oakland-based Native comedian Jackie Keliiaa, "Good Medicine" at Cal Shakes' setlist features top Native stand-up comics hailing from across the U.S. and Canada, including Jana Schmieding, Brian Bahe, Larry Omaha, and Dakota Ray Hebert.

Doors to the show open at 6 p.m., giving plenty of time for attendees to explore the Native artisan market featuring art, jewelry and apparel from Native-owned vendors Braven Saige Eagle, Kirbear Yurok Designs, Where The Land Meets the Sky Studio and Turquoise Hogan Creations, as well as grab a bite to eat at Cal Shakes' Cafe before enjoying the laughs. Guests at this event are also welcome to bring their own food and drink to the outdoor venue. The night concludes with a dance party, hosted by DJ Interval, featuring a multi-generational gathering with a mix of hits from Native bands, such as Redbone and The Halluci Nation, and East Bay artists like Tower of Power and Tony! Toni! Toné!

Tickets: $25 and up – To purchase, visit calshakes.org/good-medicine/

Paper Moon Presents the Siesta Valley Music Series featuring ALO

Saturday, August 5 – Doors open at 5 p.m. for a 7 p.m. performance
Sunday, August 6 – Doors open at 1 p.m.  for a 3 p.m. performance

Paper Moon Presents is bringing Animal Liberation Orchestra (ALO) back to the Bruns! It'll be the best party of the summer, with music and dancing under the trees. ALO is Zach Gill (keyboards/vocals), Dan "Lebo" Lebowitz (guitars/vocals), Steve Adams (bass/vocals), Ezra Lipp (drums/vocals).

Tickets: $45 and up –To purchase, visit: papermoonpresents.live/

Mosaic

Saturday, August 12 – Doors open at 3 p.m. for a 4 p.m. performance and 6 p.m. dance party

Join us for the family friendly Mosaic of Music concert and fundraiser for The Mosaic Project.

The family-friendly concert will feature artists Chano Tizon, Gyasi Parker-Ross, and more, backed by the Children's Board Band. Much of The Mosaic Project's original music was first written by Bay Area singer-songwriter Brett Dennen and have been sung around our Outdoor Project's campfire since our founding. These songs of many different genres and styles embrace the challenges and joys of peacebuilding. DJ Mai Girl will spin when doors open.

Tickets: $0-$25 – To purchase, visit – https://www.eventbrite.com/e/mosaic-of-music-tickets-629521093537

We Players present The Keeper

August 18, 19, 20, 25, 26, 27 – Fridays and Saturdays at 6 p.m.; Sundays at 4 p.m.

Somewhere in the abyss of sea and sky lives a lighthouse in limbo where Caretta tends and keeps. At a time when so many of us are much more closely acquainted with loneliness and isolation than we'd like to be, The Keeper tells the story of a woman who chooses a solitary existence with a singular purpose- to keep the light. A one-woman performance inspired by many true stories of female lighthouse keepers, the piece explores the comfort we can find in custom and the softness and ease in seclusion. Joy and absurdity abound in this transformative tale about the power of practice and patience. As we follow Caretta through her days caring for the light and its house, witnessing and learning the rules of this absurd place, we discover that the only remedy for seeping existential doubt is a magical solution.

Tickets: $5 and up – To purchase, visit: https://www.weplayers.org/the-keeper-2023
Cal Shakes serves more than 43,000 people annually. The non-profit has announced it will return to producing live theater 2024 — just in time for its 50th anniversary.