Sylvie's Love
Directed and written by Eugene Ashe
Starring Tessa Thompson, Nnamdi Asomugha, Eva Longoria
PG-13 | 1h 54min | Drama, Music, Romance | 2020
Review by Jeanne Powell
With his second feature film Sylvie's Love, director and writer Eugene Ashe revives the concept of a true romance, where boy meets girl and their love story perseveres through any number of obstacles.
Set in New York City in the early 1960s, the film's lush photography is matched by an inviting musical score celebrating American jazz. Music was a major influence on the direction Sylvie's Love would take because Ashe grew up listening to master musicians such as George Shearing, Cannonball Adderley, and especially Nancy Wilson. The film score is as rich and luxuriant as the cinematography.
Photography and lighting techniques chosen for the film were influenced both by Ashe's memories of his childhood and by the photography of the legendary Gordon Parks. He studied photographs of his community from the late 1950s and early 1960s, and wondered why they were not depicted that way in American films.
In dress and hair styles, young women were influenced by Audrey Hepburn's film images, and by Jacqueline Kennedy in the White House. Tessa Thompson captures that look completely as Sylvie, who watches black and white television comedies and listens to jazz LPs in her father's music store.
This is where musician Robert, played by Nnambdi Asomugha, first sees her through the window of Mr. Jay's Records.   For the shy saxophonist, it is love at first sight.  For Sylvie, it is nothing of the kind. After all, she is engaged to marry a man who is serving his country in a foreign war, and she has no time for a music man of uncertain background.
There is talk of Sonny Rollins and Thelonius Monk, as Robert and Sylvie look through the jazz LPs lining the shelves at Mr. Jay's Records and explore each other's worlds. Then Sylvie's formidable mother walks into the shop to check on her daughter. Obstacle number one.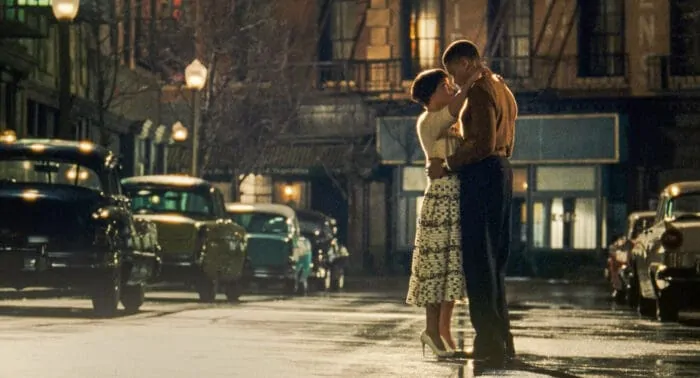 Sylvie and best friend Mona (Aja Naomi King) go to a jazz club to hear Robert play.  A different era, when music patrons dressed up to attend live music events in small clubs, and musicians wore jacket and tie. Cigarette smoke wafts through the air as Sylvie views Robert in his element, at one with the saxophone. After the performance a flashy club dancer in skimpy costume gives Robert a familiar eye. Obstacle number 2.
Sylvie's Love had its debut at the Sundance Film Festival, to well deserved applause.
As Sylvie and Robert draw closer, more challenges threaten to interfere with their growing attraction: his quartet lands a gig in Paris, her fiancé is due to return to the U.S., and the rise of Motown threatens to dethrone jazz as America's music. Through it all, there are the streets of New York bathed in the golden light of street lamps, and the popular music classics we all can sing when we hear them — To Be Loved, Summertime, Sincerely, All My Tomorrows Belong to You, Fly Me to the Moon, The Best is Yet to Come, Shadow of Your Smile, Kiss to Build a Dream on, the Nearness of You.
Sylvie's Love had its debut at the Sundance Film Festival, to well deserved applause. With exquisite costumes, a timeless soundtrack, and wonderfully subtle performances by Tessa Thompson and Nnambdi Asomugha, director and writer Eugene Ashe makes a convincing case for returning romantic love front and center to movies.
See this film on Amazon Prime.
4.5 out of 5 stars