Apple again heads a top brands list. No surprise there. But perhaps some of the other companies making this particular top 10 list are somewhat less than unexpected.
For instance, Android comes in third place — not Google.
And, perhaps the most interesting entrant is Spotify, the Sweden-based music streaming service comes in second, right behind the juggernaut that is Apple.
That's pretty impressive especially when you consider some of the other titans of industry on this Top 10 Brands report from Prophet:
Disney
Amazon
Netflix
Pixar
Spotify beat all of them, at least according to this San Francisco-based study that rates various characteristics to create a "Brand Relevance Index".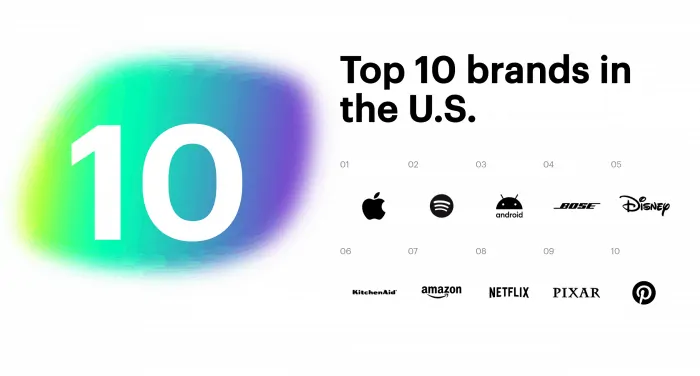 Here's the informative capsule summary about Spotify's placement at the #2 spot according to Prophet's Top 10 U.S. Brands report:
"While dwarfed in revenues by rival Apple, Spotify's position as a scrappy pioneer earns nonstop R-E-S-P-E-C-T from listeners. It ties Apple on many of our relevance measures and beats it on statements like "Makes me happy," "Connects with me emotionally" and "Makes me feel inspired." And while Apple has passed it in premium subscribers, Spotify still rules in total listeners and is aggressively fighting back with trial promotions. Its interface also makes it easier to find friends, discover what tunes they're playing and collaborate on playlists—establishing some comradery among listeners."

Source: prophet.com
The 2019 brand report by Prophet profiles 50 U.S. companies — based on surveying 13,500 consumers in the United States. You can download the report from the Prophet web site and see what other brands are speaking to consumers.