When Saha restaurant closed in Berkeley in April 2019, that was bad news for Berkeley food lovers but very good news for San Francisco. Chef Mohamed Aboghanem brought his famed "Arabic fusion" restaurant back to San Francisco, and back to the Hotel Carlton on Nob Hill, where it had been for 12 years previously.
Chef Aboghanem is happy to be offering his signature dishes, rooted in his Yemeni background, to San Francisco diners again. His tabbouleh, braised octopus salad, fattoush and lahoh are all there on his menu, along with small plates such as crispy harissa brussel sprouts, stuffed beets and wild mushroom knaffe. Entrees include sage duck, lamb curry, shiitake ravioli, black mujadara, and orange scallops.
The San Francisco location is ideal for those who take the time to discover it – a couple of blocks from Van Ness Avenue, located on a quiet street served by two bus lines. Condominiums and boutique hotels are in the same block. However, you do have to walk through the lobby of one of those boutique hotels to discover the wonderful world of Saha. Simply follow the signs.
Moving through partially open curtains, you enter a warm sunny room with spotless skylights and comfortable wooden furniture. You are greeted by a tall man from the Isle of Jersey in the UK. Naturally there is conversation about the only person from Jersey with whom Americans are familiar – Lily Langtry, the famous "Jersey Lily."
At some point while your party is enjoying excellent wine, the chef enters the dining area to say hello. He is happy to be working in only one location again, in a space small enough to manage alone, now that he is handling the business without the assistance of family members.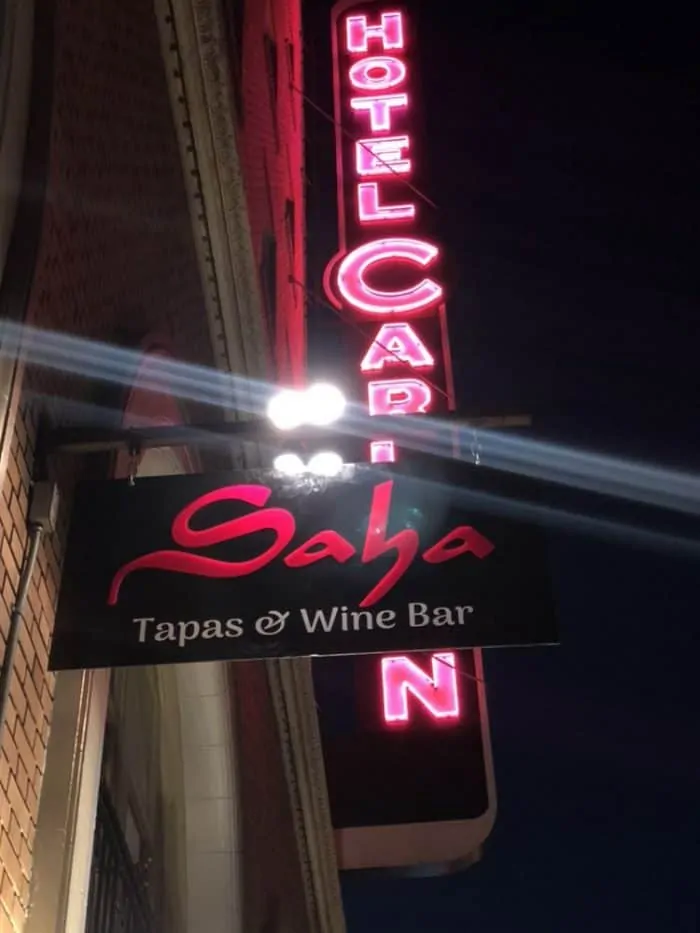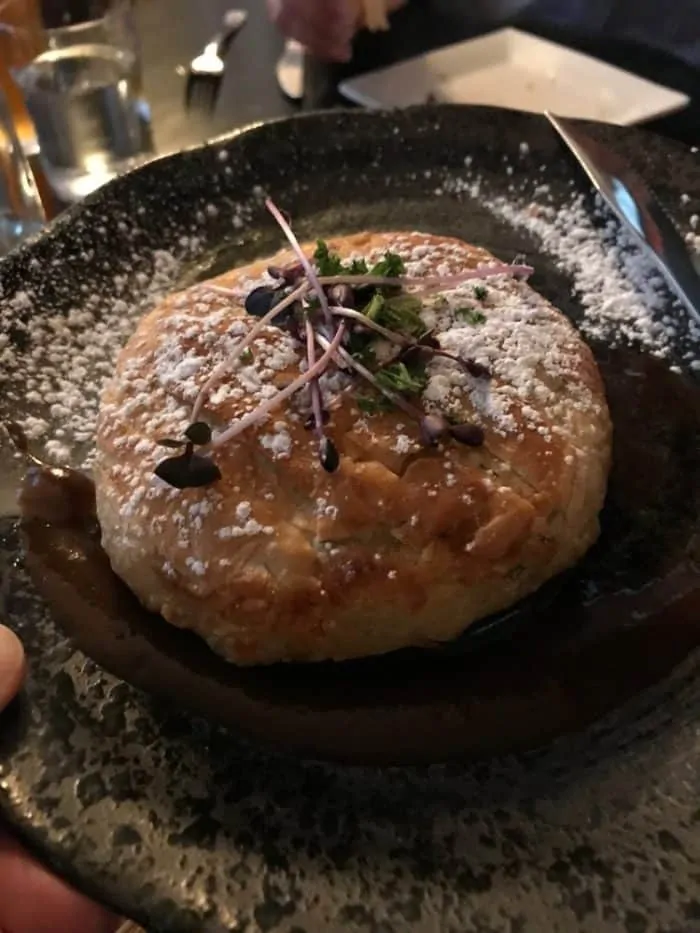 The chef came to the San Francisco area in 1986 after a childhood in Sana'a, Yemen. He studied at Laney College in the East Bay and cooked at a Greek American deli for a while. Once he realized cooking was in his future, he attended the California Culinary Academy for a few months, then took over a French café in SoMa. Eventually he was offered a space in the Hotel Carlton and never had to look back. In a 2006 review in the Chronicle, Bill Addison wrote, "From the unlikely location to the sometimes outrageous dishes that worked, Saha surprised me at every turn."
Chef Aboghanem came to the San Francisco area in 1986 after a childhood in Sana'a, Yemen.
Even in his early days in the City, Chef Aboghanem offered vegan and gluten-free alternatives, first because he became aware of the preference during his catering activities and second because of his young daughter's nutritional needs. The evening I ate there, I ordered the orange scallops with cauliflower puree, while my vegan friends enjoyed brussels sprouts, stuffed beets and Yemeni okra.
Right now Saha is facing the same challenge as before – loyal customers but not enough publicity. Whether you dine there for early breakfast (7a to 11a) or dinner beginning at 5:30p, the fabled history and singular accomplishments of this chef guarantee a most satisfactory repast; and you will want to spread the word.