Vegas has its strip. No one goes to L.A. without walking down Hollywood Blvd. Manhattan boasts Broadway. New Orleans is known for Bourbon Street. But Buford Highway??? That was a new one for me. A culinary, melting pot that runs about three miles down Buford Highway, offers Georgians (and food-loving visitors) an abundance of authentic international eateries, including Korean, Salvadoran, Bangladeshi, Vietnamese, Indonesian, etc. Many immigrants moved here originally for the construction boom preceding the 1996 Summer Olympics and as a result, Buford Highway is home to one of the highest concentrations of foreign-born residents in America.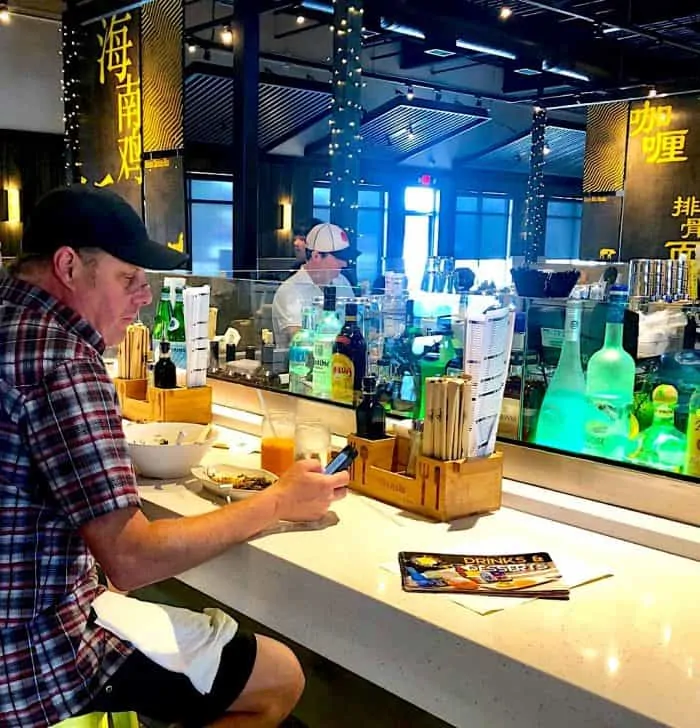 Simply hop in your car and start zigzagging both sides of the highway to discover dozens of ethnic eateries. Here's a few of my foodie faves:
Food Terminal — A Disneyland of Asian food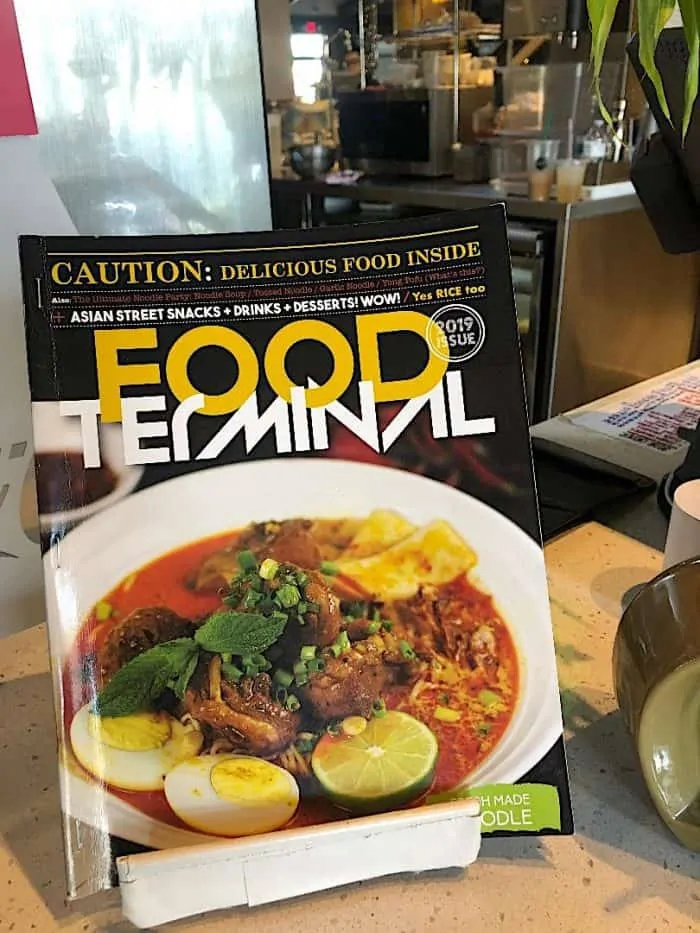 Although Food Terminal is one of the more upscale restaurants in the neighborhood, complete with an ambitious, 50-page glossy, magazine style menu, it really hones in on Malaysian street food.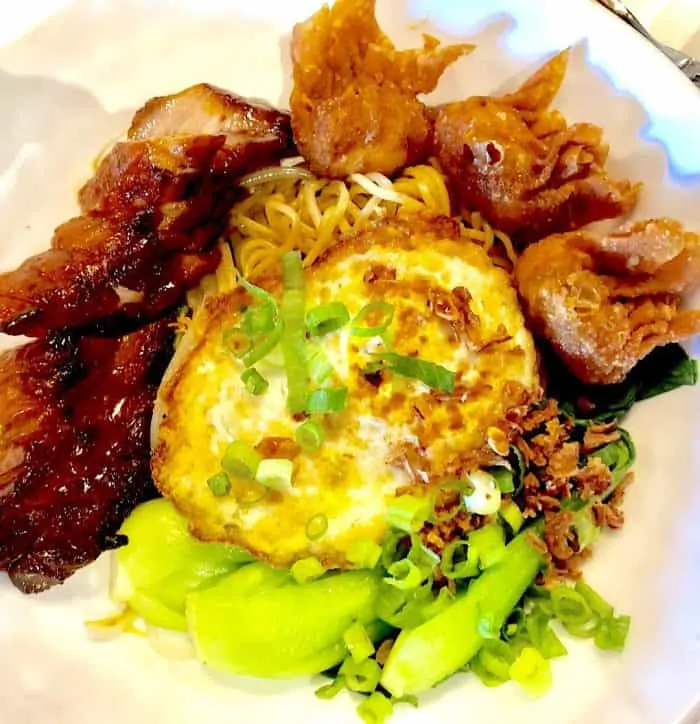 Taste treats range from humble, fried pig ears, and Grandma's secret BBQ Pork and bone marrow soup, to hand-cranked fresh noodles from a state-of the-art pasta machine.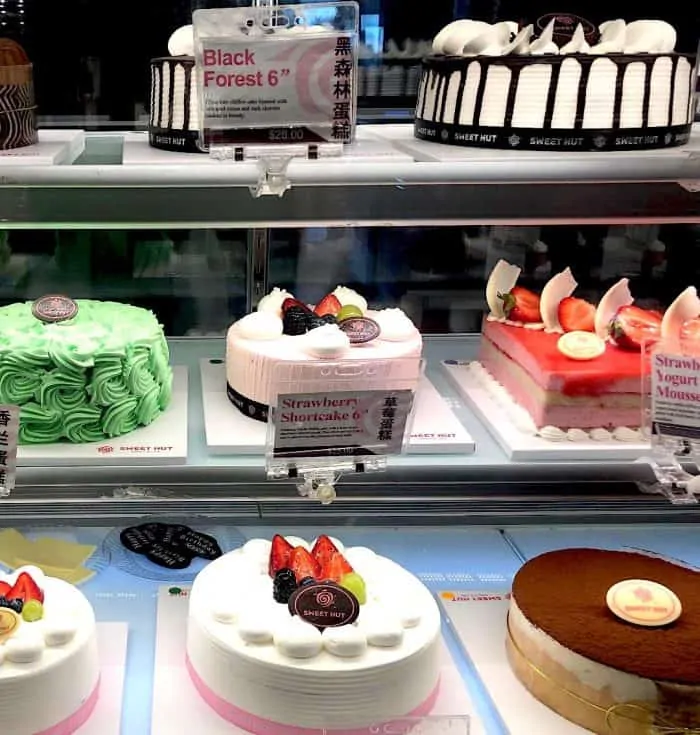 Co-owners Amy Wong and Howard Ewe, who moved here from Malaysia back in the 80's, also own Sweet Hut Bakery a popular after dessert stop for a variety of not-too-sweet cakes and assorted pastries. Winning selections are the Portuguese Egg Tart or Hazelnut Nutella Donut.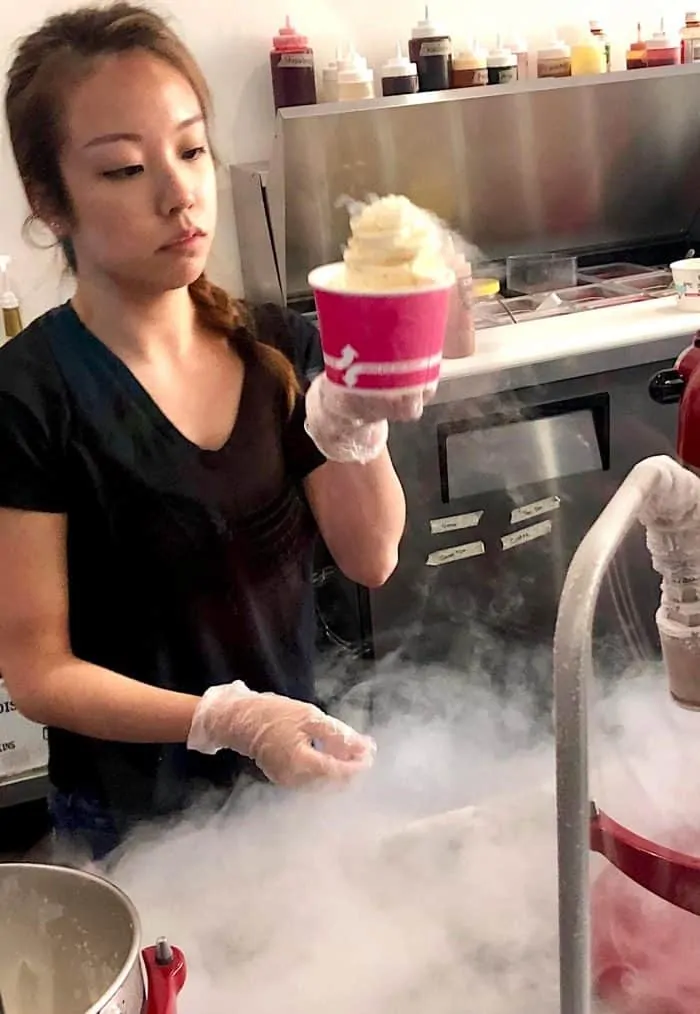 But wait — there's more, since what's cake without ice cream?
If you want it extra creamy then have them zap it with nitrogen.
Head around the corner to Roll It Up ice cream. I don't know that ice cream necessarily tastes any better rolled-up, but it's fun to watch the time-intensive process. First, our ice-cream-roller-girl gathers all the ingredients and then pours it onto a freezing sheet. Next she scrapes and presses it over and over and then with a metal spatula, shaping it into tight spirals, which she then stands upright in a cup. If you want it extra creamy then have them zap it with nitrogen.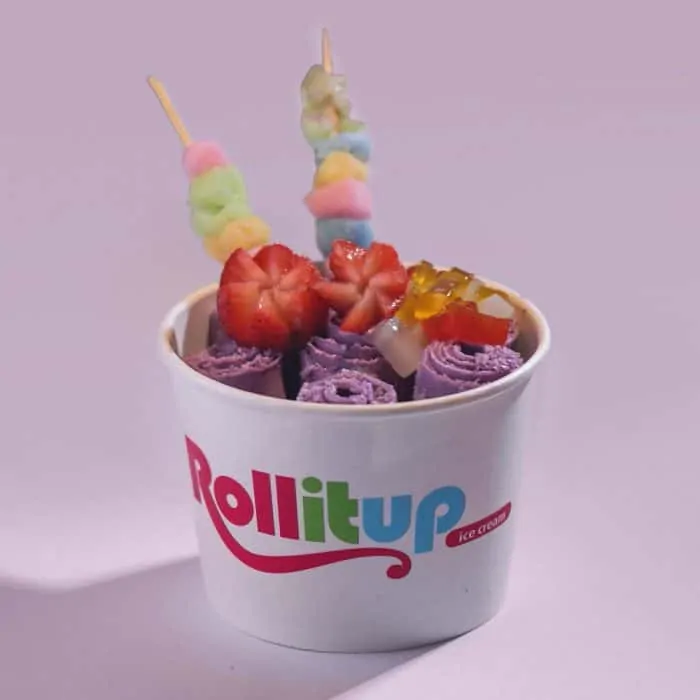 To watch the whole procedure, check out this Roll It Up video.
Best Soup & Sammie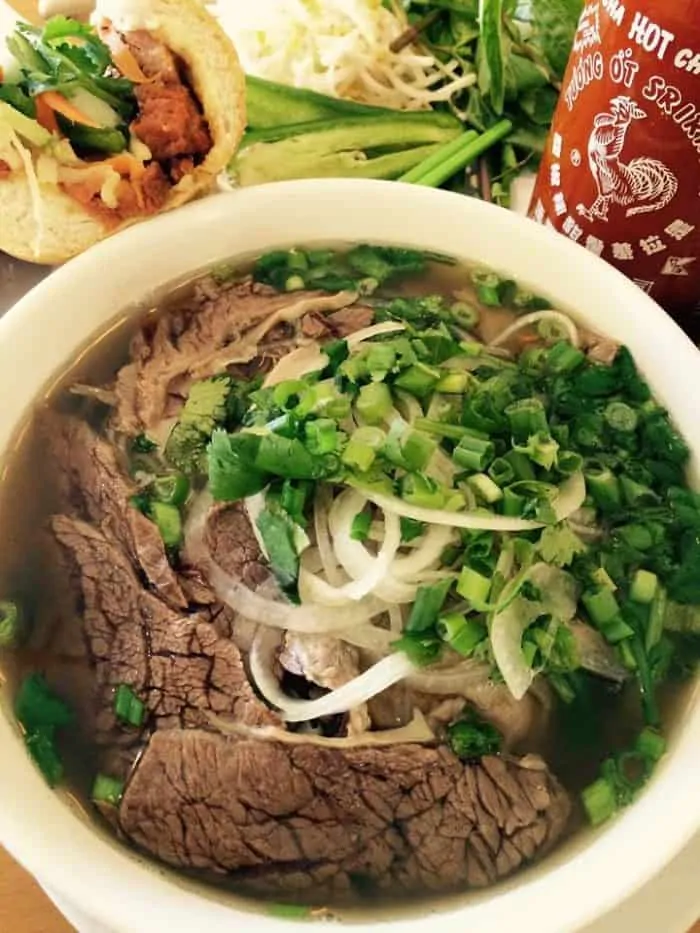 Lee's Bakery is a Buford Highway institution. Their grilled pork bánh mì, made with a fresh baked baguette stuffed with pickled veggies and Vietnamese mayo, sets the bar sky-high. For a perfect lunch try their unique pho/banh mi half-sandwich combo.
Lee's Bakery is a Buford Highway institution.
P.S. If you need a no-fail hangover cure, head there for breakfast and order a steaming bowl of beef pho.
Best Bangladeshi food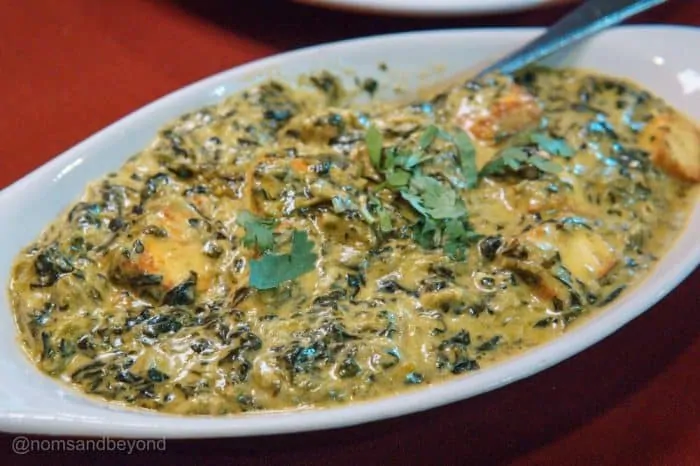 The super friendly, family-owned Purnima serves traditional Bangladeshi fare, with many vegan-friendly choices. They are happy to adjust the spice level from wimpy, wimpy, wimpy, to the real deal on any of their aromatic curries, flavorful vindaloos and not-to-be-missed chicken korma. Cool off with homemade firni (cinnamon rice pudding spiced with shredded coconut) for dessert.
Best Szechuan Cuisine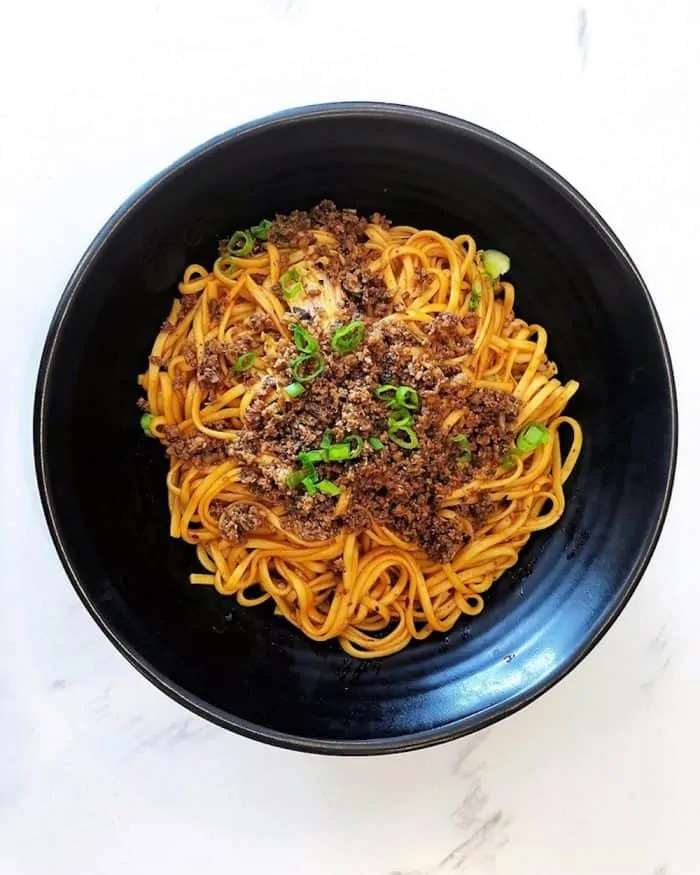 It's no wonder that Gu's Kitchen wins this one since between Chef Gu, his wife, and his daughter, they have 90 years of culinary expertise. Not only has Chef Gu taught numerous chefs but the family also owned Atlanta's popular Gu's Bistro and Gu's Dumplings. Their latest venture features Sichuan "Street Food" items along with customer's faves from the other two restaurants. Menu standouts include Dan Dan Noodles, Zhong-style Dumplings, Tea Smoked Duck and spicy dried eggplant.
Best for DIY cooks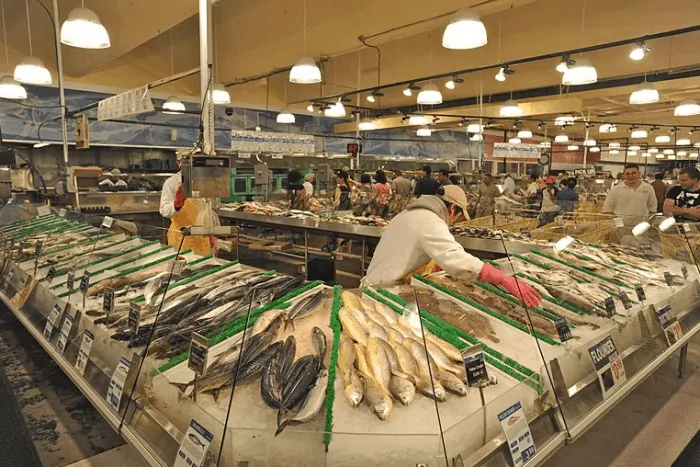 The humongous, Costo-sized, Buford Highway Farmers Market has fresh meat, seafood and perfectly ripened produce from around-the-world, conveniently arranged in aisles by nationality. If you're buying seafood, they will clean, scale and fillet your fish for free. If you're not in the mood to cook, shop the picnic-friendly, European deli department for some yummy sandwich fixings. Be on the lookout for something new such as the Praline Pecan Honey Butter by Built by Bees, Krout shots, Norvegia cheese, fresh kim chee, broiled eel, or Thai bananas. Note: there's plenty of tasty sampling, particularly on the weekends.
For more help on planning your visit check out the helpful Discover DeKalb.