The unspoiled, peaceful paradise of the Greek island of Corfu, notable for its dense green vegetation, stunning cerulean coastline, and cosmopolitan, UNESCO heritage Old Town, is a fantastic destination in its own right. But when you're staying at Villa 1870, you've raised the stakes from just another trip to a memorable lifetime experience.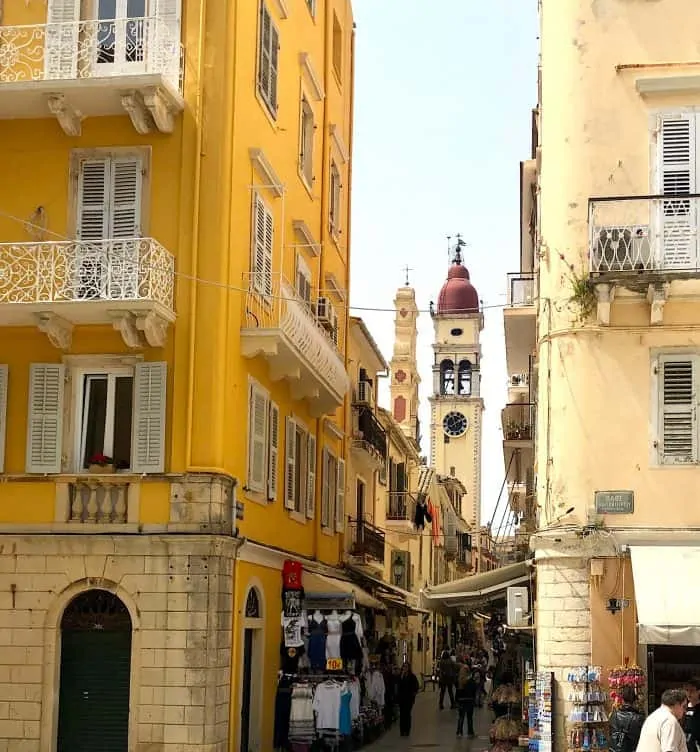 Your Stay:
This European-style villa was originally designed in 1870 by an English architect to serve as the grand home for a wealthy merchant's family.
Nancy Siomou and Dimitrious Kyiakis, the exceedingly hospitable new owners, bought the villa in 2017 (where even though it was almost totally dilapidated, they fell in love with the unique architecture and "great cheekbones"). They worked 24/7 for more than a year, thoughtfully and meticulously renovating it. Their plan, which they carried out successfully, was to provide every modern comfort such as air-con, complimentary Wi-Fi and a 50-inch, flat-screen TV, while still keeping its wealth of historic Corfiot architectural details.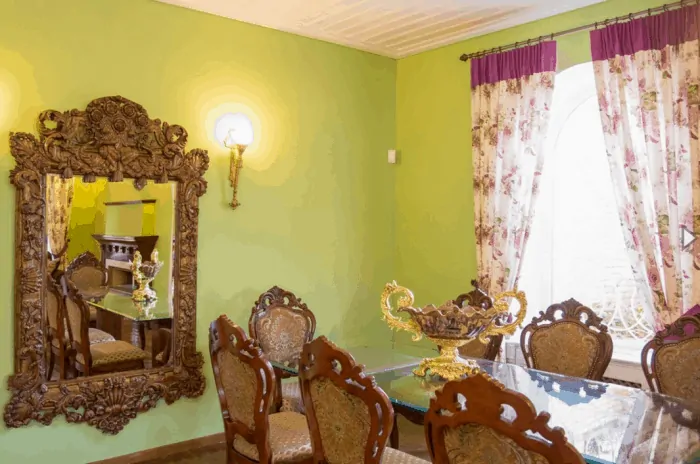 Their attention to detail is apparent since even though every room is unique, they are all appointed with hand-selected antiques, brilliant crystal chandeliers, Venetian blinds, and impressive works of art.
The 3-story villa's first floor is made up of a living room, where you'll find a dramatic mirror, a replica of the grand mirror of Althorp Castle, overlooking a massive 10-person dining table, and a fully-equipped kitchen if you're dying to impress your friends with your culinary skills.
Their attention to detail is apparent … every room is unique … hand-selected antiques, brilliant crystal chandeliers, Venetian blinds, and impressive works of art.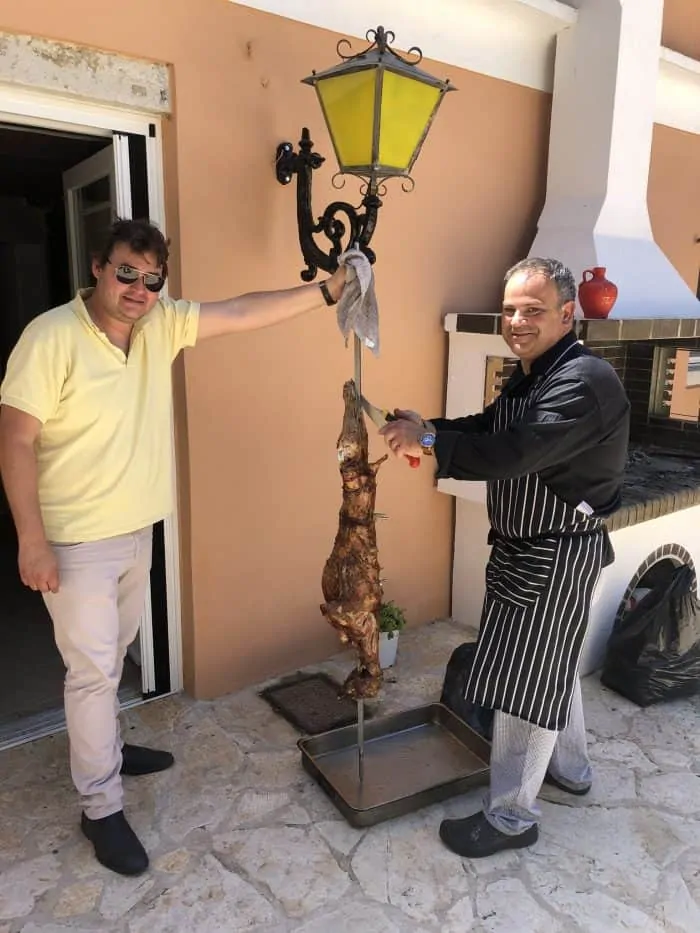 Insider Tip:

Or, if you're like me, you'll be even happier to know that there is also a separate professional kitchen where the exceedingly talented, Chef Themes Iliabis is at your beck and call and will happily whip up all your meals beginning with fresh-squeezed O.J. and a perfect cappuccino to kick-start my brekkie.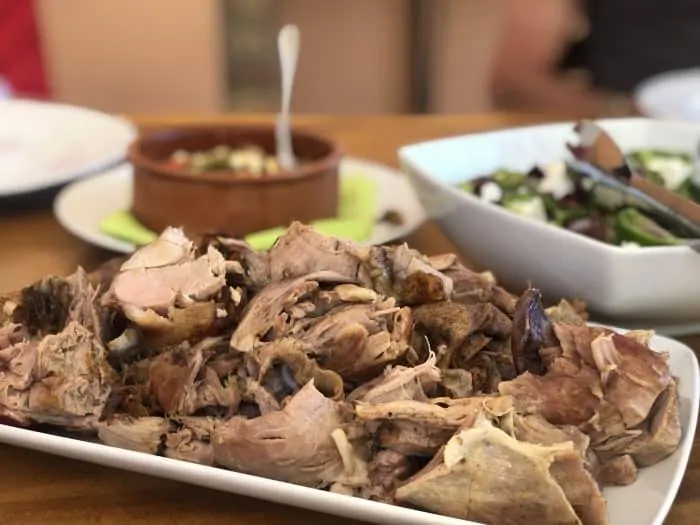 I was fortunate to stay here over Easter as the family kindly invited me to join them for what they call " just a traditional Easter meal" prepared by Chef Themes and what I call, "possibly one of the best Greek meals I've ever experienced."
The five bedrooms and baths take over the next two floors, each is more exquisite than the last. I was partial to my master bedroom, with a gorgeous carved-marble fireplace and private bathroom, equipped with a rainshower and a double washbasin. All share the same instagram-swooning Ionian sea views.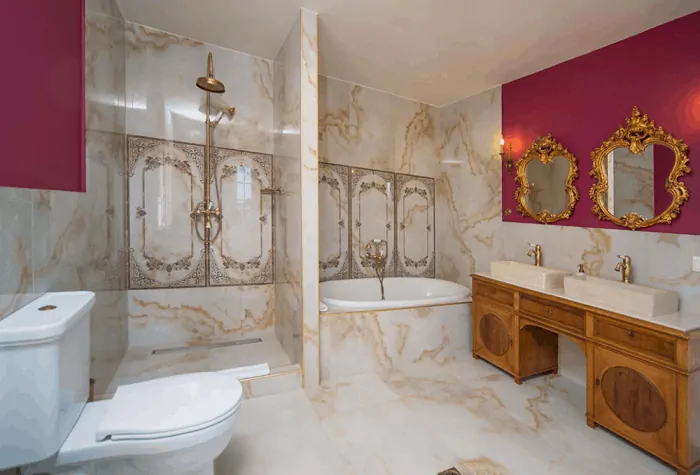 And then there's the private grounds consisting of two acres of lush landscaped gardens, filled with stone pathways, shade trees and vibrant flowers, surrounding a huge salt-water pool, heated year round- a rarity in Corfu.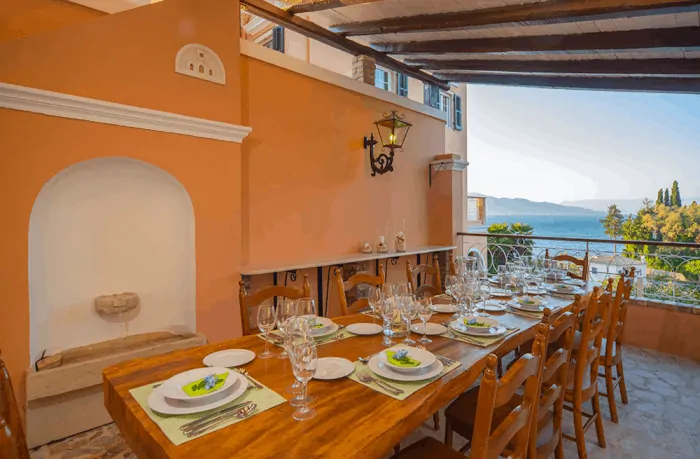 Whether you swim a few laps, nap on the sunbed, fire up the Barbie, (or again, ask Chef to do it for you;) or take in the sunset while sipping wine that you've confiscated from the wine cellar- this is the stuff fond memories are made of.
Incredible Pampering
They had me as soon as I met my private executive chef, but it doesn't hurt there is also a daily housekeeper, and the Villa 1870 Corfu 9-seater minivan which is available to the guests, with a driver for airport/port transfers, or for sightseeing on the island. Plus don't hesitate to ask any of the team to make bookings or provide insider suggestions for outings.
Off Property Picks
The villa is located in the quiet enclave of Kefalomantouko. It's fun to walk through the friendly town (don't be surprised if you're invited to join a neighbor's get together) or it's only a 5-minute drive to Corfu Town, 10 minutes to the Corfu Tennis Club and 20 minutes to the Corfu Golf Club.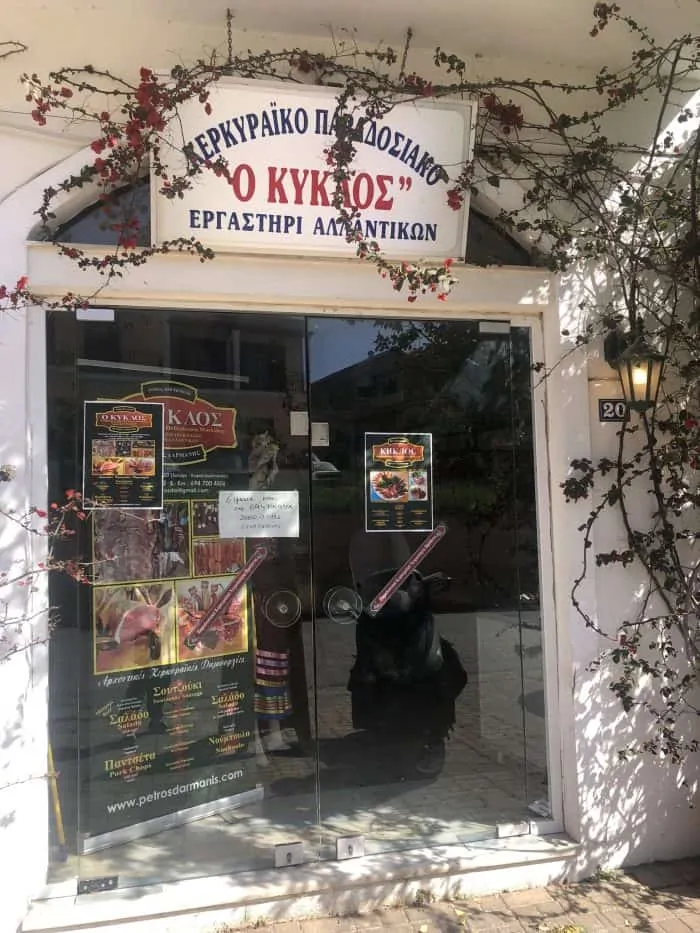 Insider Tip:

Head down the street and around the corner to find the best Parma-style ham producer in Corfu at Okykaoe.
Best Eats
Have dinner in Old Corfu at the Venetian Well.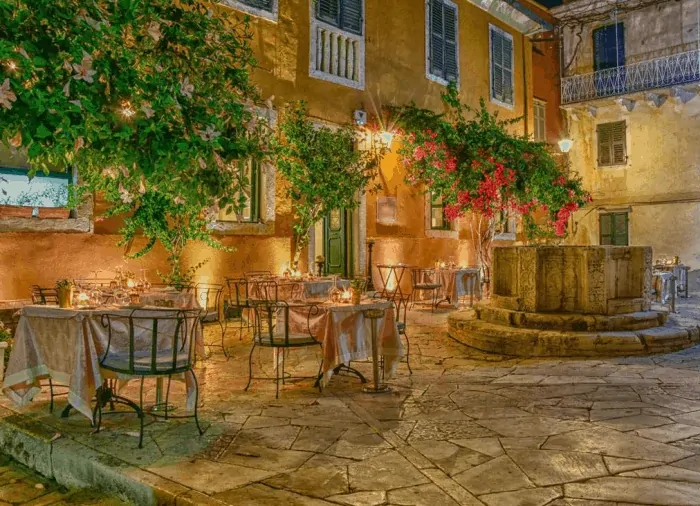 Romance is alive and well at this lovely restaurant set around an atmospheric 17th-century well in Kremasti Square, the most beautiful hidden spot in the Old Town. Expertly run since 2013 by Chef Yiannis Vlachos and his charming wife, Eirini, we were wowed by their imaginative spin on Mediterranean cuisine.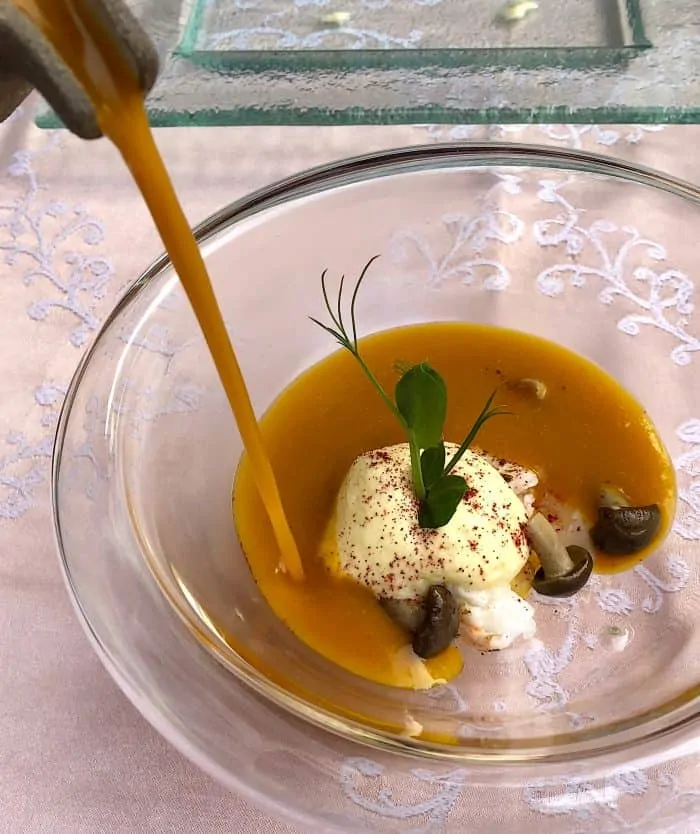 By combining fresh local fish, meat, veggies and homemade pasta with subtle, modernistic, gels foams, and flavorful purees, this is special occasion dining at its zenith, particularly when paired with one of the single-estate Greek wines.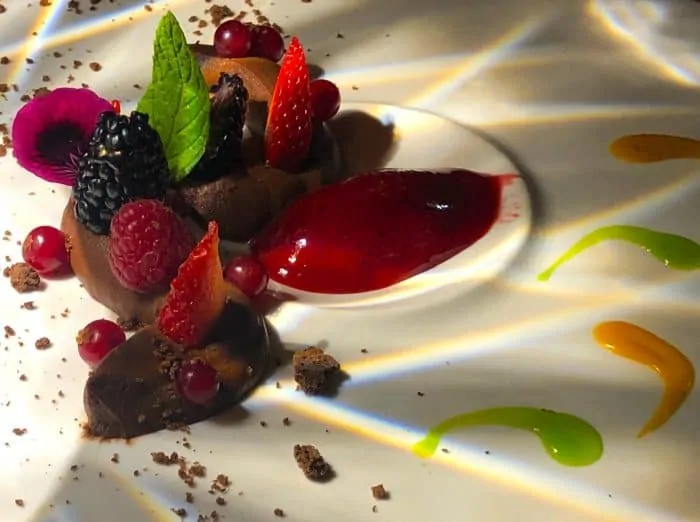 A scenic drive away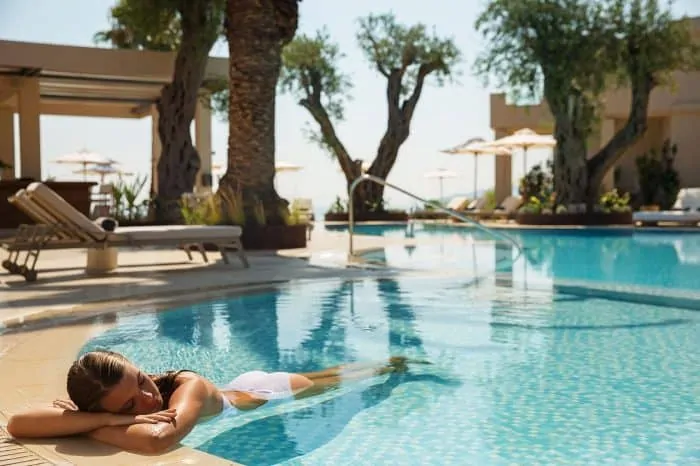 1. The Domes Miramare resort is in Moraitika, on Corfu's east coast, about a 30-minute drive from your villa. Originally designed by architect Charalambos Sfaellos, it served as the summer playground for the Onassis family in the 1960s before undergoing an extensive muti-million dollar renovation after becoming part of the Domes Resorts family. As a nod to its famed history, the designer kept the 200-year-old, twisted olive tree growing right through the center of the stunning lobby.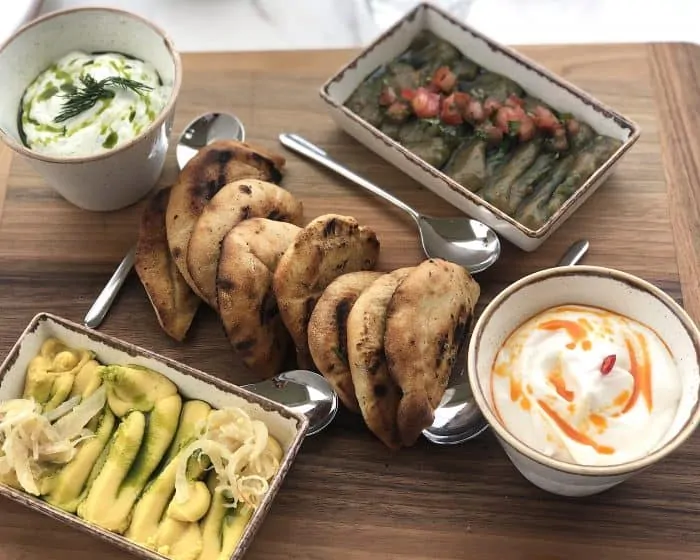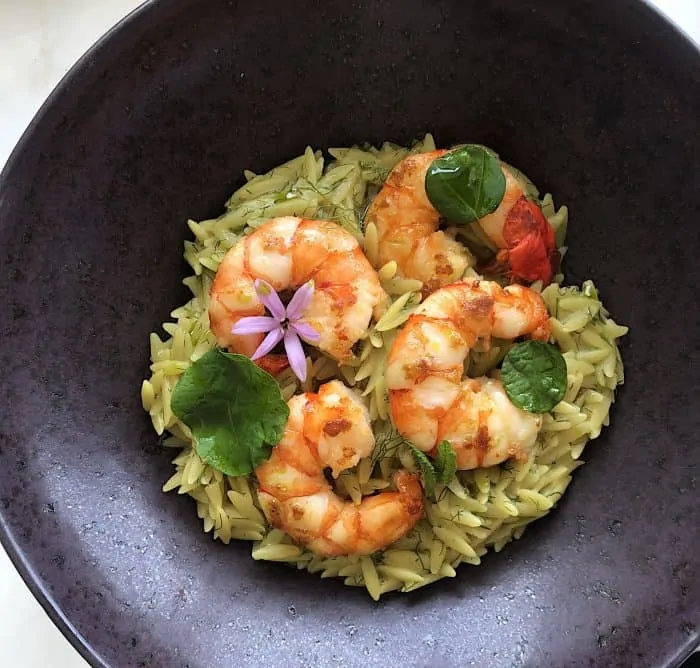 Stop here to dine on some absolutely scrumptious Corfiot food created by Executive Chef Petros Dimas. While seated outside at Makris, enjoying a glass of wine with some beautifully presented Greek appetizers, just think, you're taking in the same view as past guests, Jackie O and Maria Callas.
While seated outside at Makris, enjoying a glass of wine with some beautifully presented Greek appetizers, just think, you're taking in the same view as past guests, Jackie O and Maria Callas.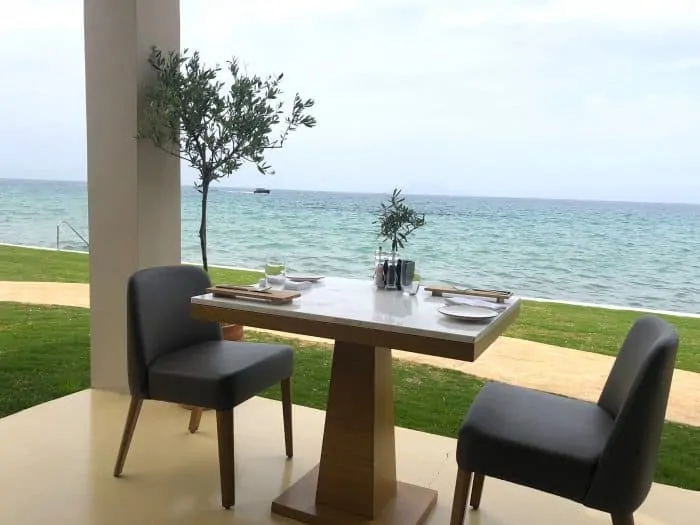 2. Evdemon restaurant with Nicoluzos Estate wines -this dream team often joins forces as the simply but professionally prepared dinners pair perfectly with the note-worthy wines made by this boutique winery.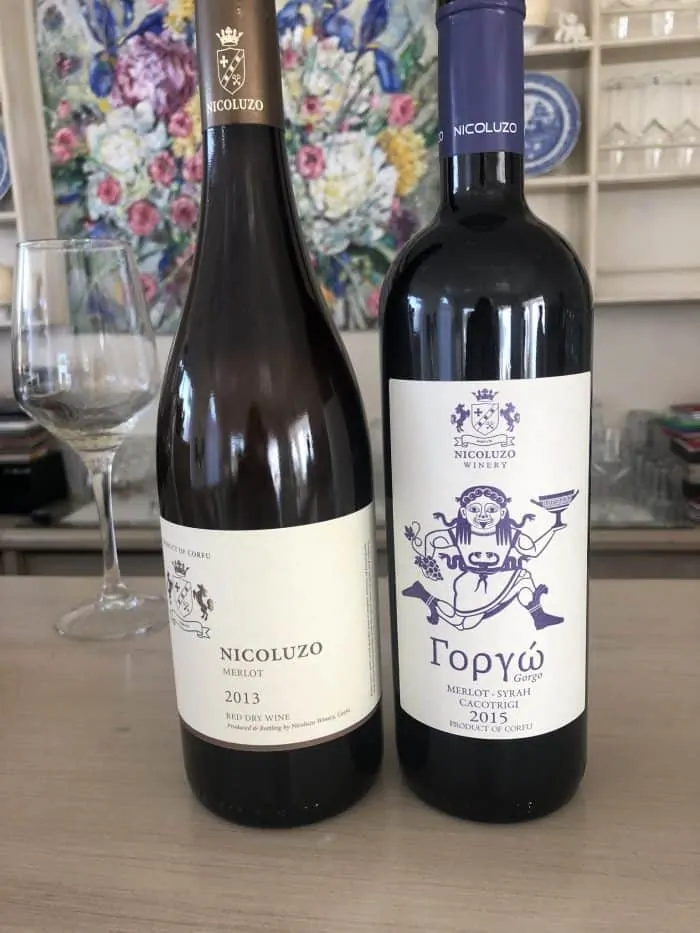 Perched high on a mountaintop, in the town of Afionas, the charming decorated Evdemon restaurant offers stunning views from the terrace overlooking the islands in the Ionian seas.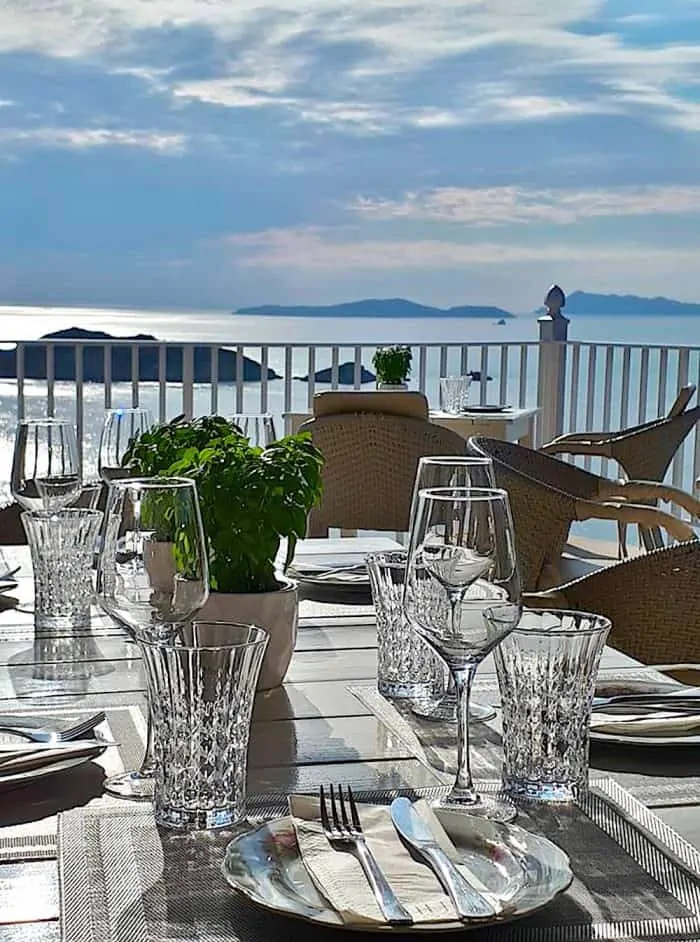 Add in a passionate hubbie and wife team (Yannis, your host and "sommelier" and wife, the accomplished Chef Elia, are both so warm and hospitable that I really felt like an honored family guest) and it's no wonder that Evdemon received the TripAdvisor Certificate of Excellence-2019 Winner.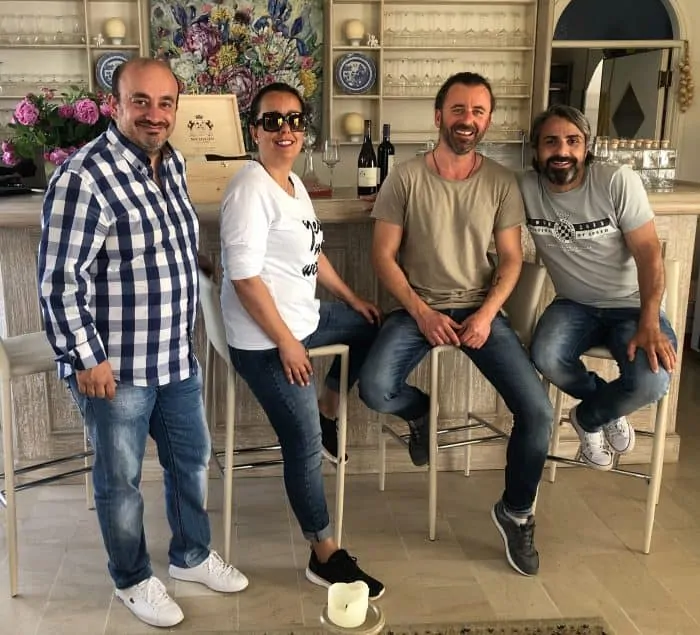 The daily menu, hand-designed by Elia, features elevated, modernized Greek home cooking using the freshest organic market ingredients selected by Yannis on his daily market runs.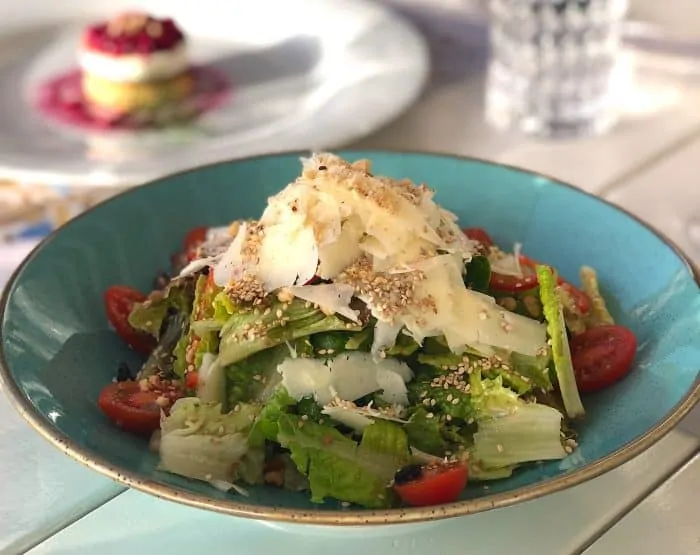 My lip-smacking eggplant ravioli, with slow-cooked tomatoes and feta, and an artistically plated shrimp dish was a dinner that bears repeating over and over again.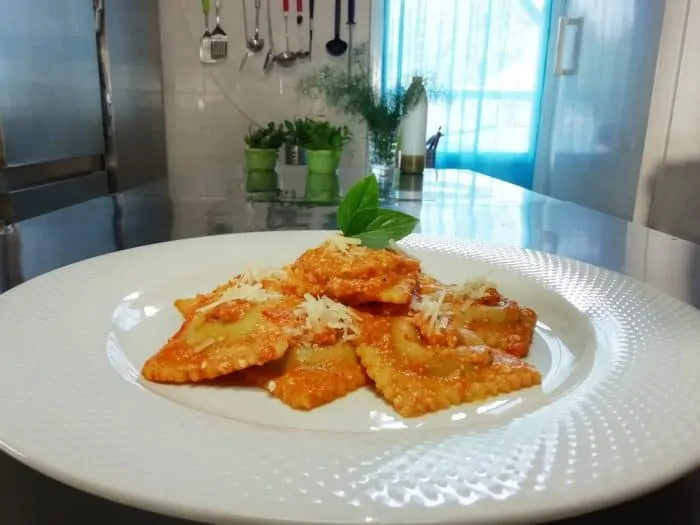 Insider Tip:

It's difficult to find Nicoluzos Estate wines for sale, trust me I looked everywhere! Nicoluzos, a dedicated fourth- generation winemaker makes tailored wines from native grape varieties that now only grow in small amounts. They are quite rare, with limited availability, so ask if you can buy a few bottles for later.
Top Sights:
Corfu Old Town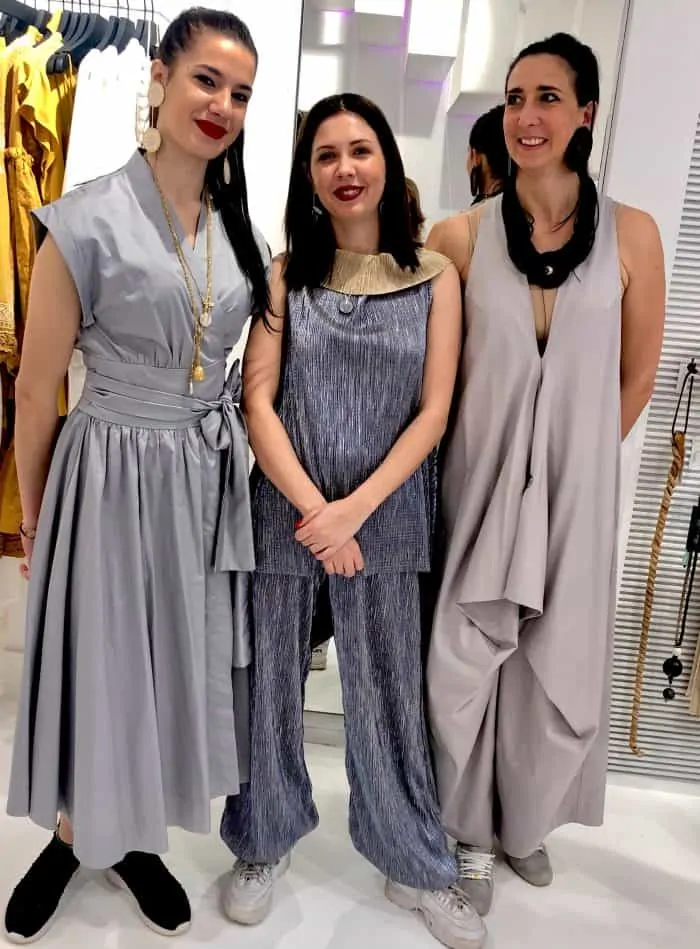 You can easily spend a delightful day shopping along the cobblestoned streets of Old Town. Keep an eye out for local designers such as Myrto Zirini's Ionian pebble shaped ceramics, Christina Martini's ancient Greek sandals, jewelry made from recycled glass bottles at MiNiMi, designer concept clothes at Muses and the upcycled, handcrafted bags made from old sails at Salty Bag.
Casa Parlante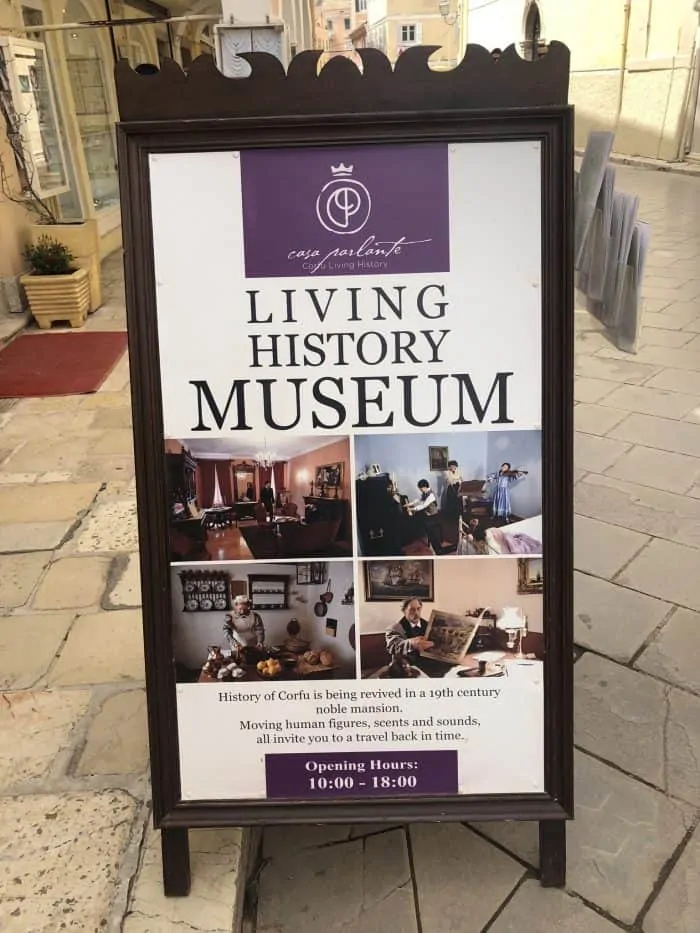 Upon entering the Casa Parlante museum, you're greeted with a cheery, Welcome! Please, come in! The Count will be with you presently. He hopes you will join him and the Countess in the drawing room for tea.
For the next hour or so, as you tour this authentic 19th-century mansion, filled with period furniture, you'll feel like you've stepped back in time and scored a coveted invitation to visit this important, upper-class family.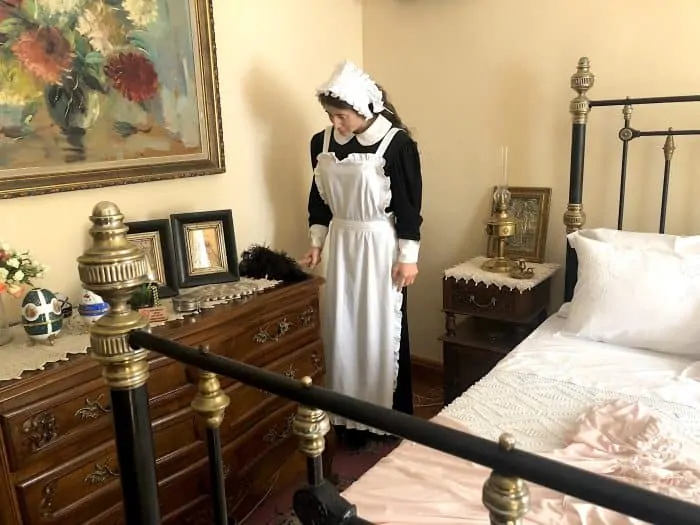 Your costumed guide never breaks character as she shares fascinating stories (complete with whispered gossip) about Corfiot family life in the 1800s.
Insider Tip:

For a sweet sensation pop into the Cake Boutique (yet another hubbie & wife couple) to admire their gorgeous cakes and stunning array of macarons.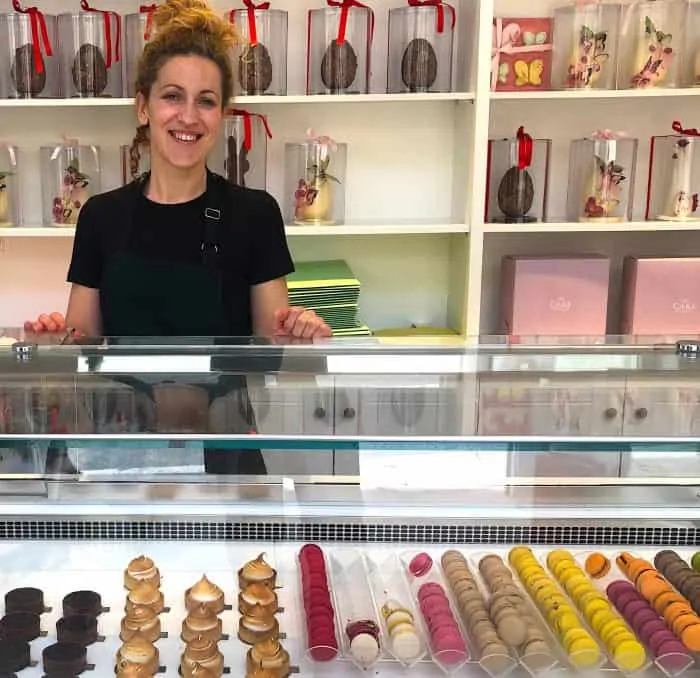 Don't leave this darling shop without trying their first-place-award-winning macaron filled with xinomyzithra cheese, smoked ham and a dot of fig paste–because once you taste it, you'll want to buy more.
Don't leave this darling shop without trying their first-place-award-winning macaron filled with xinomyzithra cheese, smoked ham and a dot of fig paste
Final tip: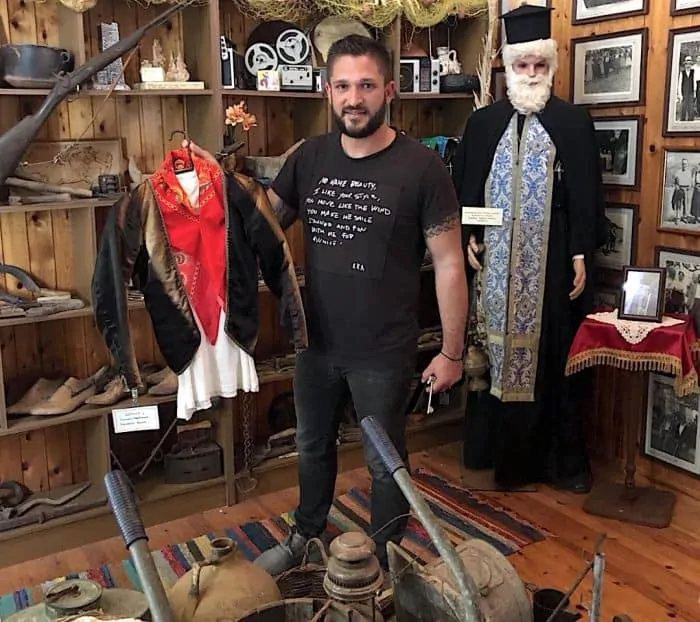 If you'd like to explore the whole island I highly recommend putting yourself in the enthusiastic hands of Sakis Gianniotis, the exceedingly well-informed guide and founder of X Adventure Club, a company that focuses on the Corfu's natural beauty, gastronomy and local culture from a luxurious 7-seater Land Rover Discovery.
During our island drives, we'd stop at many out-of-the-ordinary spots that we would never have found on our own
Just a few included: a hidden folk museum run by the local barkeeper, Sven's home (who was Mrs. Durrell's romantic interest in the acclaimed series, The Durrells in Corfu) Nikos Sakalis Leather Workshop for beautifully handcrafted leather bags and perhaps the world's only leather canoe, kumquat liqueur tasting, and Makrades, where a lovely mother and daughter create a plethora of olive products.