During its 2019-2020 season the SFJAZZ Center will feature more than 400 concerts in its Civic Center location. Included are residencies by such luminaries as Marcus Shelby. Last April the venue hosted the NEA Jazz Masters Tribute Concert which honored Bobby McFerrin, Roscoe Mitchell, Reggie Workman and Dorthaan Kirk.
Late in May 2019 professor emerita Angela Davis and singer Kim Nalley joined the Marcus Shelby Orchestra during its three-day residency at SFJAZZ to celebrate blues legacies, AfricanAmerican feminism, and the famous Negro Leagues in baseball. During a segment entitled "voices of a people's history," selections were read from the writings of Howard Zinn, Marge Piercy, Pete Seeger and Martin Luther King Jr.
The house was packed.
The Kronos Performing Arts Association (KPAA) presented its own amazing three-day program in space rented from SFJAZZ. On June 1st the Kronos Quartet concluded its three-day celebration, which featured appearances by the San Francisco Girls Chorus led by Valeria Sainte-Agathe, singer/performer Meklit, and griot Hawa Kasse Mady Diabate who presented "tegere tulon," the hand-clapping songs traditionally created by young girls in the villages of Mali.
Music professor Lucy Duran from England has researched music of the Mande peoples in Gambia, Senegal, Guinea and Mali for more than four decades. She has produced 21 albums of West African music. Her collaboration with Kronos resulted in an award-winning album in 2017, Ladilikan. She received a certificate of appreciation at a KPAA reception held after the performances.
In their celebration of songs and cultures around the world, the Kronos Quartet paid tribute to gospel singer Mahalia Jackson on May 30th with songs sung by Stacy Garrop, and completed the three-day celebration June 1st with a remembrance of folk singer and activist Pete Seeger, who would have been 100.
The house was packed on June 1st as David Harrington (violin), John Sherba (violin), Hank Dutt (viola) and Sunny Yang (cello) of Kronos continued their "pursuit of a singular artistic vision, combining a spirit of fearless exploration with a commitment to continually reimagine the string quartet experience."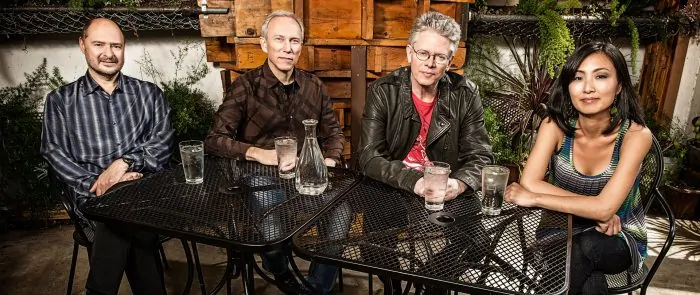 "In the process, Kronos has become one of the most celebrated and influential groups of our time, performing thousands of concerts worldwide, releasing more than 60 recordings of extraordinary breadth and creativity, collaborating with many of the world's most accomplished composers and performers, and commissioning more than 1,000 works and arrangements for string quartet." (artist bio in 27-page brochure).
As singers Lee Knight, Sam Amidon and Brian Carpenter came onstage in turn to sing the songs of Pete Seeger, audience sing-along was inevitable and was welcomed: "If I Had a Hammer", "Turn Turn Turn", "Where Have All the Flowers Gone", and "Wimoweh".
WATCH: Kronos Festival 2019 Trailer
A private reception upstairs allowed Kronos Performing Arts contributors and media to mix with quartet members and other performers over wine and snacks. A lovely evening.