It's been about 15 years since my last visit to Santorini. I had adored it then but was slightly worried that it wouldn't live up to my fading memories.
However, after my recent visit, due in no small part to my incredible, albeit, way too brief stay at the Iconic Santorini Boutique Cave Hotel, it's even better than I remembered!
I usually start an article with mild suggestions, such as "you might want to" or "one possible idea" but this time, particularly if you only have a couple of days, then I am firmly stating you MUST DO the following for two, totally perfect, stress-free days exploring Santorini.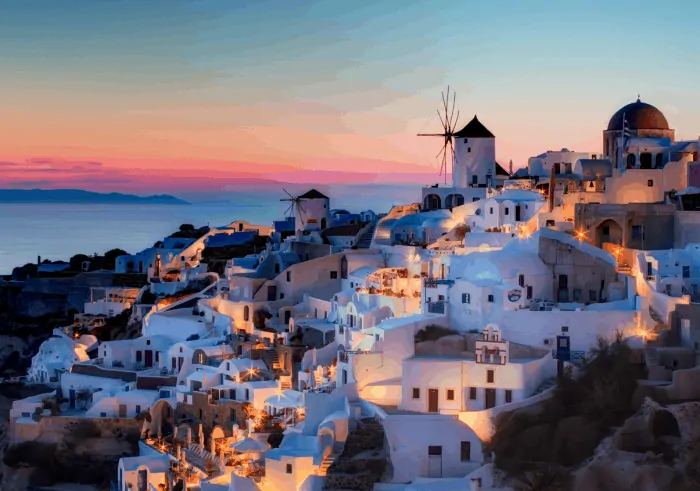 Insider Tip:

Unfortunately, we aren't the only ones who know about Santorini. During the high season it is bombarded with cruise ships so to avoid elbow-to-elbow crowds I "strongly suggest" that you book your stay for fall or spring. I was there the beginning of May and enjoyed almost perfect weather with very few tourists.
Why Santorini?
Because this croissant-shaped island, part of the Cycladic island group, is the Kim Kardashian of the Greek islands. It's one of the most recognizable, picturesque places in the world; with dramatic soaring cliffs overlooking the turquoise sea enveloping the caldera, a large volcanic crater created after a devastating volcanic eruption in the 16th century BC. Its backdrop consists of piles of immaculate, whitewashed, cliff-hanging buildings accented with striking blue church domes.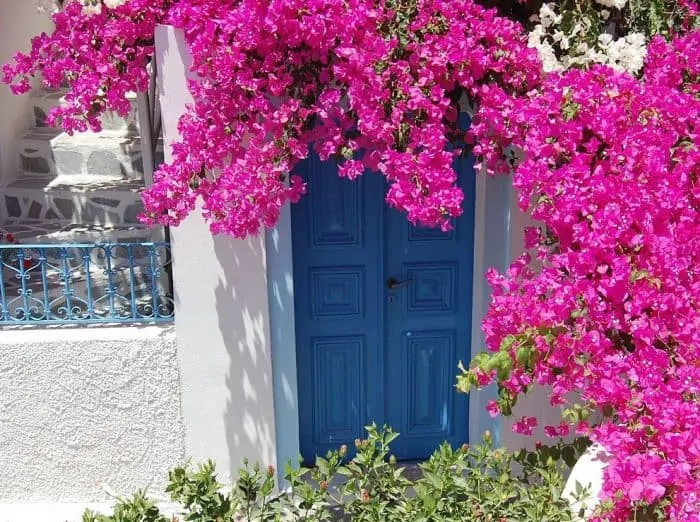 I kept thinking that a child could draw an extremely accurate picture of Santorini using only blue and white crayons. Ok, maybe throw in a magenta one for the beautiful bougainvillea cascading down the snow-white walls.
With its reputation for dazzling panoramas, fascinating archaeological sites, romantic Kodachrome sunsets, volcanic-sand beaches, and fabulous food and wine, Santorini is one fantasy island that lives up to its hype.
Must Stay: The Iconic Santorini Boutique Cave Hotel
Similar to when your flight attendant says "We know you have a choice in airlines, so thank you for flying _____," (fill in the blank) Santorini is known for its many unique cave hotels carved out of the volcanic walls. Some are decorated in a stark minimalistic style, while others go overboard with an overly contemporary design.
With its reputation for dazzling panoramas, fascinating archaeological sites, romantic Kodachrome sunsets, volcanic-sand beaches, and fabulous food and wine, Santorini is one fantasy island that lives up to its hype.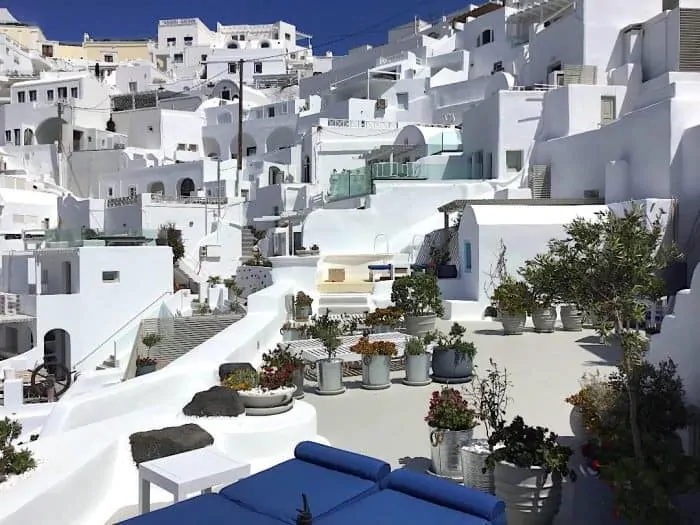 But the Iconic Santorini, situated on the tippy-top of the caldera cliffs edging the pristine, pretty village of Imerovigli, strikes the perfect cave/chic balance.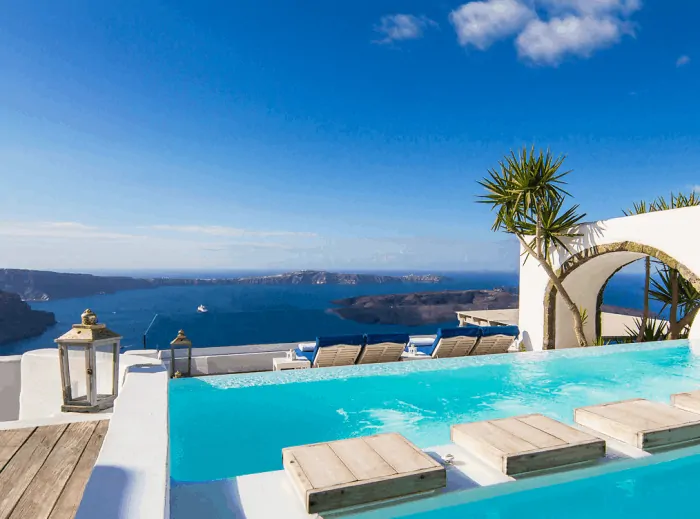 The hotel amenities include a serviceable fitness cave, a decadent spa cave, a homey restaurant cave, an outdoor, 11-meter heated saltwater infinity pool with a whirlpool section, complimentary high-speed Wi-Fi, a generous supply of Aēsop bathroom amenities, plush robe, slippers and even a cozy handmade shawl to bundle up in while taking in the sunset.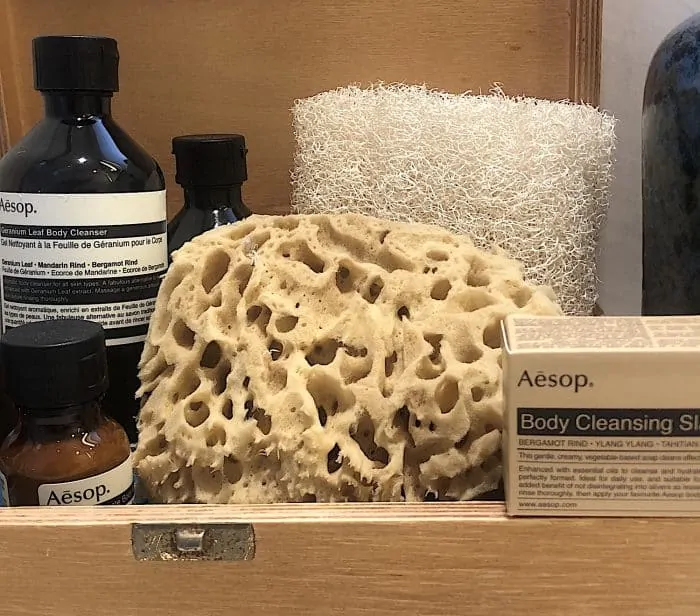 But my fave part of their Hellenic hospitality was being able to eat breakfast in my jammies. Every morning, Yannis, the engaging restaurant manager, would softly knock on my cave door, holding a tray heaped with at least three entrées, think spinach eggs bennies, berry crepes, fruit smoothies, and salmon and cream cheese.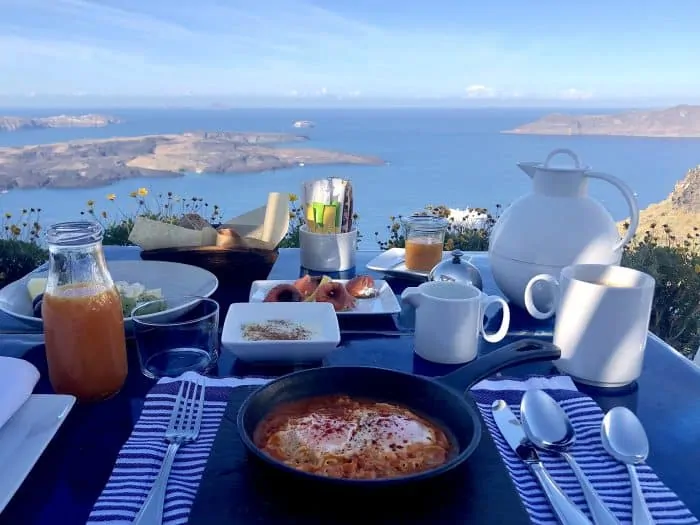 Then my big decision was, should I dine on my private terrace overlooking the pinch-me perfect Aegean sea, or would I rather have brekkie in bed, which in this case is a never-wanna-leave-it, all- natural, four-layer COCO-MAT® bed.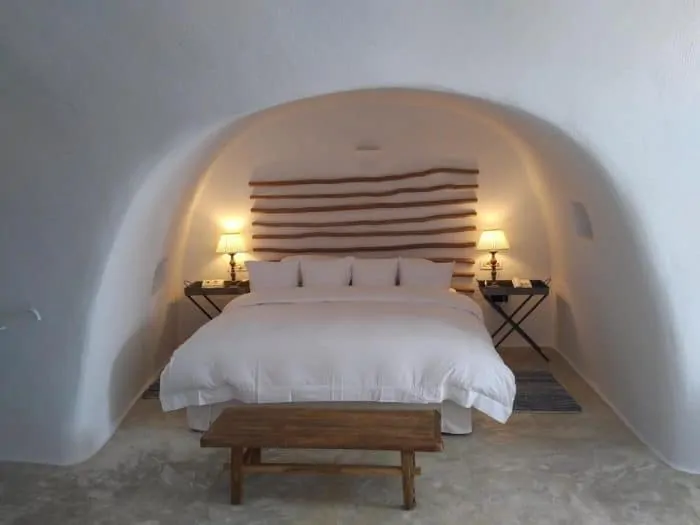 The 19 suites are all slightly different and all spectacular but for a real blow-out, reserve The Iconic Suite with an elegant bedroom, terraced dining room, oversized living area, and a dreamy grotto pool that opens to a private terrace space with killer views. In case you're looking, it's the perfect spot for a proposal!
And kudos to Iconic Santorini's dedicated staff who almost lie in wait for the opportune moment where they can leap out to answer your question or provide a service. It certainly added to my experience when Despina, from the front desk, would pop down to my suite during breakfast to sweetly inquire what my plans were for the day and then with a shake of her head and a tsk- tsk, she'd make a quick change to my program which was spot-on!
When I teared up after handing over my Greek-lettered room key for the last time, the whole team magically appeared to envelop me in a heart-felt, good-bye hug.
When I teared up after handing over my Greek-lettered room key for the last time, the whole team magically appeared to envelop me in a heart-felt, good-bye hug.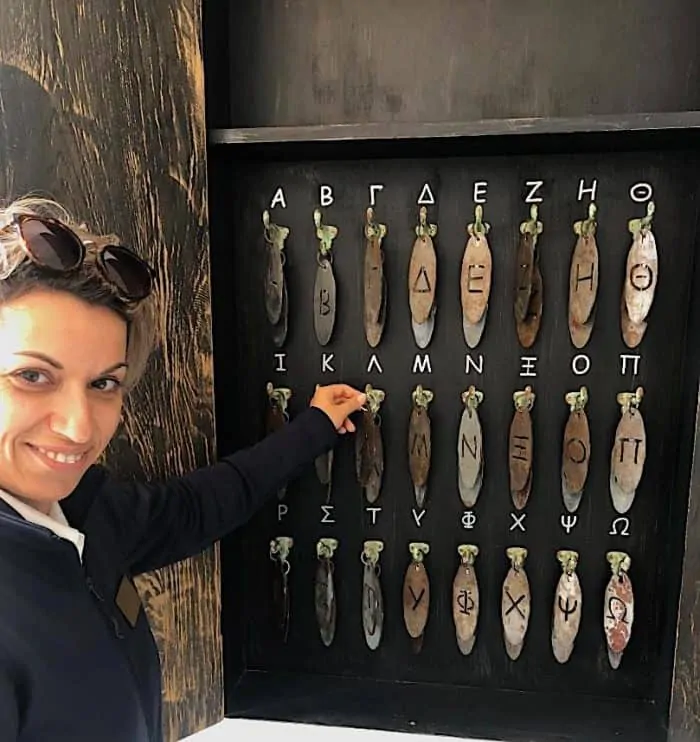 Must Eat & Drink:
As previously mentioned, your breakfasts are taken care of at the hotel. Trust me, you won't find better anywhere better, so sleep in and enjoy brunch on your veranda.
For dinners, here's what you need to do:
The first night chill out and have dinner "at home" at one of the four tables in Iconic's private cozy-cave dining room or go alfresco, where you'll nestle into one of the blue banquettes at the Pergola Restaurant while dining on Chef Mattheos Sorotos's farm and sea to table authentic Greek cuisine.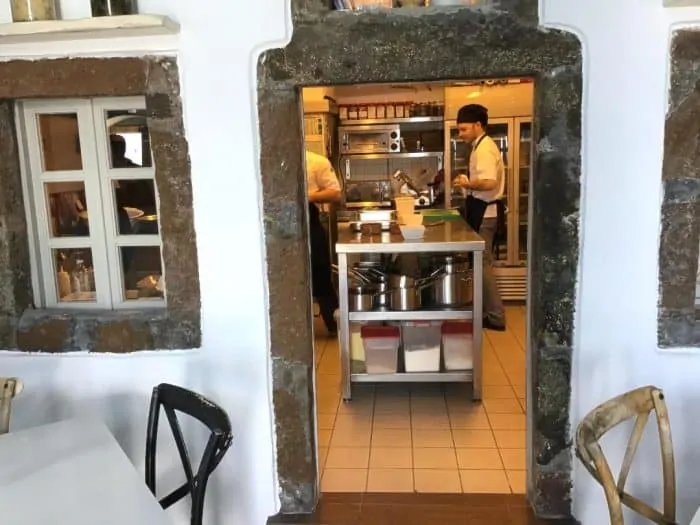 The wine list features the finest local wines which they will happily pair with your meal. My first morning Chef Mattheos asked me what I'd like for dinner, which turned out to be saganaki (seared cheese) served with a scrumptious dried fruit compote, grilled sea bass with greens, fresh garden salad, and a decadent chocolate dessert, so he could shop for it during his daily market run.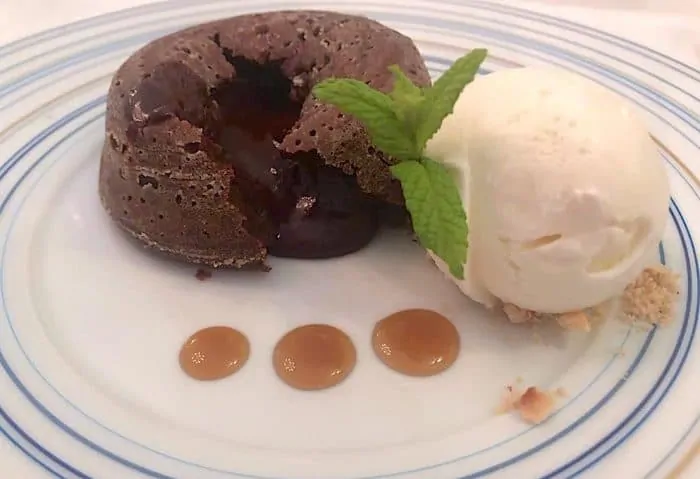 The wine list features the finest of local wines, which they gladly paired with my meal. Now that's the kind of personalized service I adore. You can even poke your nose into the kitchen for a preview of what's cooking.
The second night, although it's going to be hard to tear yourself away from your cave, you must, since you have two gastronomical delights in store for you, which you have already made rezzies for with Despina or one of the other helpful folks at the front desk who will also arrange for your car service.
SantoWines
I have to admit that I was a neophyte when it came to Greek wines, and honestly, many that I had tasted in the states were not enjoyable. Which is why you owe it to yourself to book a tasting at SantoWines in Pyrgos.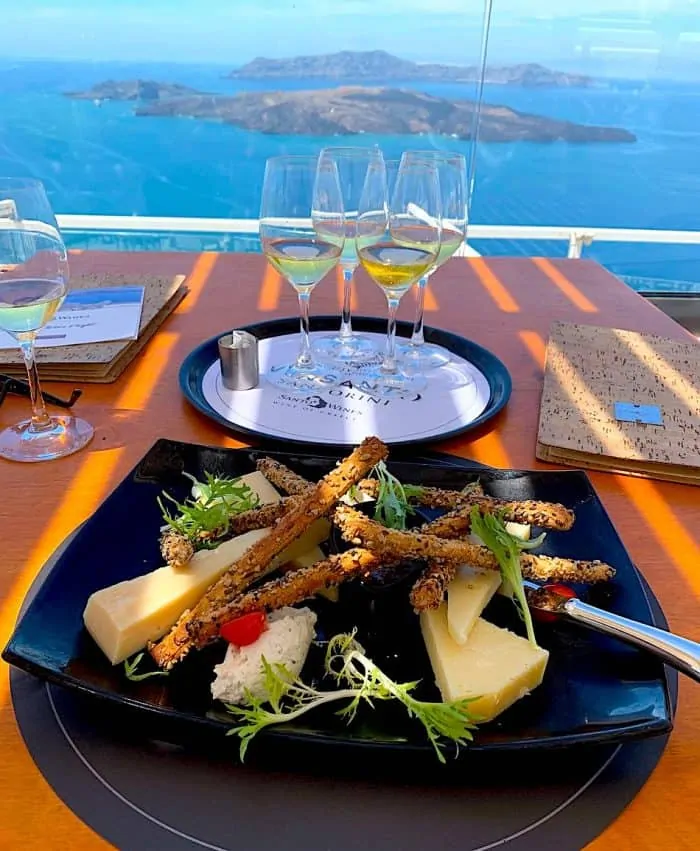 Geared toward tourists (though not in a dumbed-down way) this huge cooperative of grape-growers, offers brief tours of the production process, various tasting options, a wine bar with delish wine-friendly food and a well-curated boutique full of choice vintage wines as well as specialty Santorini PDO (protected designation of origin) gourmet products, including Santorini fava, tomatoes and wild capers. Book your tasting at the end of the day because their patio has superb sunset caldera views.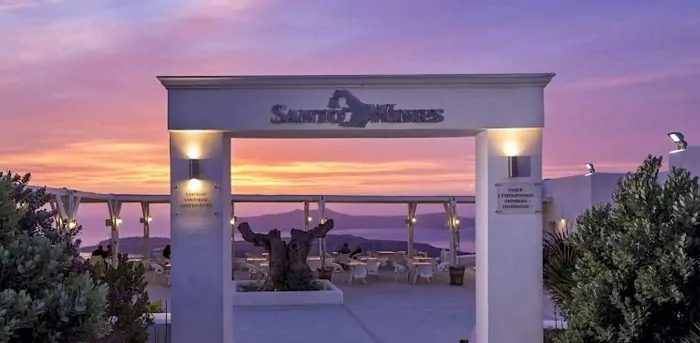 Situated in the village of Pyrgos, SantoWines, officially known as the Union of Santorini Cooperative, has played an essential role in Santorini's historic winemaking tradition since 1947. With the support by its 2500 members, it is still flourishing as one of the oldest, continuously cultivated vineyards in the world.
I was joined at my tasting by Stela Kasiola, the vivacious Marketing Manager at SantoWines, who guided and educated me through a myriad of fine wines starting with an impressive sparkling Santo Brut made from 100% Assyrtiko.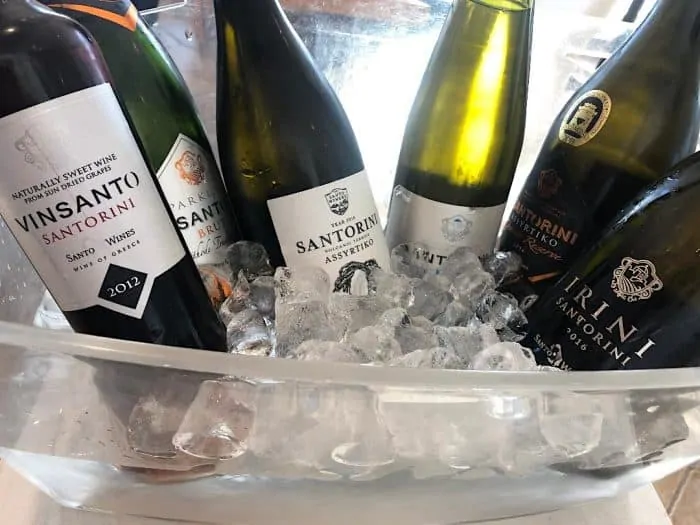 The first thing I learned from my tasting is that even the wine is affected (most favorably) by the minerals in Santorini's volcanic terrain. We proceeded through their line-up of Assyrtiko, crisp white wines that included a young steel-fermented Assyrtiko, some blended with Athiri or Aidani varieties, and a stony dry Assyrtiko Grand Reserve that was aged in oak for 12 months that would pair wonderfully with either fish or red meat.
The first thing I learned from my tasting is that even the wine is affected (most favorably) by the minerals in Santorini's volcanic terrain.
We tasted a few native red wines, made from the almost extinct Mavrotragano grape, finishing with a luscious Vinsanto, Santorini's most traditional wine made from sun-dried Assyrtiko and Aidani grapes. To celebrate a special occasion, try one of their vintage Vinsanto, which have been cellar-aged for over 30 years.
Between swirls and sips, Stela explained that "SantoWines was founded to protect the rights of Santorini vine growers, organize production and sales of the wine while guaranteeing the member's income. Little has changed from our original mission statement since the interests of the growers are still our first priority."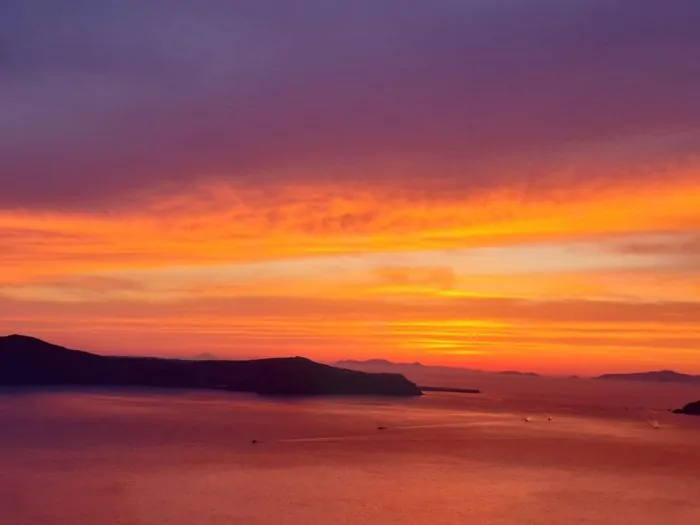 Insider tip:

Book your tasting to coincide with the sunset, but save time to stock up on goodies (their Santorini cherry tomato paste is a must!) before dinner.
Selene Restaurant
When the last rays of the sun went down for the night, I walked down the street for dinner at the highly acclaimed Selene Restaurant, which has won the Greek Cuisine Award seven times! This rather modest, traditional house has been divided into two operations. Upstairs is where Selene Restaurant resides, while downstairs you'll find a casual taverna, Selene Meze & Wine, serving traditional dishes such as smoked tuna salad, grilled seabream, moussakas and exclusively Santorini wines. They share the same sweeping terrace views and both feature traditional foods but at very different price points.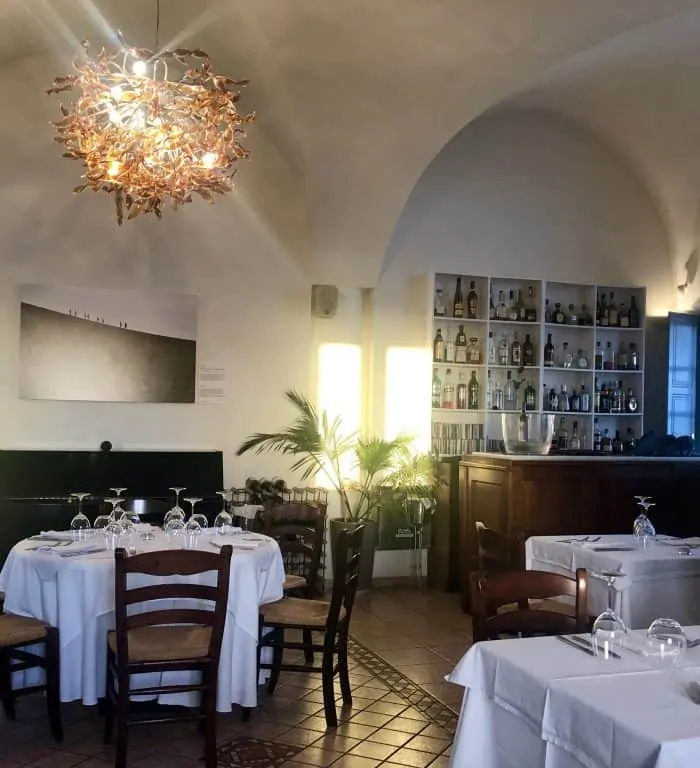 Sadly, I did not get to meet Giorgos Hatziglannakis, the man behind the world-famous Selene ("Goddess of the Moon") restaurant, who has spent the last 35 years creating and promoting the finest, creative Santorinian cuisine. He, along with Chef Thodoris Papanikolaou, and Georgia Tsara, their exceedingly gracious and knowledgeable manager and head sommelier, pay tribute to the local products- tomatoes, white eggplant, fava, capers, elevating them to the highest culinary levels.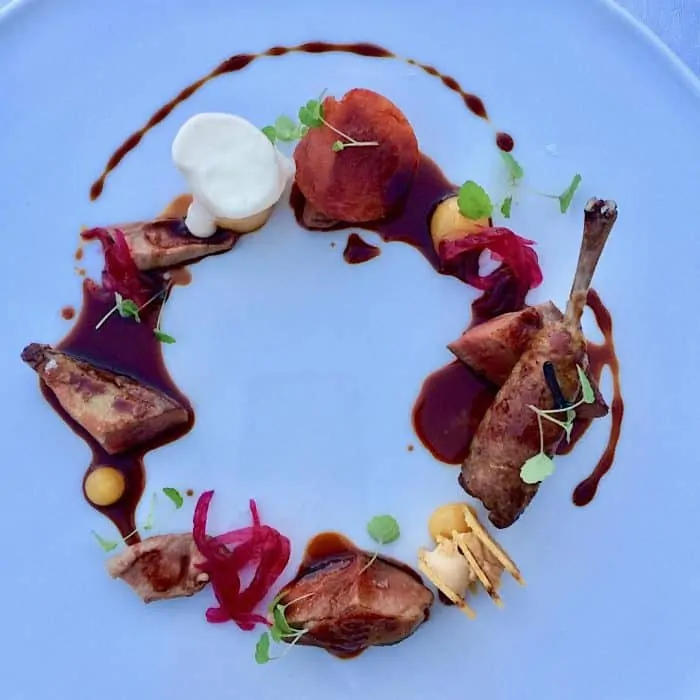 Pigeon Pastitsada photo courtesy of Marc d'Entrement
Case in point, Chef Chef Papanikolaou takes the humble pigeon and transforms it into an edible work of art, a Pigeon Pastitsada: breast/ leg confit/bergamot/ pasta tube/ parmesan foam/ spices/and biscuit stuffed with foie gras.
I was unfamiliar with almost everything on the wine list so called upon Georgia's expertise. As she described the wines, many were previously undiscovered Santorini wines, her passion shone through.
While sipping a flute of Amalia Brut, my starter arrived, and I quickly learned that no matter how exciting the menu reads: "MEZZE" artichoke/virtual olive/mussel & rice sushi/ bonito pastrami/ botargo with greek coffee/shrimp from ermionida/ glossy clam/fried oyster, I should expect the unexpected.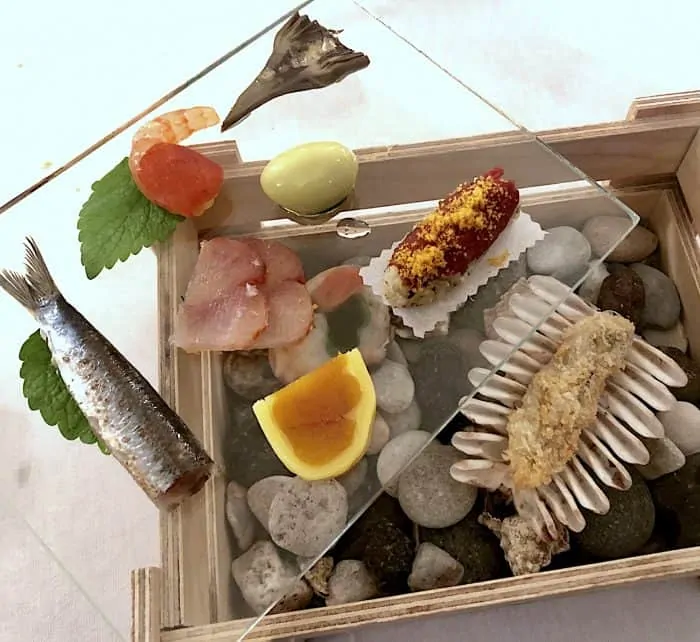 My main course, an imaginative "Black" Agean codfish, was cooked to perfection under its coating of smoked eggplant powder, hence the "black" title, agreeably accented with a scoop of tangy lime sorbet.
Service, while professional, was delightfully unstuffy, so it was fun to flirt a bit with my attentive waiter.
Completely, happily sated, I managed to find an inch of space left for dessert, a playful rendition of the local white eggplant made from frozen white chocolate, coconut, and pineapple; the perfect ending to an unforgettable evening.
Service, while professional, was delightfully unstuffy, so it was fun to flirt a bit with my attentive waiter.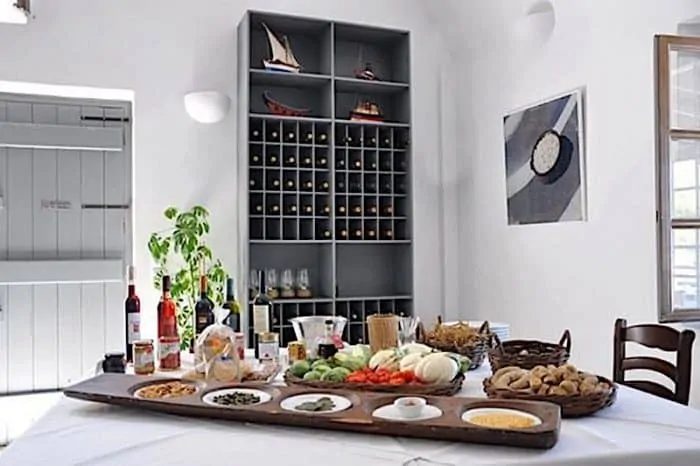 Insider Tip:

I heard that the taverna, which is a super choice for lunch, offers wine tastings which you can pair with an excellent Cycladic cheese platter. Plus, after my mind-blowing dinner, next trip I'm definitely going to sign up for one of Selene Restaurant's all-inclusive cooking classes which begins with Georgia Tsara's introductory lecture on the local cuisine and indigenous products. Then it's all hands on deck preparing four different recipes (every day features a different theme) following the chef's instructions, culminating in your homemade meal.
Must Do:
The best way to really get a feel for Santorini is to do the famous 6 miles, one-way hike through four towns: Fira, Firostefani, Imerovigli and Oia. Note that although there are a couple of signs along the way, there isn't an obvious marked trail, but since you follow the roads closest to the caldera, it's hard to get really lost. If you're not sure, just give a shout out to any of the other walkers who will point you in the right direction.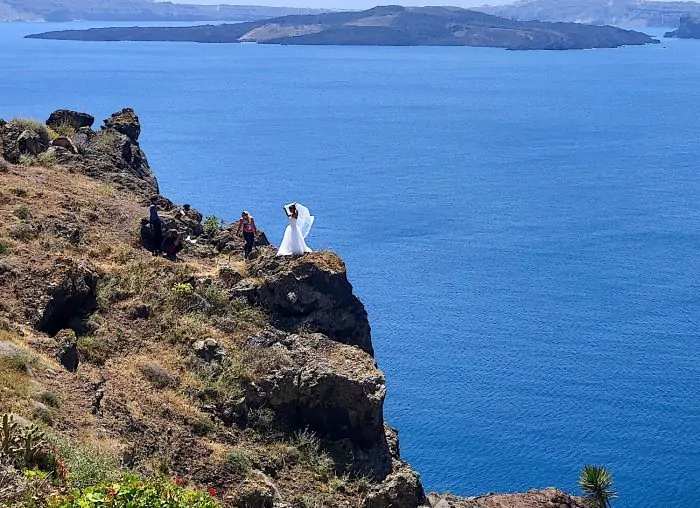 There is not a shortage of gorgeous instagrammy shots such as Skaros Rock, a popular vantage point for oohing over a sunset, or the blue-domed St. Gerasimos Church, which offers stellar views of the volcano, and a Byzantine castle ruin in Oia.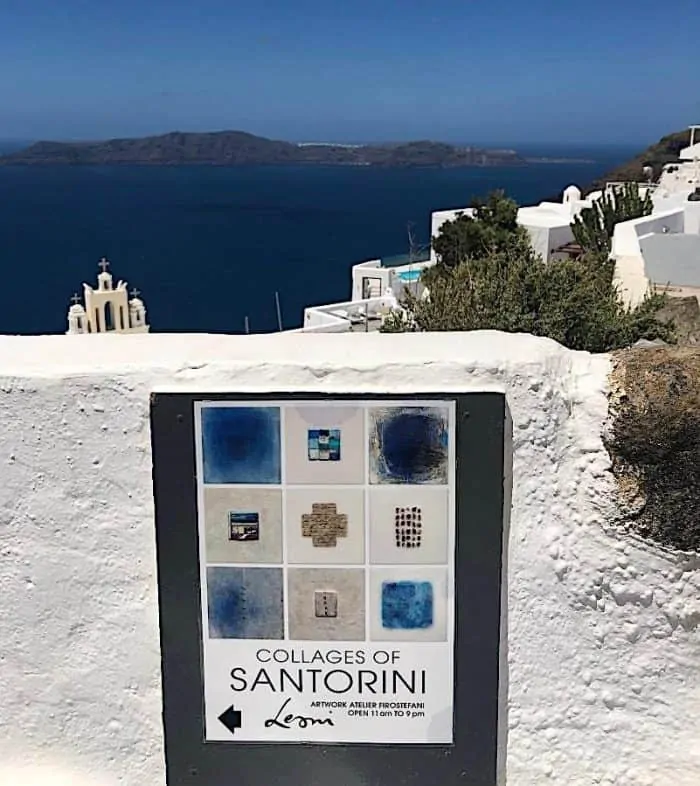 Insider Tip:

Since the Iconic Santorini is in Imerovigli, the first day I did a half-hour, warm-up walk to explore the lovely villages of Fira, the capital of Santorini, filled with many artisan shops and some reasonably priced jewelry stores) and Firostefani, where you should pop into the family-owned, No-Name café for some fresh fish or tasty gyros.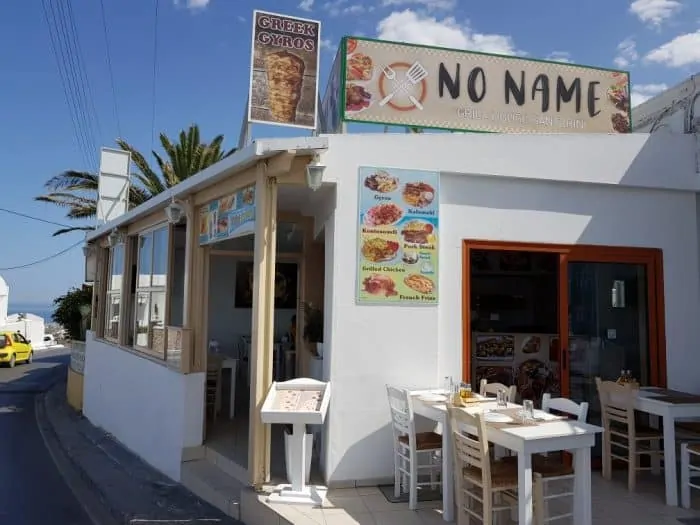 There are some excellent galleries in Firostefani. Two wildly impressive artists can be found at Leoni Collages of Santorini and Goulas Ceramic Art Studio.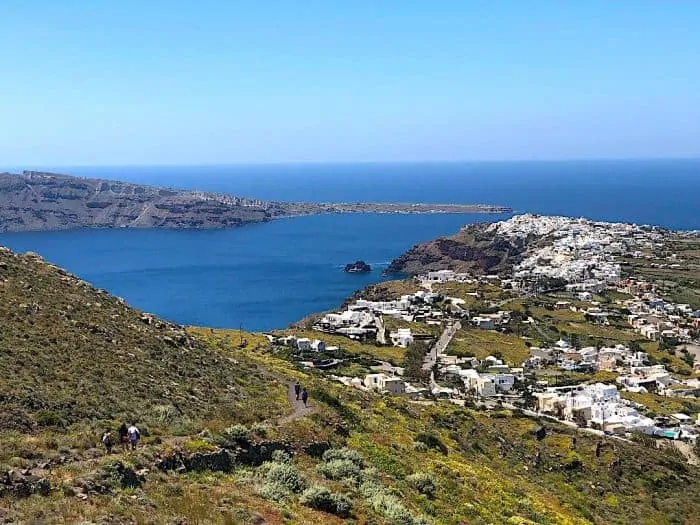 The next day I tackled the five-mile hike the other direction to picturesque Oia (pronounced Eee-uh). Plan your walk so you end up at Oia in time for their justly famous sunset views and then you can either bus or taxi back to the hotel. If you thought ahead, you'd have booked a Signature Holistic Massage appointment for your return.